Citizenship
Food, Photos Booths & More: How to Get the Most Out of the 2016 Global Citizen Festival
There's more going on in the park than ever this year!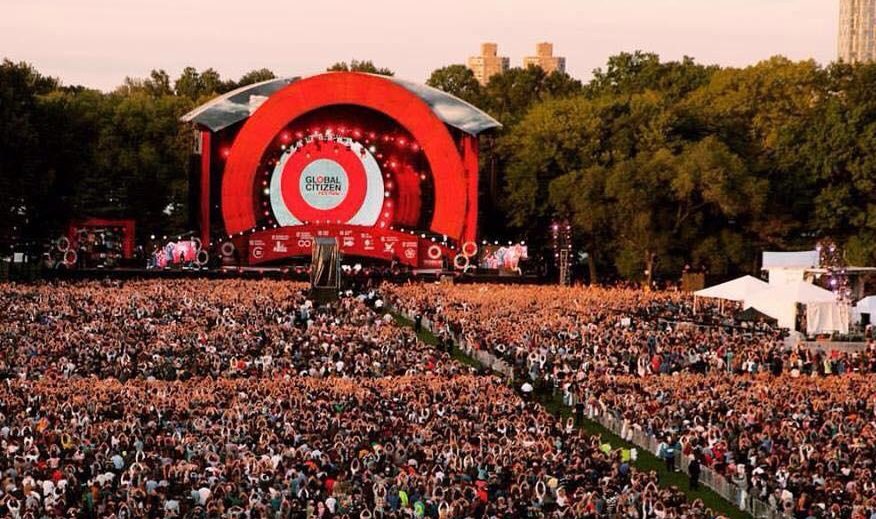 This weekend, Rihanna, Kendrick Lamar, Demi Lovato, Major Lazer, and Metallica are headlining the 2016 Global Citizen Festival in New York City's Central Park. If you can't make it in person, find out how to you can watch and follow along with all the action here.
---
It's hard to believe there's more to look forward to during the 2016 Global Citizen Festival. We've already got incredible performances lined up from Rihanna, Kendrick Lamar, Demi Lovato, Major Lazer, and Metallica. Not to mention our talented hosts for the festival, alongside collaboration with leaders from all around the world.
On top of all the action on stage, there will be more happening inside the park than ever before.
There will also be more sustainable measures than ever to reduce waste, conserve water, and create an all-around incredible experience for Global Citizens attending this year's festival.
Here's a glimpse of all the things you can look forward on the Great Lawn this Saturday, Sept. 24.
Read More: What to Bring and Wear to the 2016 Global Citizen Festival
---
Democracy
Election season is here so we're partnering with HeadCount, who's all about music, democracy, and action, to help you register to vote. We want to make sure Global Citizens #ShowUp in November.
Food and Concessions
There will be plenty of snacks, beverages, and fresh food to purchase at the festival. This year, World Vision will be branding snacks with facts about making sure there is sustainable, clean food to make a #hungerfree world.
We will also have This Bar Saves Lives for sale — they are all-natural, non-GMO, gluten free, kosher, Fair Trade and just plain awesome (trust us, we've tried them!). For every bar bought at the festival, $1 will be donated to give life-saving food to a child in need.
Fun fact: Many of concessions are donated and some proceeds go to global initiatives we work on year round.
Less Plastic Waste!
We've seen plenty of other countries take action to ban plastic, like France, or donate leftovers and not let food end up in landfills this year. That's why we're taking more efforts to make this the most sustainable festival yet!
Read More: France Is the First Country to Ban Plastic Cups, Plates, and Cutlery
Much of the packaging will be recyclable, and we will have composting receptacles for any food waste.
Refillable Water Stations
Inside the festival, you'll be able to buy hydropacks with the Global Citizen logo. Or you can bring your own plastic water bottle and fill it up at one of our refillable water stations. We'll be one step closer to ending plastic waste. Our partner, WaterAid, will be around the stations to answer all your clean-water questions.
New Merchandise
Each pen will have booths for food, water, restrooms, and places to purchase Global Citizen merchandise. For more on what to wear to the festival, and a look at some gear you can get excited for click here.
Where to Take Your Selfies
What's better than a selfie stick? A free photo booth! We will have plenty of places for you to take action and to take the perfect selfie.
Stop by the Donate a photo booth where Johnson & Johnson will donate $1 to a cause of your choosing, like Nyumbani and Operation Smile.
Caterpillar will also have a photo booth where you can take empowering pics and share your best selfie or photos with friends.
The eco-conscious jewelry company, Alex & Ani will have a photo booth where you can share what carrying light means to you, and who you #CarryLight for in this world.
Live Nation will also be hosting a green screen photo booth in the front of house!
Action to Take
We will have many actions for you to take of the day of the festival through our app. In addition, many of our partners will have places you can engage with global issues, too.
CARE be there for you to learn more about girls and women in refugee settings. We'll have new petitions and a life-size picture frame to really get the message out for you to check out.  
UNICEF will be raising awareness on providing clean water and improved sanitation for all. #MenstruationMatters.
The United Nations Foundation, through their Better the World campaign, will be there to remind you to Vote Like the World Depends on It. Because no matter who you vote for, what counts is that the most globally minded citizens get their vote in and voice heard during the US presidential election. They will also have a voting booth where you can dress up with props and take a photo with your favorite Sustainable Development Goals.
Hopeland will be on site to raise awareness on the tens of millions of children living without the care of a family. One in three is homeless, one in give has a criminal record, one in seven is involved in prostitution, one in 10 commits suicide. You'll be able to sign a declaration to do more for vulnerable children. They will also have a photobooth where you can share this important message.
Check out the CARINGCROWD tent to charge your phone and learn about how this crowdfunding platform connects you with non-profit organizations working on global health projects.
Keep an eye out for Girls Globe reporters who will be documenting their festival experience for the women-led online magazine.
Young Leaders will be interacting with festival attendees in each pen, so connect with them one-on-one to learn about how they are making a difference in health and environmental areas worldwide.
Throughout the festival don't forget to shout out to the hard work your favorite organizations like Save the Children, and many more are doing year-round to make the world a better place for all.
Finally, make sure you bring everything you need, and get ready for our best festival yet! 
Image: Global Citizen