Editor's note: The situation in Ukraine is actively evolving, as are the needs of citizens in the country and neighboring regions. We will be keeping this list up to date with the evolving ways Global Citizens can help. This article contains references to violence and sexual violence.
The world was brought to a standstill as news broke that Russia's President Putin had launched an invasion on Ukraine on Feb. 24, 2022. It's been over a year since and the end of the conflict is nowhere near in sight.
Not only have millions been displaced, with millions more on the brink of hunger, and hundreds of thousands dead due to the conflict, but on June 7, 2023, a huge dam in the Russian-controlled area of southern Ukraine was destroyed, unleashing a flood of water. 
As well as the immediate danger to over 40,000 residents in the area, the flooding has destroyed hectares of crops, damaged crucial infrastructure, and left hundreds of thousands without access to drinking water. 
Global Citizen has pulled together a list of things you can do to support the people of Ukraine wherever you are. 
Who Is the Most Impacted?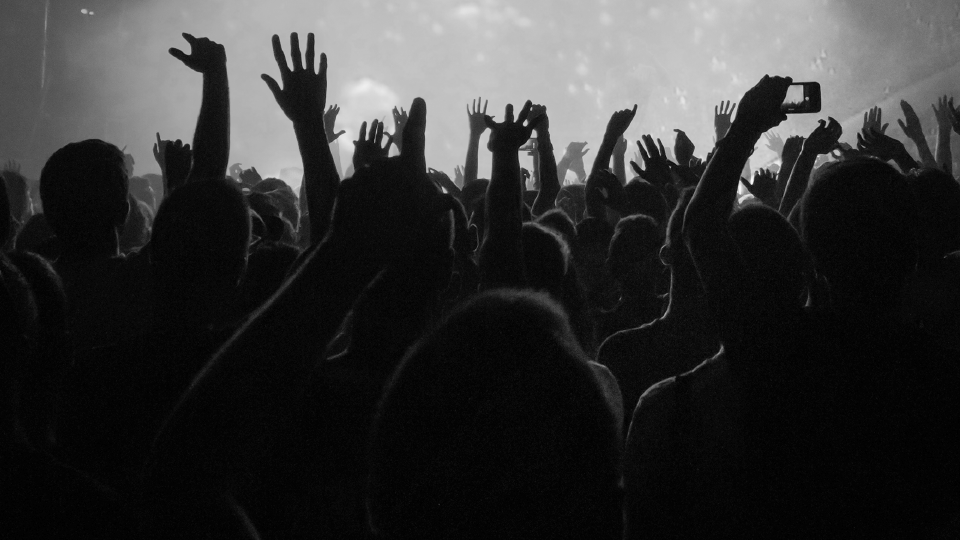 A woman and child peer out of the window of a bus as they leave Sievierodonetsk, the Luhansk region, eastern Ukraine, Feb. 24, 2022.
Image: Vadim Ghirda/AP
According to the UN's refugee agency, there are currently 8,255,288 refugees from Ukraine across Europe and over 6.5 million people are internally displaced within the country.
The horror stories from inside the country have ranged from women being gang-raped, men castrated, children sexually abused, and civilians forced to parade naked in the streets, according to the UN. However, the true scale of the human rights violations and war crimes will likely not come to light for years.
As with any crisis, women, children, marginalized communities, and the poor are those being the most affected. Education has been disrupted for millions of children, millions are living without power, health care facilities have been destroyed, and sexual violence is being used as a weapon of war. 
How Can I Help?
While many of us might feel helpless when confronted with geopolitical machinations of this scale, we've rounded up a few ways you can help the people of Ukraine right now. 
DONATE
Organizations on the ground and globally are actively supporting people within Ukraine and refugees seeking safety elsewhere with medical and humanitarian aid.
These organizations include:
1. People in Need is providing humanitarian aid to people on the ground. For those most in need, they provide food packages, emergency shelter, safe access to drinking water, hygiene items, and coal for heating. Donate.
2. The Ukrainian Red Cross does loads of humanitarian work, from aiding refugees to training doctors. Donate.
3. The International Medical Corps was on the front lines just hours after the Kakhovka Dam in Ukraine was destroyed to help those affected. Donate.
4. CARE is responding to the crisis by providing Ukrainians in need with food, hygiene kits, psychosocial support services, access to water, and access to cash. Donate. 
5. Nova Ukraine is a nonprofit that delivers aid packages to Ukraine with everything from baby food and hygiene products, to clothes and household supplies. Donate.
6. UNICEF  is repairing damaged schools and providing an emergency response to children affected by the conflict. Donate.
7. UNHCR, the UN Refugee Agency has stepped up its operations and is working with governments in neighboring countries "calling on them to keep borders open to those seeking safety and protection." You can help support the UNHCR's work supporting refugees by donating.
8. OutRight Action International is helping to support LGBTQ+ groups and organizations on the ground, setting up shelters and providing safety for citizens. All donations made to OutRight will go directly to the cause. You can donate. 
9. The United Nations World Food Programme (WFP) is deploying emergency operations in Ukraine and surrounding countries to provide food assistance to those fleeing the conflict. Donate.
10. Save the Children is working with partners to respond to meet the urgent needs of affected children and their families. It's providing life-saving assistance, such as food, water, cash transfers, and working to  ensure children impacted by the crisis have the support they need. Find out more and donate. 
11. SOS Children's Villages has worked in Ukraine since 2003 and is coordinating an emergency response to support families who are living in the conflict areas and those who have been internally displaced. Find out more and donate. 
12. Mercy Corps has reached over 88,000 people with humanitarian assistance in Ukraine and is now focusing on the long-term to help families recover and rebuild their lives. Find out more and donate.
13. Medical Teams International is fundraising to send medical supplies to the region, with all procees going towards sending medicines and/or medical supplies. Learn more and donate. 
14. The World Health Organization Foundation is raising funds for WHO's Health Emergency Appeal for Ukraine to treat patients wounded by the conflict or those in need of vital care. You can donate here.
15. Alight is a humanitarian nonprofit that has sent teams of emergency response workers to Poland to assist with the burgeoning refugee population by helping to meet all of their material and psychosocial needs. You can donate. 
16. The International Rescue Committee (IRC) is on the front lines of the world's conflicts, natural disasters, and other crises, helping people recover from extreme hardship and put their lives back together. Donate.
17. Direct Relief  is working directly with Ukraine's Ministry of Health and other on-the-ground partners to provide urgently needed medical aid, including emergency response packs intended for first responders, oxygen concentrators, critical care medicines, and much more. Donate. 
18. GlobalGiving has its Ukraine Crisis Relief Fund, with all donations to the fund going to support humanitarian assistance in impacted communities in Ukraine and surrounding regions. GlobalGiving's network of over 30 grassroots NGOs are bringing relief to terrified and displaced communities, and they need resources to continue their life-saving work. Donate. 
TAKE ACTION
19. Join a Peace Protest
The world must show a united front with Ukrainians against President Putin's invasion, and demonstrators around the world — from London to Tokyo — have taken to the streets to protest since the start of the war. Find your nearest demonstration or take action with Global Citizen, by taking our pledge to protest — we'll then send you an email with what you need to know about how to attend a protest near you, how to set up a protest, and how to show your solidarity as an individual. You can also join in the protests digitally — find out more about how to join the protest online and take action to support. 
20. Take Action With Global Citizen
Global Citizens all around the world can join us in taking action in several key ways, including rallying the international community to help with urgent funding and medical needs; amplifying the calls of Ukrainian civil society organizations; calling on countries to support all refugees, and more. Here's how:
Medical supplies in Ukraine haven fallen dangerously low. We're partnering with organizations on the ground, Direct Relief and International Medical Corps, to gather urgent medical donations. Help amplify our call by emailing international companies to donate life-saving medical supplies to Ukraine. 

You can also join with millions of people around the world to raise your voice against President Putin's invasion of Ukraine by sending a tweet condemning the war and calling for an immediate ceasefire to save lives. Take action.

The war has disrupted the education of millions of children. Raise your voice for them by leaving a message and telling us why you believe every child in conflict and crises deserves to go to school.
The conflict in Ukraine has heightened the global hunger crisis, leading to 828 million people facing hunger worldwide. Tell world leaders that we are hungry for action and demand a food system overhaul. Add your name to our petition.
If you're based in the UK, there are further ways you can take action to help:
You can take action by sending an urgent tweet to the UK government demanding they welcome people in need. Tweet.
Then join us and Make My Money Matter in urging UK pension funds to stop funding the Ukraine invasion. That's because UK pension funds invest in lots of industries, and your pension could well be investing in weapons and Russian industry directly linked to the crisis in Ukraine without you knowing it. Take action by emailing UK pension providers. 
STAY INFORMED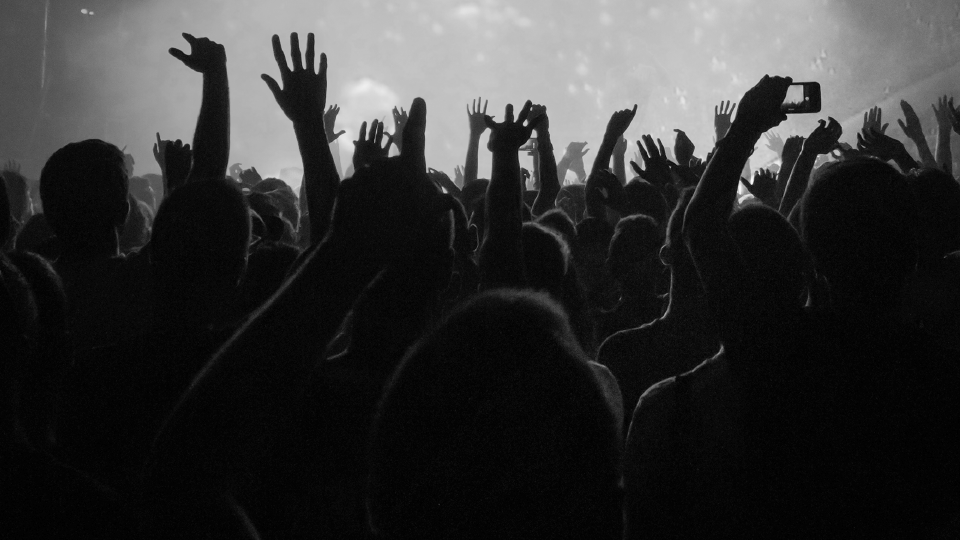 A woman reacts as she waits for a train trying to leave Kyiv, Ukraine, Feb. 24, 2022.
Image: Emilio Morenatti/AP
One of the best ways to help the most vulnerable in Ukraine is by staying on top of what is happening on the ground, and learning more about how citizens are being affected by the conflict. Read about some of the horrifying facts that show the impact of the war one year on. We've rounded up a few trustworthy sources you can refer to below. If you want to fact-check news and information you're seeing about Ukraine, #UkraineFacts is a great resource; you can also use the fact-checking website of news agency AFP.
21. The Kyiv Independent has been a leading voice on the front lines, covering a timeline of ongoing events since the beginning and highlighting those who have been most affected by the violent attack. The English-language outlet is continuously reporting on how the invasion and conflict are impacting citizens, the economy, as well as Ukrainian foreign politics. Keep up to date on its website, or on the Twitter page. 
22. The New Voice of Ukraine: Covering news in three different languages — English, Ukrainian, and Russian — the New Voice of Ukraine has not only covered breaking news, but has released informative analyses on the situation that detail how the situation led to this point, and is continuously publishing op-eds by Ukranian scholars and experts that help to give a view of tone of the situation. Read more on its website.
23. Ukraine World: While Ukraine World is not posting breaking news and timeline updates on its website, it is very active on its social media accounts. Its independent journalists on the front lines have gathered first-hand footage, and it is using its account to share other informative sources that its followers can refer to in order to keep up to date. Follow Ukraine World. 
24. Kyiv Post is the only non-independent media outlet on this list, and it is important that those following state-funded outlets are aware that they are affiliated with the state.The outlet has been at the forefront of delivering breaking news directly from government and national offices, releasing statements from ministry officials, military leads, and other dignitaries. You can read more on its website, or follow it on Twitter. 
25. CNN Reporter Dale Dan compiled a Twitter list of verified journalists reporting the best information about the invasion, which you can follow.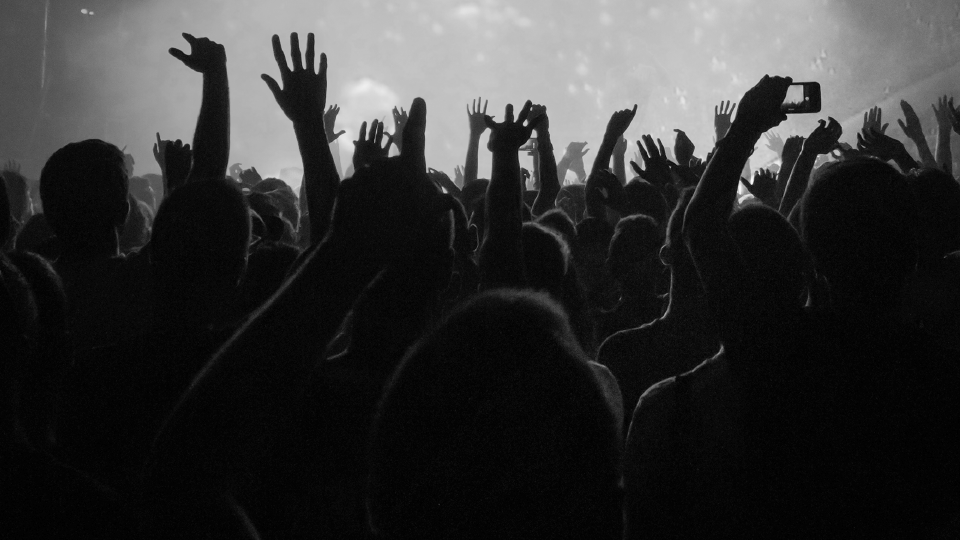 Demonstrators march with a banner that reads: "Ukraine - Peace, Russia - Freedom", in Moscow, Russia, Feb. 24, 2022. Hundreds of people gathered in the center of Moscow on Thursday, protesting against Russia's attack on Ukraine.
Image: Dmitry Serebryakov/AP
26. Olga Tokariuk is a verified independent correspondent working in Kyiv, sending frequent tweets on the latest information while also capturing the humanity of living in Kyiv. Follow her here.
27. Global Leaders are all tweeting their updates and responses to the situation as well. Ukrainian President Volodymyr Zelenskyy and Minister of Foreign Affairs Dmytro Kuleba are active on Twitter in English, giving regular updates. US President Joe Biden and Secretary of State Antony Blinken are tweeting about the US and international response to the invasion. And UN Secretary General António Guterres and EU Commission President Ursula von der Leyen are giving updates.
28. Learn more about the background: If this is the first you're hearing about the crisis in Ukraine and you want to learn more about the background to the situation read this Kyiv Post article, "10 popular misconceptions about Ukraine debunked"; watch Netflix's documentary Winter On Fire: Ukraine's Fight for Freedom; and listen to this podcast by Ukraine World on how Russia uses disinformation as an instrument of war.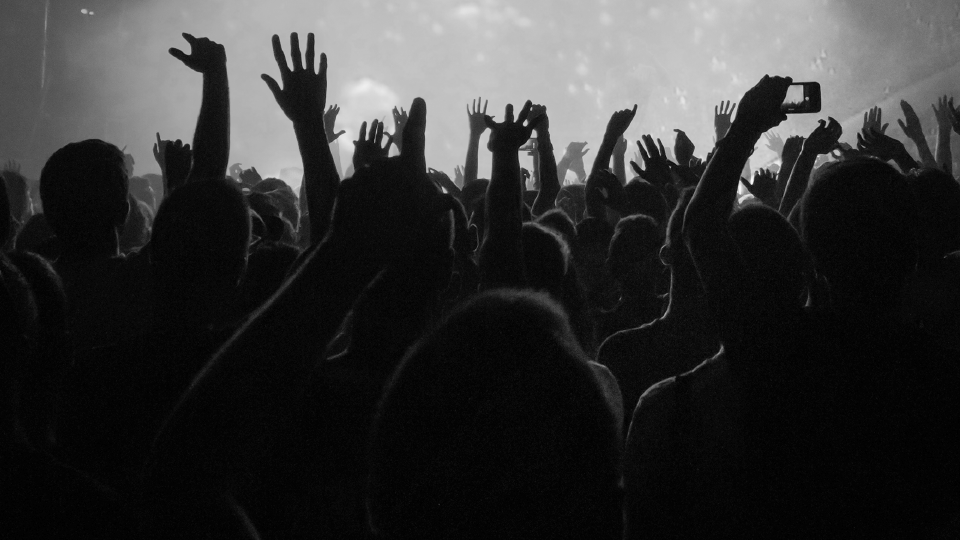 Ukraine Global Response
Demonstrators gather in support of the Ukrainian people, in Paris, Feb. 24, 2022.
Thibault Camus/AP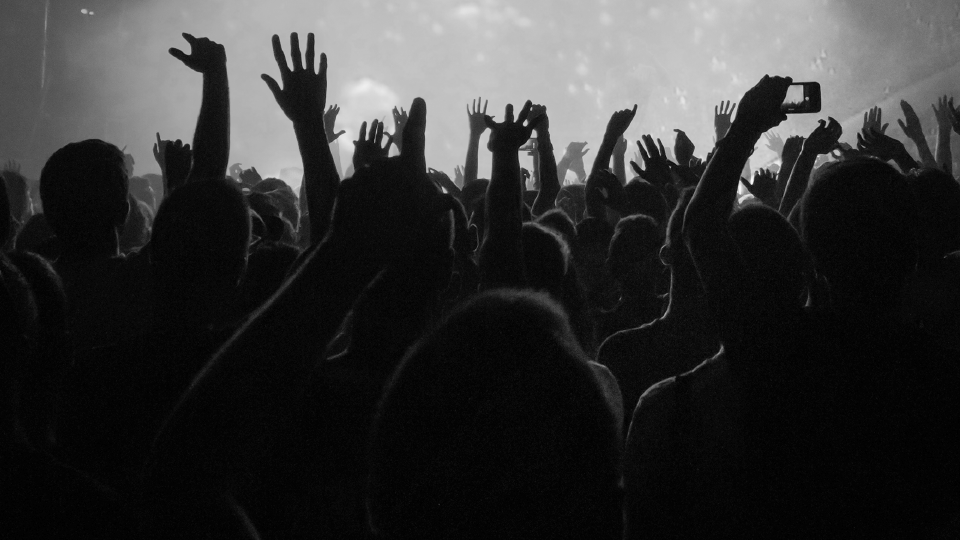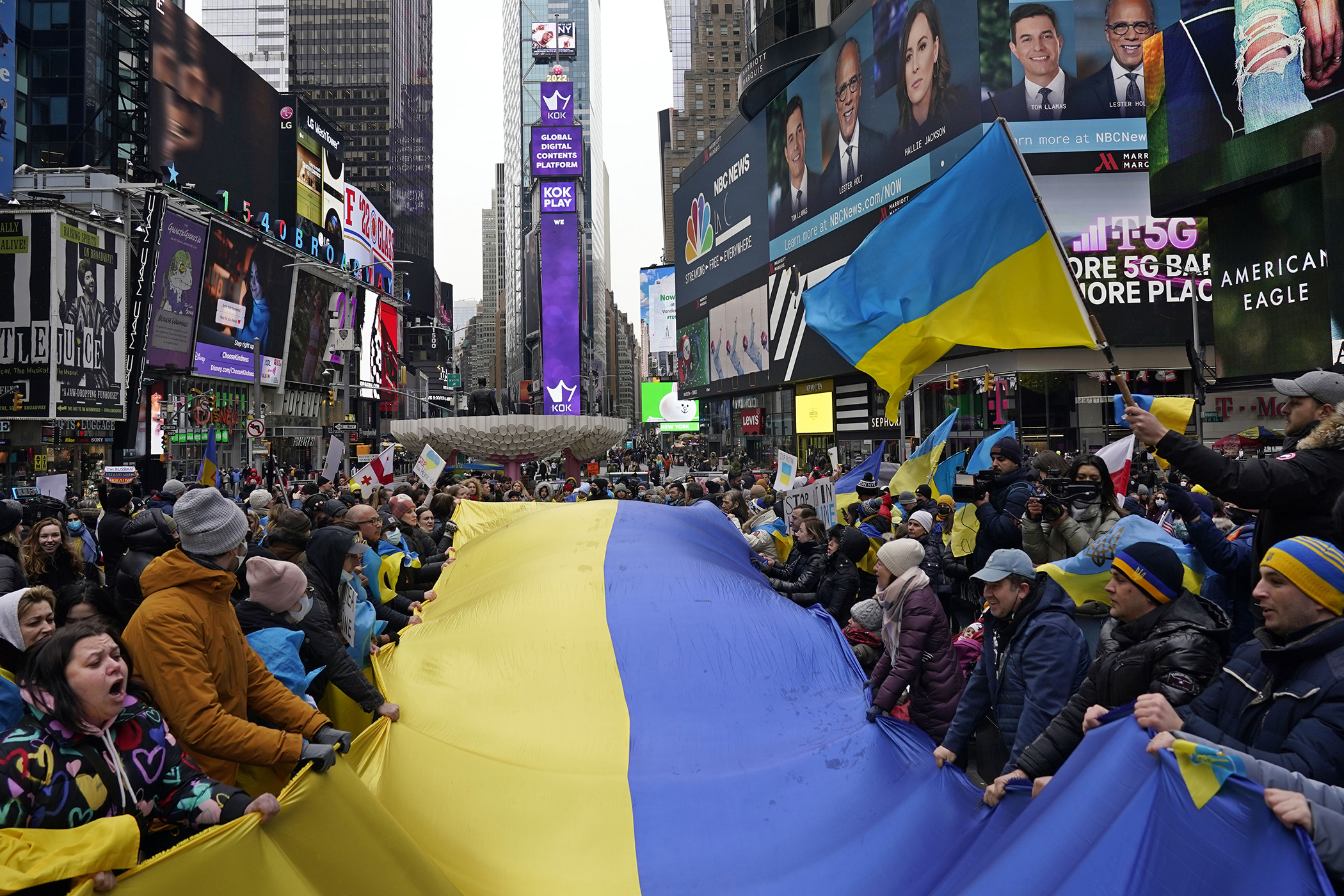 Ukraine Global Response
Pro-Ukraine demonstrators unfurl a large Ukraine flag in New York's Times Square, Feb. 24, 2022.
Seth Wenig/AP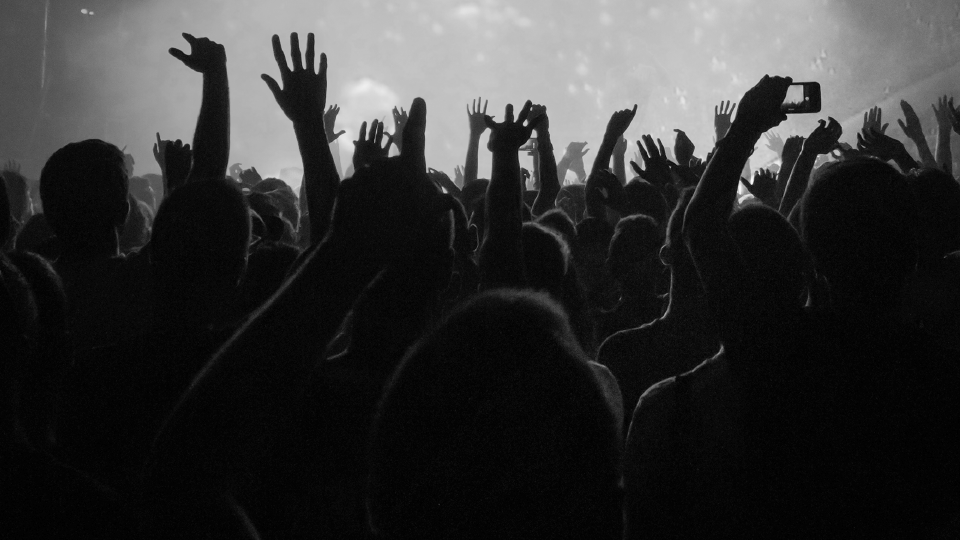 Ukraine Global Response
A group supporters hold posters to protest against the invasion of Russia in solidarity with the Ukrainian people in front of the Representative Office of the Moscow-Taipei Coordination Commission in Taipei, Taiwan, Feb. 25, 2022.
Chiang Ying-ying/AP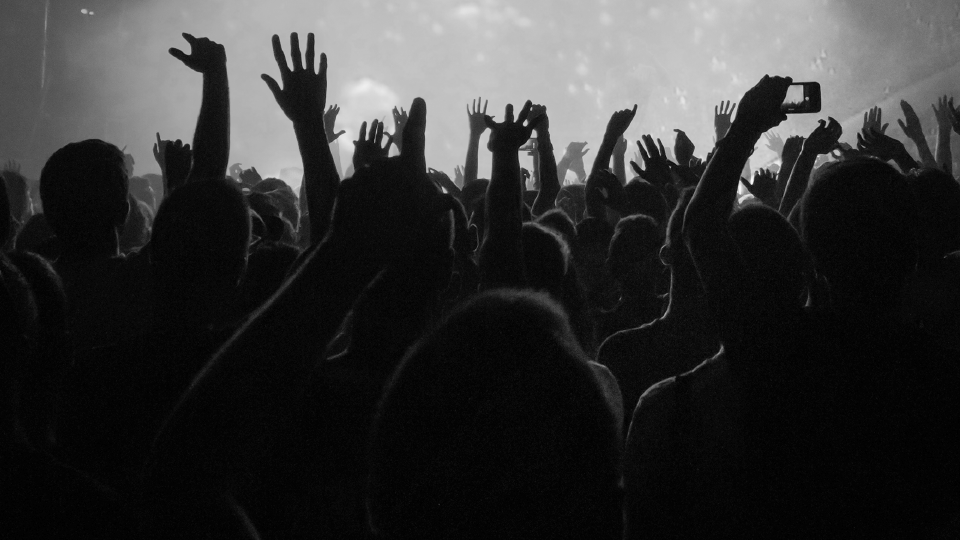 Ukraine Global Response
People including Ukrainians, take part in a demonstration in support of Ukraine, in the center of Tbilisi, Georgia, Feb. 24, 2022.
Shakh Aivazov/AP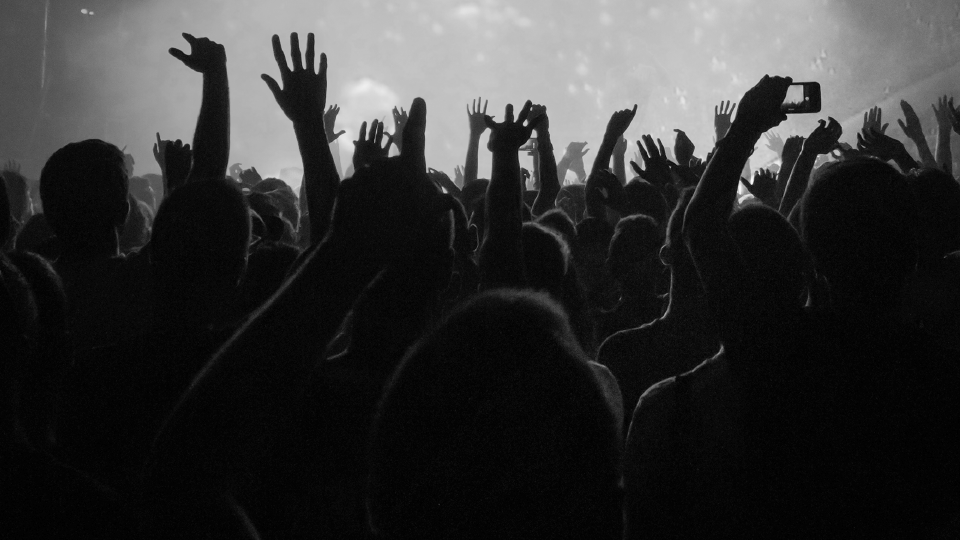 Ukraine Global Response
People protest against Russia and Russian President Putin after Russian troops have launched their anticipated attack on Ukraine, in Berlin, Germany, Feb. 24, 2022.
Markus Schreiber/AP