Citizenship
10 Songs That Will Inspire You to Make a Difference in the World
A Global Citizen playlist.
With the sixth annual Global Citizen Festival just over a week away, Global Citizens around the world have taken action to see Stevie Wonder, The Killers, Green Day, The Lumineers, The Chainsmokers, and special guests rock out in Central Park on September 23.   
For the past half-decade Global Citizen has turned New York's Central Park into a hub for activism. We've seen world leaders make commitments in the fight to end extreme poverty around the world; we've seen powerful speeches by activists, influencers, and others; but mostly, we've seen some amazing music. 
The power of music to create social change cannot be underestimated in the fight to end extreme poverty. 
From global events that fuse music and activism, like the Global Citizen Festival and Band Aid, to the physiological reaction a powerful song can produce in its listener, inspiring people to take action and do good, music can create a more just world. 
Read More: Meet the Woman Who Wrote the Song of the Summer
"Can a mere song change a people's minds?" singer Elvis Costello has asked. "I doubt that it is so. But a song can infiltrate your heart and the heart may change your mind." 
But not all songs do this. 
A recent study found that 90% of Billboard 100 songs deal with two topics — relationships and sex — the Huffington Post reports. Still some songs go beyond these visceral subjects. 
These 10 songs from artists who have appeared (or will soon appear) on the Global Citizen Festival stage fit into that rare category, fusing message and music. They will inspire you to love yourself, help others, and create change in the world. 
10/ "Confident," Demi Lovato
Inspiring female listeners to take pride in themselves, relinquish self-doubt, and confront the world head on? We're all about it. What's wrong with being confident? 
9/ "Alright," Kendrick Lamar
"We gon' be alright," Black Lives Matter protesters chanted in the streets of major US cities after the killings of unarmed black men by police. 
Unexpectedly a protest song, Kendrick's "Alright" is one of many of his hits that confront social and racial inequities in the United States, including "i," "DNA," and "The Blacker the Berry." 
8/ "Positivity," Stevie Wonder
"You can always look at the negative / But you should always live in the positive," Stevie Wonder sings in "Positivity." 
A great song tells a story, and in this story Stevie tells of how he learned to find happiness in the inane, to appreciate life's little wonders, for lack of a better word. 
7/ "Scars to Your Beautiful," Alessia Cara 
Image: Credit: Mary Ellen Matthews
In this song, Alessia Cara sings of the internal and external scars that everyone in the world must learn to live with. She encourages listeners to embrace the differences found in people, rather than to let those differences divide. 
6/ "Immigrants (We Get the Job Done)," K'naan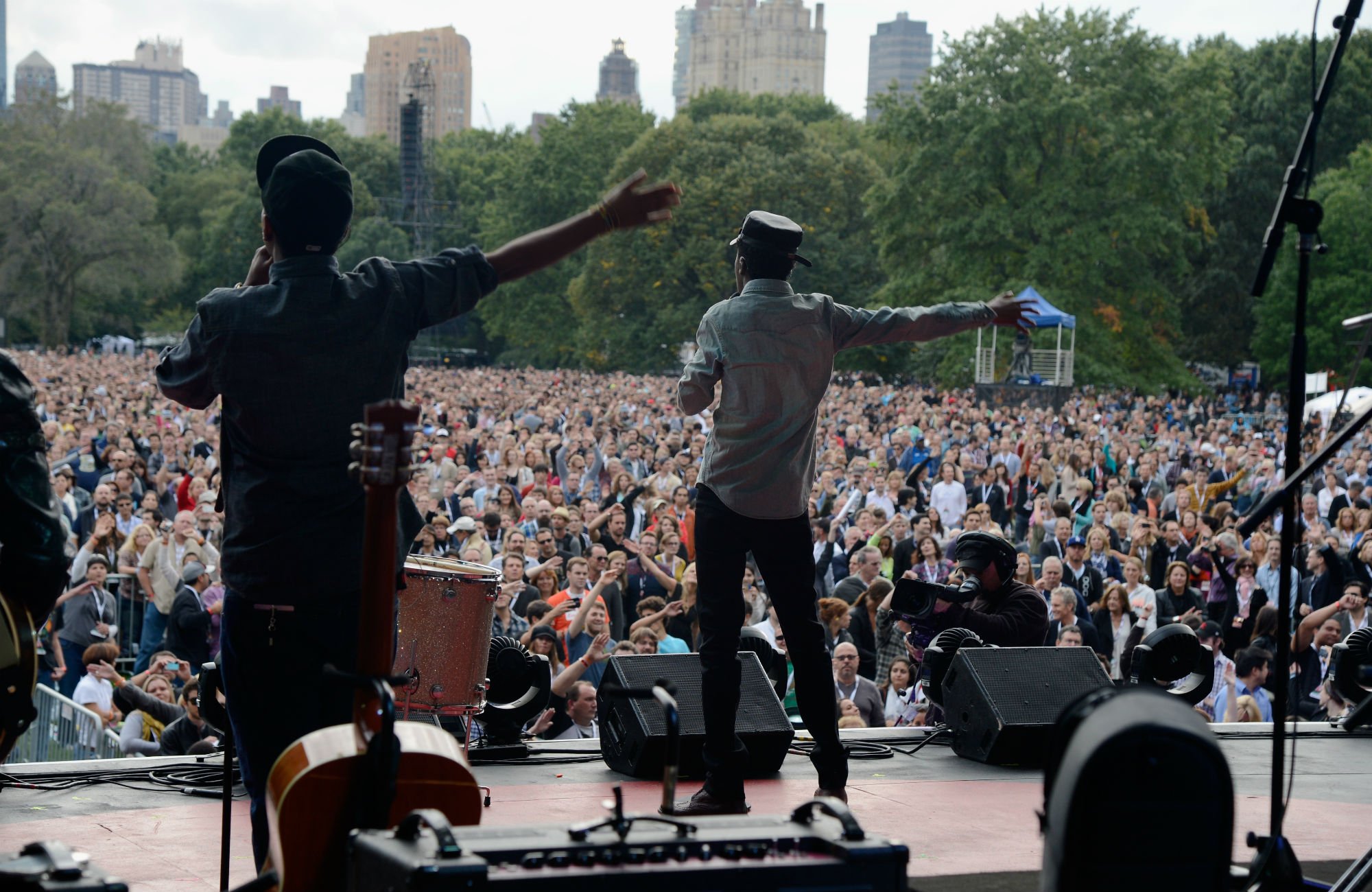 We've already crowned this our "Music Video of the Year," but the Hamilton Mixtape original is just as powerful in its lyrics as the video is in its images. An anthem for immigrants, for dreamers, for Americans of all colors, K'naan's "Immigrants (We Get the Job Done)" is just one of the Somali refugee's songs that's imbued with a larger political message. 
Read More: 'Immigrants (We Get the Job Done)' Might Already Be the Music Video of the Year
5/ "Light," Big Sean 
Rapper Big Sean may be known more for his club hit "Bounce Back" than for his emotive collaboration with Jeremih on the song "Light," but maybe this shouldn't be the case. "Light" celebrates all of the young people caught in the crosshairs of violence they didn't produce and have no ability to stop. 
"Even if you take away my life, you can't take the light," he raps in the refrain. 
4/ "Run the World (Girls)," Beyoncé 
Imagine a world without women. That's right, you literally can't because it wouldn't exist.
Beyoncé wasn't the first to popularize the message that girls run the world, and certainly won't be the last — but this anthem of female empowerment is arguably needed even more in 2017 than it was when she released it six years ago in 2011. 
3/ "Chains," Usher 
Usher's "Chains" is more than just a song — it was released as an interactive video experience that forces viewers to confront images of police brutality against young people of color. 
Read More: One Year Later, Usher's 'Chains' Video Is More Relevant Than Ever
2/ "Waiting on the World to Change," John Mayer 
The one reason this song doesn't top our list? The word "waiting." 
At Global Citizen, we believe that there's no time to wait in order to make change. By taking one small action, you can be a part of something much bigger. Change will come, but we have to make it. 
1/ "Freedom," Pharrell 
Image: Ramon Haindl/Global Citizen
You can feel this song in your bones. Like the best songs, (see, "Shout") its steady crescendo is the perfect lead up to the inevitable drop. 
The simple refrain, "Freedom!" led this song to be adapted as an anthem for the refugee crisis, and Pharrell even dedicated it to refugees at a concert in Germany. 
It's also the perfect song for this year's Global Citizen Festival in New York City, fitting with the theme of "For Freedom, For Justice, For All." It's not too late to take action here and win tickets. 
Like these songs? Check out our Spotify playlist for more Global Citizen songs for social change: