This Is What You Should Do If You See a Muslim Person Being Harassed
How to de-escalate a hateful situation.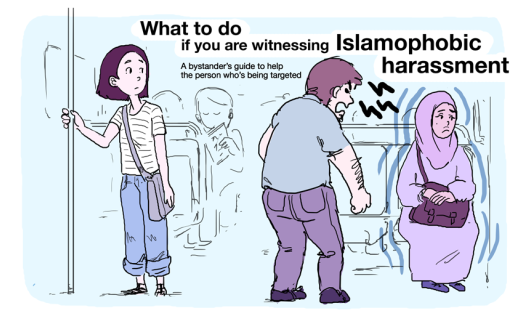 Earlier this year, the harassment of a Muslim woman wearing a hijab on a public bus ended with two people dead when they tried to intervene and protect the woman from a white man yelling at her.
The incident rocked Portland, Ore., where the crime occurred, and also the nation, which has seen a 91% increase in hate crimes against Muslims during the first half of 2017. The dangers for both Muslim people and those that try to defend them felt, suddenly, immense.
Now, new posters plastered around bus and subway stations in San Francisco and Boston aim to teach would-be bystanders how to intervene and defend Muslims from potential hate crimes while also trying to de-escalate the situation to avoid violent endings like the one in Portland.
Tumblr/@itsmaeril


Read More: The Day After the Mosque Burns: A Look at Islamophobia in the US and Germany
In Boston, posters with the headline "What to do if you are witnessing Islamophobic harassment" now hang in 50 locations near the transit system, according to the Associated Press. The posters have a comic strip drawing in which a man grimaces at a woman wearing a hijab, while another woman watches, uncertain.
The posters are directed at those people who might be witnesses.
The first step is to ignore the attacker and instead engage the victim in conversation, according to the posters.
"Pick a random subject and start discussing it," the poster suggests, including the weather, a movie, or the clothing they're wearing and where they got it.
Read More: When a Texas Mosque Burned Down, a Local Catholic High School Had the Perfect Response
Then, bystanders can help created safe space by keeping the victim engaged until the potential attacker leaves. If it's safe, the bystander can accompany the victim to a safe space after the encounter.
Faisa Sharif, a mayor's liaison in Boston's Neighborhood Services Office within the Civic Engagement Cabinet, told NPR that the goal of the bystander is to try and break the tension that is mounting when someone starts harassing someone else.
Read More: Portland Has a Message for Muslim Girls in Hijabs After Deadly Hate Crime Attack
"This whole campaign is about de-escalation in terms of helping resolve a situation like this," she said. "Especially in the age that we live in when we see a different sort of national rhetoric targeted toward certain groups."
The posters were designed by an artist working in France, Maeril, following terror attacks in 2015, according to NPR. They've also been posted in San Francisco.
Lecia Brooks, an outreach director at the Southern Poverty Law Center, told NPR that bystanders should also feel comfortable calling 911 if a situation looks too risky to get directly involved in, and that there's always risk in intervening.
Yusufi Vali, executive director of the Islamic Society of Boston Cultural Center Mosque, NPR the posters send a "message to everyone that Muslims are part of Boston" and are "phenomenal."
"That they are not the other, that they are just like us, just like any other human being," he said.
What's Trending In Citizenship