Environment
Climate Change in South Sudan: Heartbreaking Photo Series Shows True Impact
South Sudan is currently in the grip of a catastrophic famine.
"The flood came and it destroyed everything. The rain doesn't rain and it destroys everything too. What we cultivate, it is destroyed."
That's what one woman in South Sudan told Lisa Murray, an activist and photographer who recently documented how climate change is affecting people in the country.  
For many of the people she spoke with, wild leaves are the only food available. Crops have failed, animals have died, and the Earth is dry all around.
South Sudan is currently in the grip of a catastrophic famine that threatens millions of people.
Take Action: Now Is the Time to Step up and Fund the United Nation's Famine Appeal
Driven by a vicious combination of drought, conflict, economic turmoil, and political instability, the famine has prompted the World Food Organization to declare an emergency and deploy immediate aid to save lives.
Underpinning all of these factors, however, is climate change — the gradual warping of precipitation patterns until they no longer allow human life, or any life for that matter, to thrive.
To show the true impact of climate change, Murray traveled to the Greater Bahr el Ghazal region, where people are not directly affected by war or famine.
Instead, it's just communities face to face with a changing climate.
Read More: These Stunning Photographs Show How Farmers Are Facing Climate Change
She interviewed farmers and families for a powerful photo essay about people whose lives are being upended. The text and images below are from Lisa Murray's series. 
---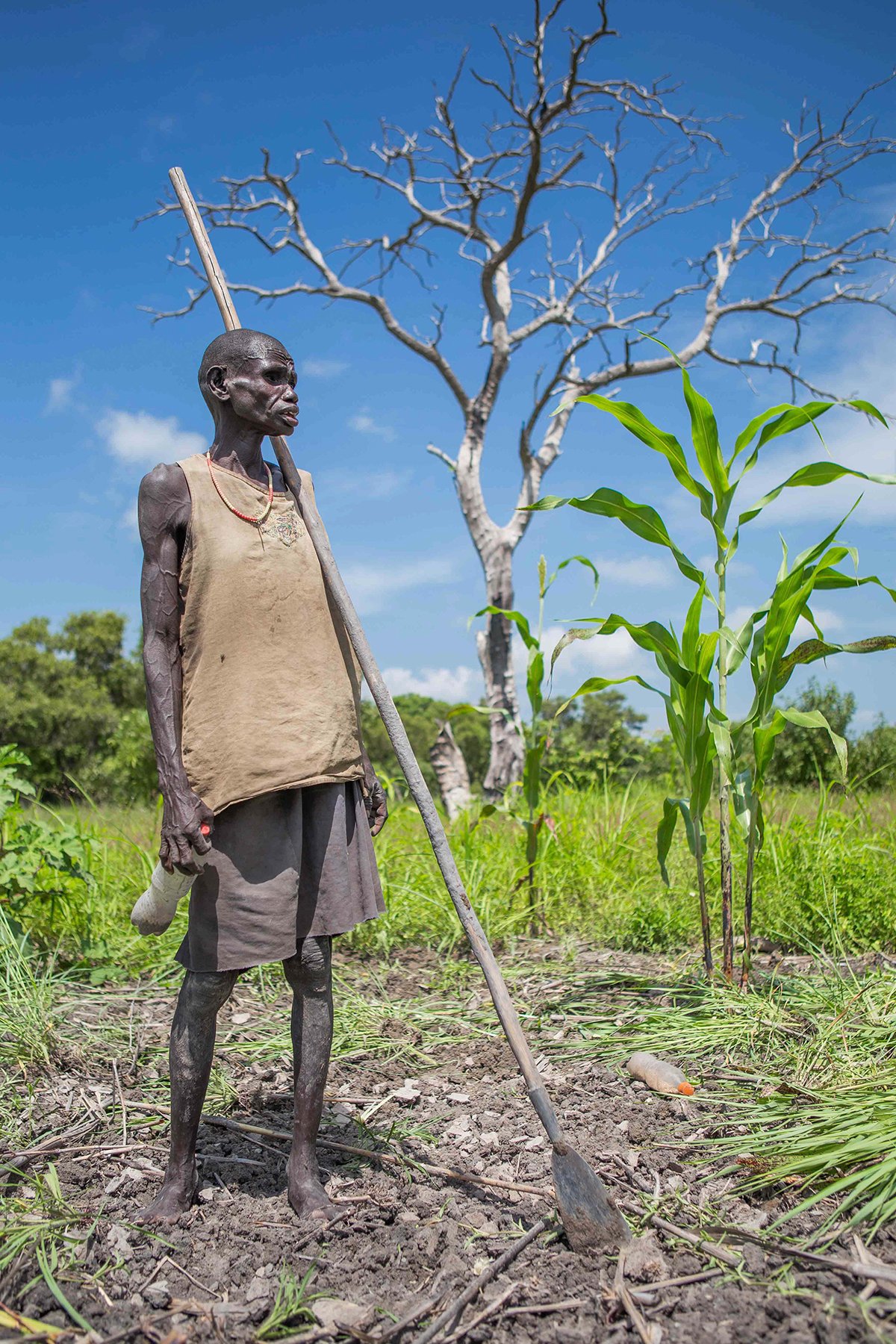 Image: Photo by Lisa Murray
This is Angot. She and her husband have begun planting sorghum on their small plot of land in Pinybarkou. This crop is heavily relied on by farmers in the region but is failing to grow due to disruptive weather patterns which can often lead to increases in pests and diseases. "The crops don't yield like before because of insects and dhiach. Look at the sorghum. There's no seed there, there's no sorghum there, it's just empty…Things have become very expensive that's why we can't afford it and we are very hungry."
---
Image: Photo by Lisa Murray
Mabior lives with his step mother. Here he rushes to collect the drying sorghum as it starts to rain. "When I was young, it rained very nicely. You could milk your cow and drink the milk. You could cultivate your crops and eat them. There was nothing like the rain being absent but now it's different. Nowadays if it rains, then it doesn't rain very well…This is my land. When I don't have anything to eat, the size we cultivate gets smaller because we're too hungry…How can I cultivate when I am suffering like this? We just survive through wild fruit called lulu and wild leaf. We eat to live, it is not enough."
---
Image: Photo by Lisa Murray
Garang stands in a field of sorghum which is his main source of food. "Now, when we reach this time in August the sorghum in the garden should be ready to harvest and now as I talk, are you seeing any sorghum in the garden? The rains refused to rain in July, and now it's September and still we're eating nothing from the garden." He was due to receive cows through his four daughter's marriages but they fled to Khartoum to escape the impending hunger. As he used his remaining cattle to marry his second wife and is too frail to undertake casual labour, his family are forced to forage for wild foods to survive. "It's been 8 days now I'm eating this type of food. My wife goes to the highland and collects leaves from a tree called awar, then she pounds it, cooks it and we eat it. If you don't have cows or if you don't have children who can go and look for food, you just wait for the rain to rain and collect wild leaves. If you are lucky then God helps you."
---
Image: Photo by Lisa Murray
This man and his relative just sold their last chicken in order to buy groundnuts to plant. He is too elderly to work and is heavily reliant on other means of providing food. "During drought, we survive on wild leaf. There is nothing else. This year it rained in May and all the trees, they were not giving fruit. Even the wild leaf, we go to search for it but we can't find it. Then we cook very little and the small children are given what we have to eat."
---
Image: Photo by Lisa Murray
Alec walks towards her small plot of land which was recently flooded. She is facing the common dilemma of whether to plant crops in flood or drought prone land. "The things I planted on the riverside have been destroyed; the okra, the sorghum, everything was destroyed." Alec wants to leave Hong Boui and migrate to the city of Khartoum in search of work with a steadier income. However, her husband is against it believing it's not a woman's place to travel and he is fearful of her safety. "I coped by going to the highland and collecting firewood to sell. I also collect roots from the forest and sand from the river but everyone collects sand from the river so it's not profitable to sell. Then I collect wild leaves and fruits for the children to eat." says Alec.
---
Image: Photo by Lisa Murray
A moment of relief for a child in Pinybarkou Village as she eats the first groundnut harvest of the year.
---
Image: Photo by Lisa Murray
These men are migrating with their cattle towards dry season grazing lands. Cattle play a central role in the livelihood of the Dinka tribe but livestock are also heavily impacted by climate change. "Before the dry spells weren't like this, it would rain after ten days. Before the floods used to be big. They would come with a lot of water and a lot of fish. Now the flood is small, it just stays in the river…We have no way to stop cows from dying, we only wait for the rain. Its God who knows if it will rain, then our cows will survive. If drought comes it doesn't leave anyone, it affects everyone."
---
Image: Photo by Lisa Murray
Poorer members of the community work on a neighbour's farm in exchange for food. However, the availability of this traditional practice has been curtailed in recent years as even the wealthier households cannot protect against climate change.
---
Image: Photo by Lisa Murray
"The flood came and it destroyed everything. The rain doesn't rain and it destroys everything too. What we cultivate, it is destroyed. Flooding has come for the past three years. It comes from the rivers and then it flows into the houses…it destroys them. If it doesn't rain, then people will experience hunger the next year. If it rains, then crops will yield and people will eat. If the flood comes, it destroys everything. If it does not come, then people can eat and sleep very well. We have no way to manage it."
---
Image: Photo by Lisa Murray
Two women return home almost empty handed after several hours searching for wild leaves to eat. "Tomorrow I will go and search for it [wild leaves], if I don't get it then I'll come back. There is nothing like food now. If flood comes it destroys everything, so if you have a strong heart you can survive….Now we have no choice anymore so we go to the forest, we are dying."