The Ariel Club isn't your everyday youth group.
The meetings each week open with a prayer, but then segue into deep discussions among adolescents about everything from how to properly take HIV treatment drugs and deal with the disease's stigma to how to raise enough chickens to support a family.
Grace, a 15-year-old Kenyan who became infected with HIV when she was raped at the age of 8, kept her trauma — and her illness — a secret for four years until she began receiving treatment and talking openly about her diagnosis at the Ariel Club.
Read More: How Global Citizens Are Working to Stop Cuts to Foreign Aid
Now she also gets advice from her peers on how to help grow food for her siblings at the meetings, which are hosted by the Kandiege Health Center, a health clinic that provides life-saving HIV treatment to patients in the Homa Bay region of Kenya that is supported, in part, by the Elizabeth Glaser Pediatric AIDS Foundation, a recipient of US foreign aid dollars.
"I suffered a lot," Grace told the Elizabeth Glaser staff about how she first became infected with HIV and kept her diagnosis a secret. "I was afraid. I just kept quiet."
Ariel Club meeting (Elizabeth Glaser Pediatric AIDS Foundation)

Proposed Cuts to US Foreign Aid
The funding that the Elizabeth Glaser Pediatric AIDS Foundation uses to keep the Ariel Club going comes from the United States government — from the Centers for Disease Control and Prevention, specifically.
President Donald Trump has proposed cutting the CDC's HIV prevention programs by 20% next year — a political decision that could devastate the lives of Grace and her friends at the Ariel Club.
Take Action: Call Your Member of Congress and Ask Them to Stand Up for the World's Poor
In just seven weeks, the US Congress will decide whether to pass Trump's proposed cuts, which in total represent a 32% decrease in foreign aid next year.
Global Citizen is actively campaigning against these proposed cuts, and hopes that the millions of global citizens who care about ending extreme poverty will join together in convincing lawmakers to maintain foreign aid at the current level for next year.
Read More: These 3 Food Security Programs Will Be Decimated Under Trump's Budget
Global health is one of the most critical aspects of foreign aid. The US has saved millions of lives by funding health clinics and making vaccines and medicines more cheaply available for the millions of people living in extreme poverty in the world — lives that now depend on us.
And while foreign aid accounts for less than 1% of the total US federal budget, it stretches far and wide across the globe, with the aid of organizations and volunteers who help get that help to people who need it.
US Spending on Global Health
The US funds programs that improve health in several ways: family planning and reproductive health, access to physicians and improved sanitation, HIV/AIDS treatment, improving local health systems, maternal and child healthcare, nutrition improvement, and treatment of diseases like tuberculosis.
The government doles out money to organizations — both private and nonprofit — that in turn help fund and run on-the-ground interventions. Last year, the largest recipient of health funds was The World Bank, which received $1.8 billion, followed by the Partnership for Supply Chain Management, which got $510 million, GAVI the International Vaccine Alliance, which got $200 million, and groups like Roti International, the Peace Corps, and remote Medical International, all of which got $30 million to $65 million.
Those groups use the foreign aid money to save lives. Since 2008, USAID has saved the lives of 4.6 million children and 200,00 women; the President's Emergency Plan for AIDS Relief (PEPFAR) is supporting antiretroviral treatment for 9.5 million people; and in 2015, 2.9 million people were successfully treated for tuberculosis.
7 Programs Saving Lives With US Foreign Aid Dollars
Here are some of the agencies that receive those foreign aid dollars directly, and a look at the lives they help save in doing so:
Kandiege Health Center, Kenya - Elizabeth Glaser Pediatric AIDS Foundation
Collins at the Ariel Club meeting. (Elizabeth Glaser Pediatric AIDS Foundation)






Collins, a 16-year-old boy who goes to the same youth group as Grace at the Kandiege Health Center, had a friend in primary school who was HIV-positive.
"Since everyone knew he was HIV-positive, people were talking about him. He felt stigma [because of his HIV status] and he rejected his treatment. He did not want to take the drugs," Collins told the staff there.  "Eventually he died. Last year."
The medical and social services at the health center keep Collins from meeting a similar fate. Like many of his peers, he is an orphan in a country that lost part of an entire generation to the HIV/AIDS crisis. Funding for HIV/AIDS prevention and treatment from the US has helped his generation avoid the same fate — for now.
"When I was about 2 years old, my mother died. Then eventually, I fell sick. When I was about 5 years old, I was diagnosed as HIV-positive here at Kandiege," he said.
Collins hopes to go to college and eventually become an electrical engineer.
The Elizabeth Glaser Pediatric AIDS Foundation operates programs in 19 countries, and has helped bring about a 70% decline in the number of new infections in children worldwide since the year 2000, according to the group.  
Chantal Biya Foundation Mother and Child Center in Youndé, Cameroon - Elizabeth Glaser Pediatric AIDS Foundation
Elise Ngabouloup. (Elizabeth Glaser Pediatric AIDS Foundation)






In the capital city of Cameroon, Youndé, pregnant women used to have to wait hours to see one of two doctors available for HIV testing, counseling, and treatment at the Mother and Child Health Center. Sometimes, mothers would grow frustrated and just leave.
Through Project DELTA (Delivering Technical Assistance) — an upgrade to the region's health system, and one of the goals of US health spending — the center opened up training centers to teach nurses and healthcare staff from throughout the region so they, too, can treat patients.
Elise Ngabouloup, the head nurse of the neonatal unit at the Chantal Biya Foundation Mother and Child Center in Youndé, Cameroon, used to feel frustrated that she couldn't help her patients more quickly, she told the Elizabeth Glaser Pediatric AIDS Foundation staff. Today, she has a close relationship with both the mothers and newborn infants who stay at the center while they get treatment, and knows how test and treat many of them through her training from Project DELTA.
"I used to wait for the doctor to come and sensitize the parents before the testing is done. Now I can do it. Whenever I come across a positive case, I can immediately put the mother and child on treatment," she said.
END in Africa - FHI (Family Health International) 360
END in Africa/FHI 360






Mabinty Koroma was 14 and about to take her year-end exam in school when she noticed her eyesight was giving her trouble — she couldn't see the blackboard clearly. The Sierra Leone teen was distraught, and her family sought out traditional healers to help save her eyesight, but they didn't help. One day, the family heard a radio commercial about neglected tropical diseases, including "river blindness," and decided to try and seek help from doctors.
That radio commercial was sponsored, in part, by the END program in Africa, funded by FHI 360 with money from the United States Agency for International Development (USAID). The agency is one of the recipients of US foreign aid earmarked for health causes, and aims to reduce seven of these tropical diseases. They've already treated more than 200 million people, including Mabinty, whose eyesight returned after she was given medicine for river blindness, and who is now back in school, according to the group.
Integrated Humanitarian Assistance to Northeast Nigeria - FHI (Family Health International) 360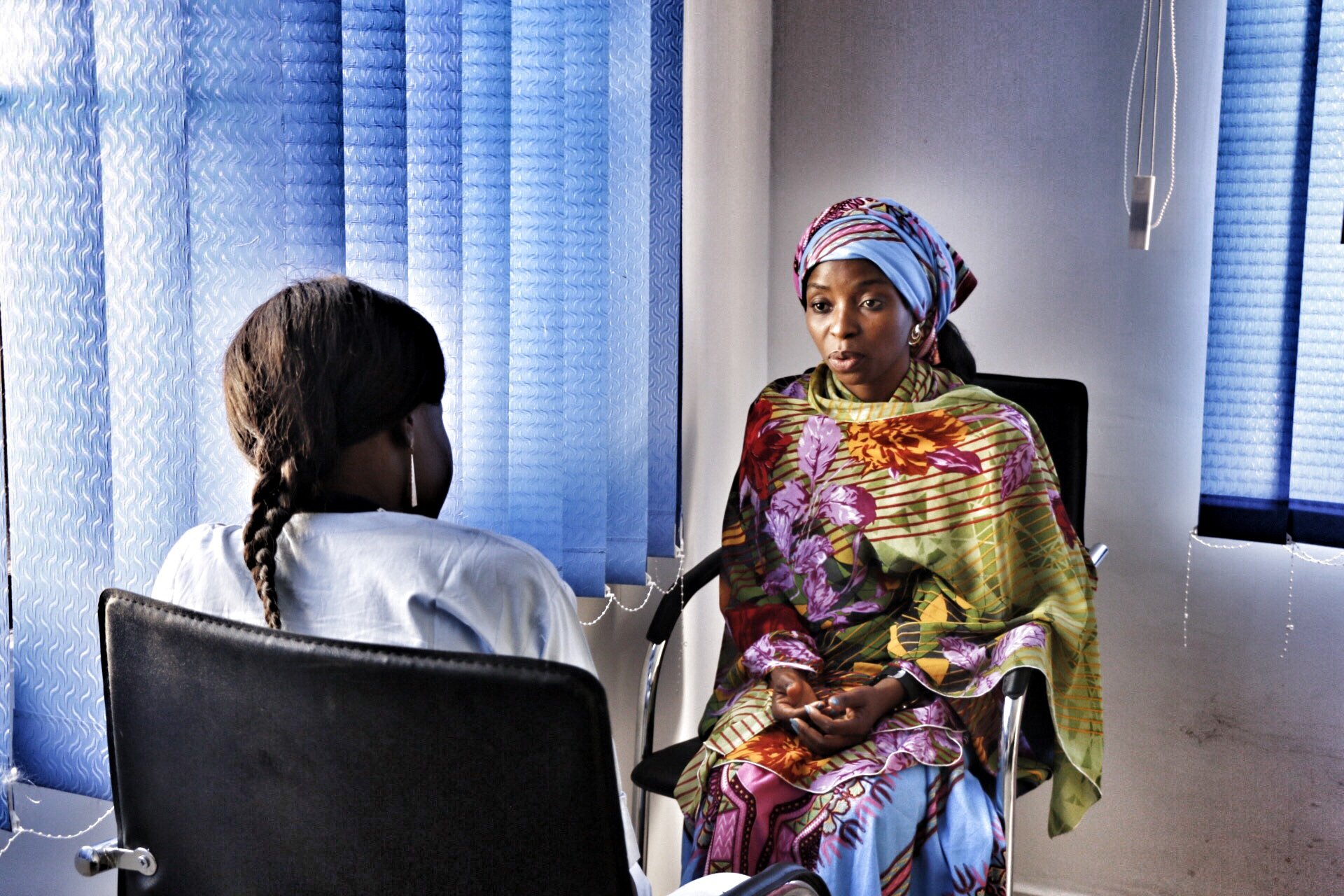 Iffat Nawaz/FHI 360






Nigeria has been battling the radical terror group Boko Haram for more than three years, leaving nearly 2 million people displaced in Borno state — where the group is headquartered ' and 7 million people in need of humanitarian assistance throughout the country.
FHI 360's interventions in northeast Nigeria are funded by USAID and aim to help nearly 46,000 of those internally displaced persons through supporting health clinics, training community-based health workers and addressing gender-based violence.
World Bank Group
The World Bank Group works in more than 170 countries in every major area of development, including global health. The group spent $1.8 billion in foreign aid funding on HIV/AIDS, including testing nearly 7 million people for HIV last year.
They also support unique maternal and child health programs around the world, like the Sindh Enhancing Response to Reduce Stunting Project in Pakistan which tries to improve maternal nutrition and health care to avoid children having stunted growth.
Gavi, The Vaccine Alliance
Gavi helps get vaccines to those in need in an effort to combat the 1.5 million deaths every year by preventable diseases. In 2015, the Obama administration requested $235 million in funding to child immunizations, which Gavi uses to help purchase vaccines for countries that cannot otherwise afford it. Global Citizen is a partner of Gavi. You can read more about the organization here.
Program for Appropriate Technology in Health (PATH)
This nonprofit has purchased and distributed 86 million HIV dipstick tests to ensure that people everywhere can get tested, and then get treatment. They've also provided 185 million malaria strip tests to clinics and hospitals throughout the world, ensuring that patients can receive same-day results.
Last year, PATH's testing kits helped get 102,000 HIV-positive patients into treatment in Kenya.
Emilie Hoffer contributed reporting to this story.