News
Demand Equity
BREAKING NEWS: Pearl Jam cancels North Carolina show over anti-LGBT "bathroom law"
Pearl Jam cancelled their upcoming show in North Carolina because they object to a law that restricts the civil rights of the LGBT community. 
The law became notorious for mandating that transgender individuals can only use public bathrooms that correspond to the sex listed on their birth certificate. The bulk of the law, however, is concerned with denying LGBT people legal protections against discrimination. 
The Pubic Facilities Privacy and Security Act, known as House Bill 2 or HB2, is now a national controversy. 
The band made the announcement in a letter to fans handwritten by Eddie Vedder.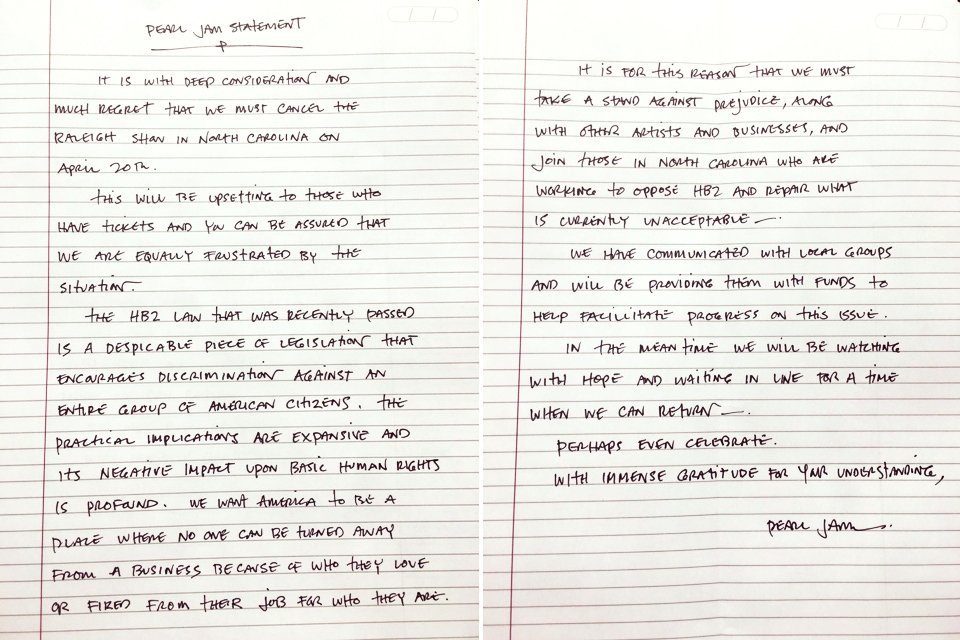 Image: From Pearl Jam
Here is the text in the letter:
PEARL JAM STATEMENT
It is with deep consideration and much regret that we must cancel the Raleigh Show in North Carolina on April 20th.

This will be upsetting to those who have tickets and you can be assured that we are equally frustrated by the situation.

The HB2 law that was recently passed is a despicable piece of legislation that encourages discrimination against an entire group of American citizens. The practical implications are expansive and its negative impact upon basic human rights is profound. We want America to be a place where no one can be turned away from a business because of who they love or fired from their job for who they are.

It is for this reason that we must take a stand against prejudice, along with other artists and businesses and join those in North Carolina who are working to oppose HB2 and repair what is currently unacceptable.

We have communicated with local groups and will be providing them with funds to help facilitate progress on this issue. In the meantime we will be watching with hope and waiting in line for a time when we can return.

Perhaps even celebrate.

With immense gratitude for your understanding,

Pearl Jam
Pearl Jam is asking fans to join them in signing an Equality North Carolina petition for the repeal of HB2. (You can join them HERE)
Refunds for tickets will be available at the point of purchase.
Pearl Jam is part of a growing set of entertainers and companies boycotting the state over the law. Bruce Springsteen recently cancelled a concert in Greensboro, North Carolina. Global payment services company, Paypal, cancelled a planned global operations center in Charlotte, North Carolina.
North Carolina Governor Pat McCrory called for the controversial bill and signed it into law in March. Some political analysts say the governor was trying to use the law to beef up his support from conservative Republicans ahead of an election in November.
Mara Keisling, founding executive director of the National Center for Transgender Equality said the governor's action has backfired. "This guy is using it for political gain and it blew up in his face," Keisling told ABC. "He's hurting himself, clearly, and the entire state."
The debate is now a focal point for equal rights in the United States, giving focus to a movement to change the law in North Carolina and other US States that have similar laws.
Pearl Jam has a long history of political activism including headlining the 2015 Global Citizen Festival and advocating to end gender based violence during their recent Latin America tour.
Ultimately, Pearl Jam's announcement today is a powerful show of support for universal equality.