News
Defeat Poverty
Why You Should Never Skip Your Vaccines Again
This World Immunization Week, here's a reminder that vaccines are key in ensuring global health.
Every year, an estimated 3 million people die from vaccine-preventable diseases like measles, polio and influenza — many of whom are children under the age of 5.
Vaccination efforts have significantly reduced the number of deaths associated with these diseases, but global coverage has stalled at 86%, according to the World Health Organization.
Here's why that really matters.
Vaccine-Preventable Diseases Kill Millions Every Year
More than 3 million die every year from preventable diseases, but that number used to be much higher.
Before the invention of the measles vaccine in 1963, for example, measles outbreaks would surface every two to three years and lead to 2.6 million deaths per year, according to the WHO.
Take Action: Where You Live Shouldn't Decide Whether You Live. Demand World Leaders Invest in Vaccines
Immunization efforts have helped prevent an estimated 20.4 million deaths. In 2000, there were approximately 550,000 global deaths caused by measles. In 2016, that number dropped to 89,780, according to the WHO.
It's not just measles vaccines that have saved lives. There were 350,000 polio cases in 1988, and only 8 reported so far in 2018.
Vaccines Led to The Eradication of Smallpox — And Polio Could Be Next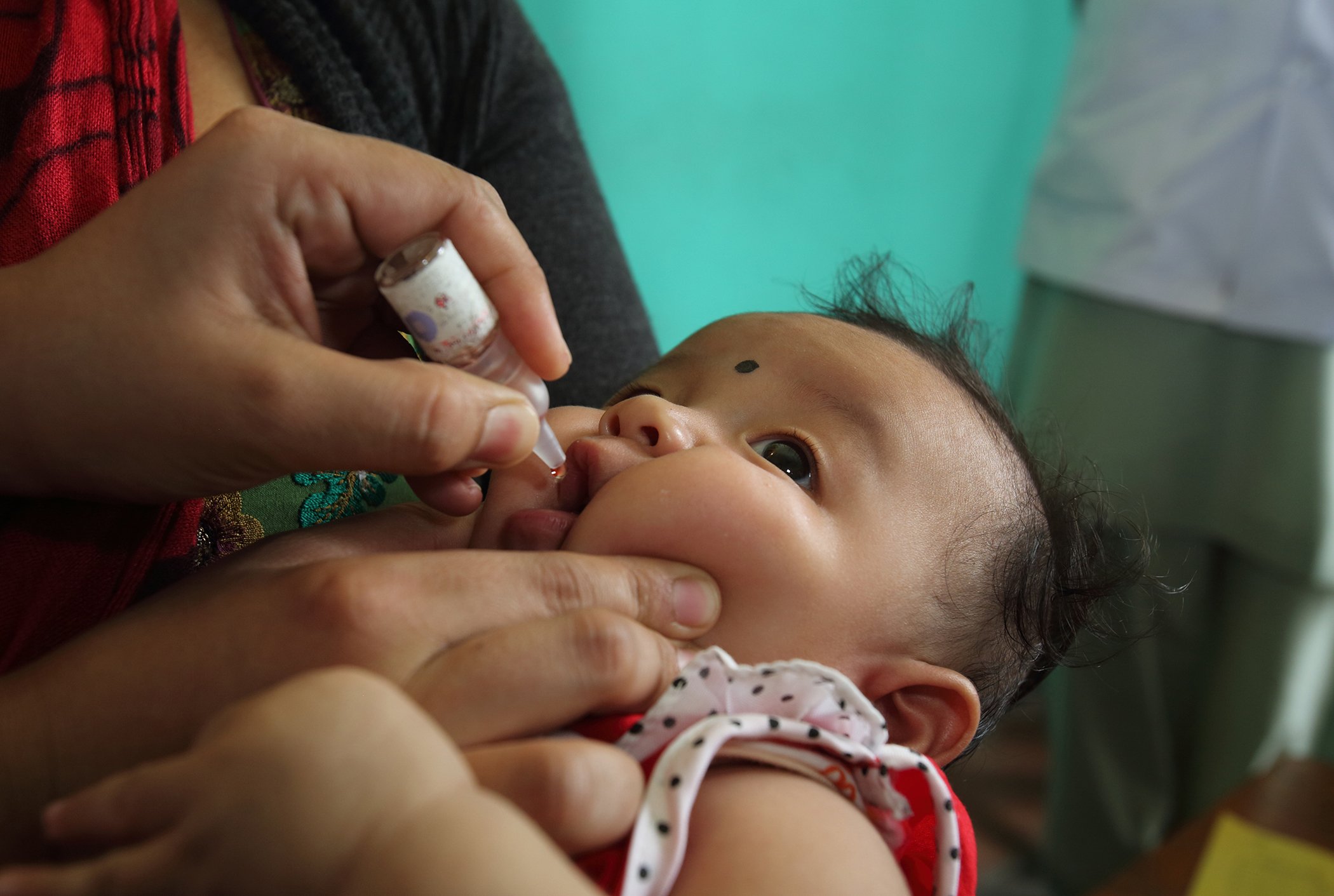 A mother brings her child to be vaccinated for polio during routine vaccinations at District Public Health Office, Immunization Clinic, Pokhara, Nepal.
Image: Jim Holmes/AusAID
Smallpox is the only disease that has been eradicated around the world. Its eradication is in large part thanks to a global immunization effort.
Smallpox was a highly infectious and deadly disease that killed an estimated 300 million people in the 20th century, according to BBC.
Read More: 'Super Shot' To Stop the Flu Is in the Works, Scientists Say
Polio is another preventable disease that is on its way to becoming the second eradicated disease in the world — it is 99.9% eradicated.
Still, it remains endemic in three countries: Afghanistan, Nigeria, and Pakistan. There were only 22 cases of wild polio in 2017 and, now, only 8 in 2018, according to the Global Polio Eradication Initiative (GPEI).
Successful vaccination campaigns are what make this kind of progress possible and reiterates the need for continued immunization.
If You Don't Get Vaccinated, You Could Get Others Sick
Perhaps you don't see the value in getting vaccinated yourself — assuming you're healthy and not likely to contract polio or die from the flu. This thinking is flawed for two important reasons.
Read More: This Australian MP With an Autistic Child Just Launched a Great Defense of Vaccines
For starters, while a disease like polio exists, it is a threat to people everywhere. Because as it's eradicated in countries like the US, Canada and the UK, it remains endemic elsewhere. So should you travel, contract the virus and bring it home, it could easily spread again across the world.
Second, you may be in good health — but someone you love might not be so lucky. If you contract the flu, and pass it on to an infant or elderly person, their health could become compromised and it could potentially turn fatal.
The Anti-Vax Movement Has Resulted In Disease Outbreaks
Measles, mumps and rubella vaccines are seen at the Rockland County Health Department in Pomona, N.Y., March 27, 2019.
Image: Seth Wenig/AP
The anti-vax movement perpetuates ideas that go against scientific evidence, which scares parents and encourages them not to vaccinate their children. Unvaccinated children become sick and are a perfect starting point for an epidemic.
Read More: What the Eradication of Smallpox Taught Us About Vaccines
In the UK, the number of vaccinated children is decreasing every year. For 2013 to 2014, vaccination rates had reached 94.3% — from 2015 to 2016, rates were down to 91.9%.
Many people link this dip in vaccines to the anti-vax theories, and it seems to be linked to an increase in diseases like measles.
There were 14,451 cases of measles across 30 European countries last year, up from 4,600 in 2016, according to the European Centre for Disease Prevention and Control (ECDC).
In the US in 2013, there was a similar link made when nearly 4,000 cases of pertussis (often called whooping cough) were recorded. This was the largest outbreak since 1959.
Read More: Niger Just Vaccinated More Than 5 Million Children Against Polio
The same year, there was a 12% increase of parental vaccine refusal compared with 2006, according to a survey in the journal Pediatrics.
Vaccine-Preventable Diseases Are Expensive
Being sick costs a lot.
A study from Health Affairs estimated that vaccine-preventable diseases in adults cost the US $9 billion in 2015 — $7.1 billion of which was caused by people who did not get vaccinated.
Global Citizen campaigns on the United Nations Sustainable Development Goals, including SDG 3 on ensuring global health for all. Access to vaccines is one of the best ways to achieve this goal. You can take action here.