Water & Sanitation
Microloans for toilets are getting girls to school
And helping entire families too.
This piece was written in collaboration with Morée Scofield, Public Affairs, Water.org.
With 2.4 billion people lacking access to a toilet, 1 in 3 people have no choice but to defecate in the open. A reality that continues to disproportionately affect the safety and health of women and children worldwide.
So for countless global citizens, World Toilet Day (today) is about spreading awareness around these harsh realities.
But in the face of great hardship, many have overcome the obstacles and built a communal or private latrine. In light of these individuals and their success, today should also be a day to celebrate.
To celebrate the building of a toilet, and the safety and wellness it brings to a family. A day for mothers like Hamsaveni, Nusrat, and Muhayanti, to celebrate as they send their daughters to school instead of the doctor.
Hamsaveni and Nusrat of India and Muhayanti of Indonesia represent just three of the 2.6 million people who have built a water tap or toilet using a microloan called WaterCredit. 
For a family living below the poverty line, the upfront cost of a toilet can easily equal a household's monthly income, but millions are willing to make the investment if they can spread the cost over time.
To celebrate World Toilet Day, we invite you to meet four communities from across the globe and learn about their resilience and dedication to live a better life. 
Hamsaveni and Rajesh 
For Rajesh, the goal he had for his family has always been clear: "When our daughters decide what they want to study, we will support them. We want to give them a good education. We wish for them both to have bright futures."
After taking out a small loan to build a toilet in their home, Rajesh was able to save the money and time needed to support his family, and to send his daughters to school.
Click the video above to hear their story. 
Muhayanti
Image: Benjamin Heath
After her childhood home was destroyed in a fire, Muhayanti and her mother moved from the urban city of Jakarta, Indonesia to a rural village outside Tangerang, Indonesia. But with the move came new challenges. Muhayanti found that searching for a place to defecate and walking to collect water took up most of her time.
After marrying and becoming a mother, Muhayanti knew it was important for her family's safety and health to have safe water and a latrine. As a result, she took out a microloan to install a toilet and water tap in her home.
Her investment improved her daughter's health and freed up time for Muhayanti and her mother to make rugs for extra income.
"Now it's easier for me to wash our clothing and bathe Intan. Intan was prone to sickness, often. She has been much healthier now that we have a tap and toilet. We no longer have to go to the fields to defecate, or to the river for water, and when Intan gets dirty from playing in the village, I can wash her right away."
Five families benefit in Uganda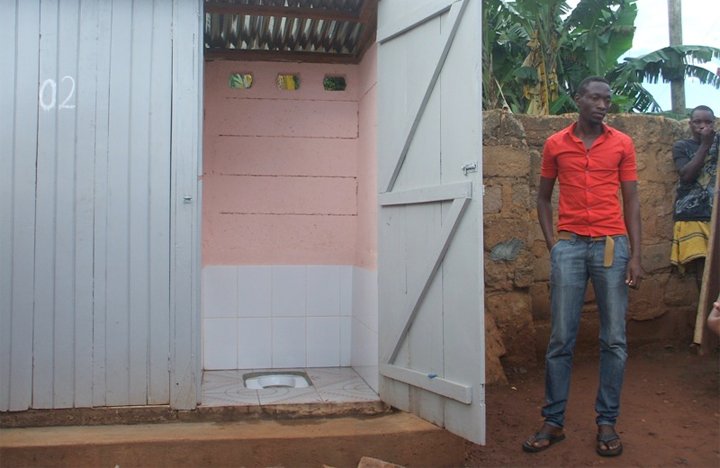 While 64 percent of the world's population have access to a toilet, 64 percent of Ugandans don't. Meaning 31.5 million people in Uganda are confronted with open defecation, poor health, and safety concerns.
To combat the challenges of inadequate sanitation, five families banded together to get a microloan and build a communal toilet. 
Now available to all five households, this group effort created the opportunity for a life not burdened by the issues millions face without a toilet.
Nusrat and Sheer Khan
Nusrat Khan, a 34-year-old wife and mother of six, lived without a toilet in the rural village of Odisha, India for 19 years. With six children to raise, and just enough income from selling cattle to provide meals, Nusrat and Sheer Khan could not afford access to safe water and sanitation. But as their children began to ask, "why do we have toilets at school, but not at home?" they felt a growing need for a private latrine.
"We had to go to the field for defecation. The fields are filled with human waste. In such unhealthy conditions the chance of recovery is [low] and the scope of the spread of new diseases is high. As the population rises, it is increasingly difficult to find a clean place for defecation."
Because of poor hygiene and water-borne illnesses, their children were frequently sick and any extra income went to medical expenses.
So when news spread about WaterCredit, the Khans jumped at the opportunity to apply and within two weeks of receiving the loan, their toilet was built.
Toilets improve health, bolster access to education, and give men and women the time they need to be productive. Share the stories of these communities to help unlock brighter futures for families around the world. To learn more about WaterCredit visit http://water.org.
---