Citizenship
Best Musical Moments From Past Global Citizen Festivals
This is what happens when global citizens #showup.
This weekend, Rihanna, Kendrick Lamar, Demi Lovato, Major Laser, and Metallic are headlining the 2016 Global Citizen Festival in New York City's Central Park. If you can't make it in person, find out how to you can watch and follow along with all the action here.
---
The Global Citizen Festival is almost here, a culmination of five years of global citizens coming together to end extreme poverty and fight for human rights everywhere. 
Unlike other music festivals, GCF incorporates meaningful calls for action into a lineup filled with sensational acts. You might see Alicia Keys strutting across the stage one moment, and then India's Prime Minister Narendra Modi holding forth on water and sanitation the next. It's a fascinating blend of politics and pop culture, showing that ordinary people have the power to change the world when they #showup. 
Read More: Global Citizen Festival 2016 Lineup: Rihanna, Kendrick Lamar, and More
But it's the music that gets global citizens to show up early and stay full of energy for hours on end. Over the years, we've had some of the best performers in the world take the stage and this year is no exception. To get you ready for Saturday's packed lineup, here's a look back at the other musicians who are proud to be global citizens. 
---
2012 Global Citizen Festival
---
Band of Horses
K'naan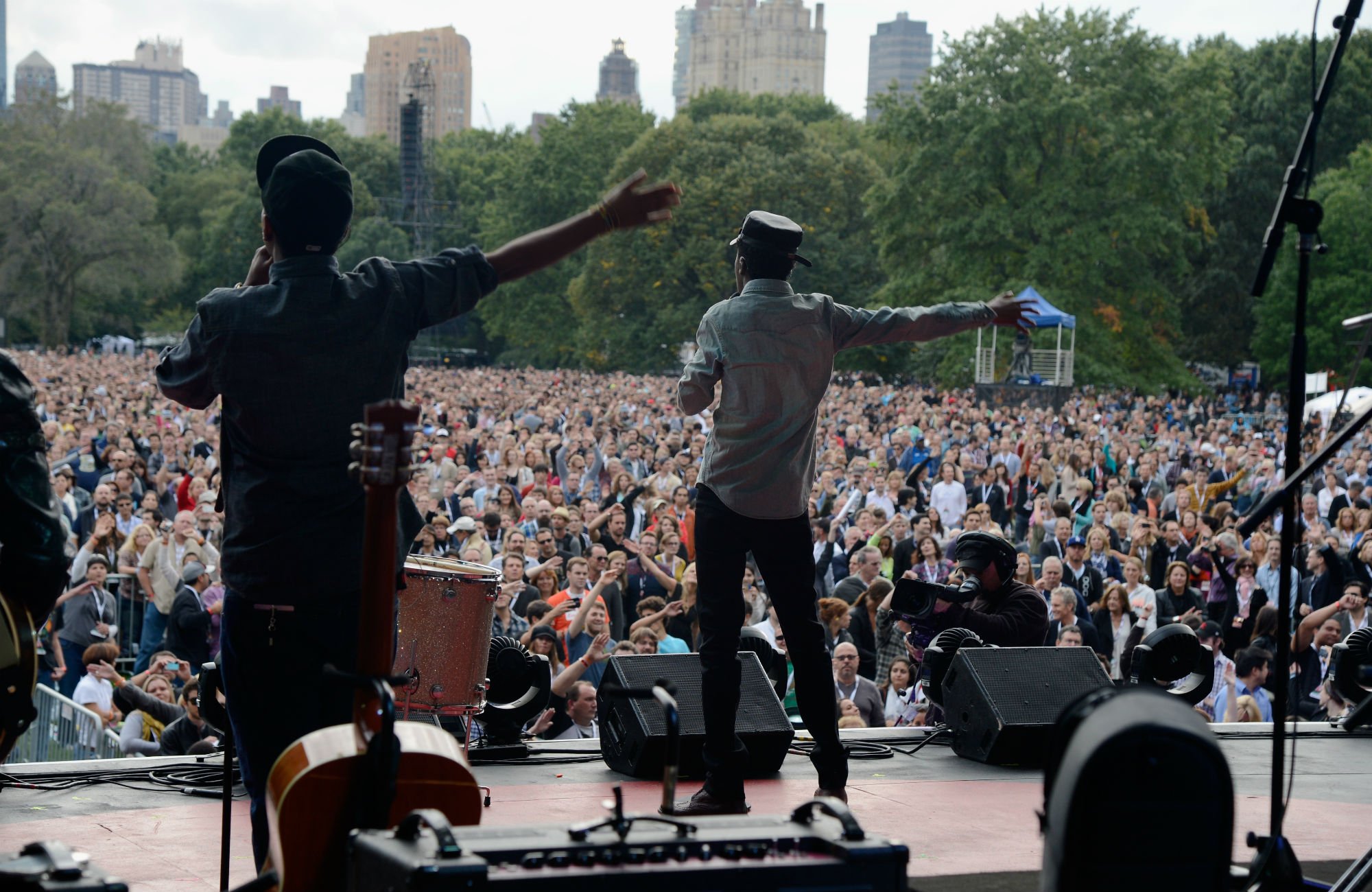 The Black Keys
The Foo Fighters
Neil Young & Crazy Horse
---
2013 Global Citizen Festival
---
Kings of Leon
John Mayer
Alicia Keys
Image: Global Citizen
Stevie Wonder
---
2014 Global Citizen Festival
---
No Doubt
Tiesto
The Roots
Jay Z
Jay Z and Beyoncé
Carrie Underwood
---
2015 Global Citizen Festival
---
Coldplay and Ariana Grande
Ed Sheeran and Chris Martin
Common and Sting
Pearl Jam
Image: Eddie Vedder and Pearl Jam perform at the 2015 Global Citizen Festival. On December 2, Vedder will perform at Mandela 100 in Johannesburg.
Pearl Jam and Beyoncé