Finance & Innovation
Broken Printers and Plastic Buckets Are Providing Electricity to Vietnam's Poor
And it's beautiful.
A row of red buckets bolted to recycled metal poles flies over a slum on the Red River in Vietnam. The colorful contraptions provide free electricity to the families living in poverty on dilapidated boats just two kilometers from economically bustling Hanoi, the nation's capital.
The collection of rusted-out boats and floating scrap metal platforms has been home to poor people for decades.
Electricity is rare and costly in the slum. For those who can access it, monthly fees can range from the equivalent of $9 (USD) to $15. This is a very expensive for families who mostly survive on a few dollars a day from collecting scrap metal or trading pottery.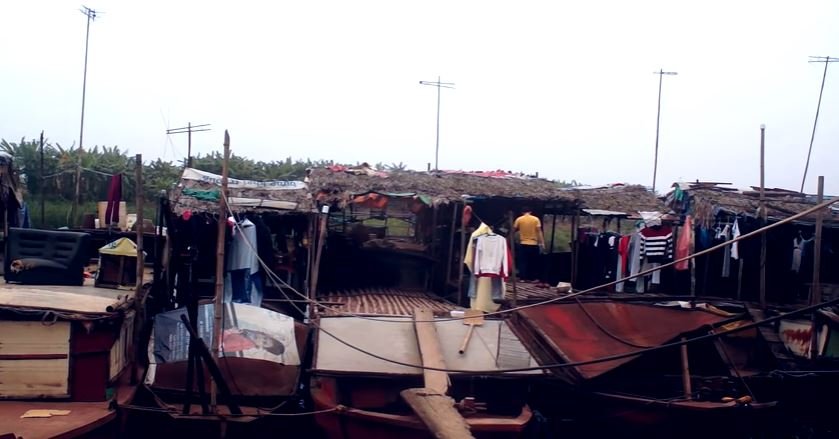 Image: YouTube: Le Cuong
Le Vu Cuong, a young lecturer at the Hanoi University of Business and Technology, decided he wanted to do something about this.
"The residents living here are poor. We wanted to support them," Cuong told Vietnam News. "When my group carried out research, we found that the natural conditions at this place are suitable for small wind power turbines."
Read More: Four Renewable Energies You May Not Have Heard Of
Through funding from a collection of humanitarian organizations, Plan International-Vietnam, Australian Aid, and Live & Learn, Cuong and his colleagues began developing a cheap and easy to repair energy source.
Image: YouTube: Le Cuong
"I tried many kinds of materials for the blades – and ended up with the plastic bowls … they are cheap and easy to replace," Cuong said.
The plastic bowls are attached to a horizontal windmill on top of long metal poles. The scrap metal contraption is connected to simple, repurposed, generators.
Image: YouTube: Le Cuong
"Due to limited financial resource, I have to use motors from broken printers, of which both capacity and output are moderate," Cuong explained.
The turbines can generate electricity in wind as light as 1.3 ft. per second, the equivalent of a very light breeze.
To ensure the Red River slum residents can utilize the power when they most need it, the generator charges recycled motorcycle batteries.
The entire system costs less than $45. It was provided free to people in the Red River slum.
Read More: Farmers in Kenya Shut Down $144 Million Wind Power Farm
Initially residents were wary of Le Ve Cuong and his colleagues. After multiple visits, one village elder, Tran Van Xuan, agreed to be the first to try the young innovator's device. Soon everyone in the poverty-stricken area wanted one.
"We have to pay more for electricity because we live too far from a power station and we can only afford small amounts of it," Xuan told Vietnam News. "With this wind power turbine, we can light a bulb when it's dark, for free. Of course we're happy about that. Everyone here is happy about that."
The slum now has 10 turbines providing power. Cuong hopes this project is just the beginning of a larger effort.
Image: YouTube: Le Cuong
"We want to support the low-income community," Cuong told Reuters. "Now they can use more electricity without any extra costs, with energy coming from renewable sources."
Read More:You Wouldn't Expect These Countries to be Turning to Greener Energy
Cuong is working to improve the output from his team's wind-powered generators and is seeking funding to expand the program to more low-income families in Vietnam.
Watch Le Ve Cuong's video of the Red River slum and their new red bucket turbines below. Check out 3:43 to see the turbines being built and 7:15 for them in action over the village.