Girls & Women
Everything you need to know about FGM
Including the two countries who banned it this year.
Two countries this year banned female genital mutilation (FGM) and it's a big step forward. But FGM is still not fully recognized as a global problem. For years, organizations such as WHO, UNICEF, UNFPA, and many others have worked tirelessly to end FGM, raising awareness of this deplorable human rights violation, one that affects children more than adult women. The most common age for girls and women to be subjected to FGM is between four and twelve years old. There's a lot to know about FGM so here's a breakdown of the issue.
What happens to girls during FGM?
It's about to get medical, graphic and unpleasant. This information is not easy to digest, but it's part of understanding FGM, and nothing compared to experiencing FGM first-hand—which an estimated 125 million girls in the world today have been through.
There are several categories of FGM, ranging from Type I through IV. Type I and II involve any cutting on the outer parts of the vagina such as the clitoris, or labia. Type III is when the vaginal opening is narrowed by cutting to create a sealing. Type IV covers "all other harmful procedures for non-medical purposes" according to the World Health Organization.
These forms of FGM are a form of gender violence and discrimination to keep women from "getting excited" or experiencing pleasure during sex. In some cultures, various parts of the vaginal opening are sewn shut, a girl's legs are closed for two weeks so the tissue seals together, and then the vaginal opening is cut open by the husband on the wedding night to ensure she has not had "illicit sex" before marriage. This is one of the most brutal forms of FGM. But, no form of FGM comes without serious physical and psychological health risks.
Here's are some health risks of FGM: bleeding, infection, higher risk of maternal and infant mortality, infertility, higher risk of contracting HIV, difficulty menstruating, painful urination, urinary tract infections, and psychological trauma.
Dr. Roland Tibila Zoungrana specializes in reversing FGM. He helps women have safer births, sex, and urination. He says reversal surgery is not enough "women who have had FGM still need psychological counseling."
Image: Flickr: DFID
So, why would mothers, fathers, and grandparents inflict this pain and take these risks on daughters? Often, parents inflict FGM on daughters because of cultural and social norms that call for removing the "male" part of a girl during or before adolescence to make them "clean" or, in the case of closing the vaginal opening, it's done to prevent sex before marriage.
Where and why is FGM prevalent?
In Somalia, Egypt, Guinea, and Djibouti, more than 90 percent of women have suffered from FGM.
FGM is still practiced in communities throughout countries that have passed laws to ban mutilations, like Egypt, for example, where 1 in 4 girls have had FGM performed. It's often a girl's family who decides and are involved in "the cut," which is why discussion among ALL (both male and female) family members and broader communities is vital to end FGM.
Lack of communication and miscommunication about body image, sex, and  between men and women plays a large role in the continued prevalence of the continued practice of FGM.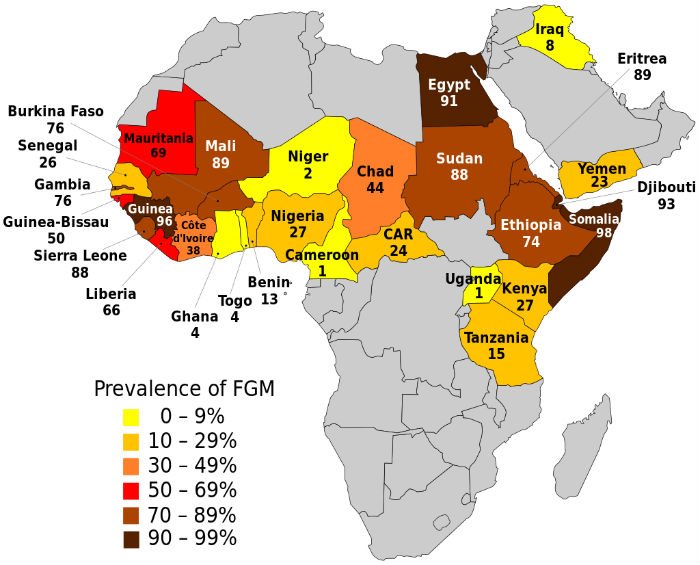 Image: Johnuniq/Wikicommons
FGM was banned in Egypt in 2008. This year the first doctor to be convicted of performing FGM in Egypt now faces two years in prison. He was charged with manslaughter after performing an FGM operation that killed Sohair al-Bataa, a 13-year-old girl. Her father was also prosecuted for putting Sohair through the procedure.
Ending FGM is not a black-and-white topic, and it's still an uphill battle in Egypt and many other countries. Few parents who subject daughters to FGM consider it a human rights violation, or believe the health risks can take the life of their own daughter. Passing laws to stop FGM is a necessary approach and a step forward but changing cultural norms, education, and empowering women will be the most effective tools to end this violence against girls and women.
Which countries have banned FGM?
In 2015 Gambia and Nigeria banned FGM, passing laws that punish those who practice it.
Gambia recently enacted the ban in November, and Gambia's president made a statement saying that FGM "has no place in Islam [the predominant religion of the country] or in modern society."
Nigeria banned FGM earlier in the year in May, calling for an immediate change to traditional views that perpetuate violence against women.
Gambia and Nigeria are among 18 other African countries who have banned the cultural practice. But 34 still have not done so.
A list of countries that have banned FGM can be found at the United Nations Population Fund's site here.
Does FGM only occur in African countries?
No. It's less common outside of sub-Saharan Africa, but certain ethnic groups in Asian countries practice FGM, including in communities in India, Indonesia, Malaysia, Pakistan and Sri Lanka. In the Middle East, the practice occurs in Oman, the United Arab Emirates and Yemen, as well as in Iraq, the State of Palestine and Israel.
Colombia's indigenous Embera tribe is one of the few communities still practicing FGM in Latin America and has said they will end the practice by 2030. Colombia made FGM illegal in 2009 but it still takes the leadership and involvement of the indigenous tribe to eradicate the practice.
500,000 girls in the US have been subjected to FGM, too.
While all countries should take measures to address the global issue and ban FGM, a comprehensive approach at the international level is needed. The UN mobilized this approach in 2012 and called out the gap in funding to fight FGM.
Why is FGM a global problem?
How could Switzerland—the number three most developed country in the world—only create laws around FGM less than ten years ago, and only actually enact strict laws penalizing FGM practices in 2012?
The reason is mostly because FGM only recently became a globally recognized issue. Plus, FGM affects some of the most vulnerable girls and women in the world, those who voices are often suppressed.
Migrant girls and women from Sub-Saharan Africa regularly undergo FGM. Travelling and fleeing their home countries to seek refuge in another country after FGM or having the painful procedure while acclimating as a refugee is something no girl should have to go through.
In the US, Congress passed a law in 1996 banning FGM, but only 23 states adopted laws to penalize FGM. States such as Minnesota are just beginning to address the problem and high prevalence of FGM in communities of refugees like those from Somalia—where 9 out of 10 girls undergo FGM.
In England and Wales FGM was banned in 1985. However, there has been little prosecution despite an estimated 60,000 girls (between the age of 0-14 and who were born in the country) being subjected to the practice.
The health risks that accompany FGM are horrendously amplified by lack of access to healthcare facilities, clean sanitary products during periods, and safe birthplaces. So not only are the poorest women most vulnerable to FGM, but they are also the least likely to receive medical help. But, right now it's still a catch-22 because FGM is seen in communities as a tool for girls to enter into better marriages, rite of passage to enter womanhood and be viewed as more respected in society. This needs to change.
A traditional midwife shares with youth in Burkina Faso there are no benefits of FGM.
Image: Flickr: UK Department for International Development
Some communities are creating new rites of passage for girls that don't involve putting their lives at risk and emotional trauma. Tribes like the Maasai of Esiteti in Southern Kenya now give girls traditional beads, sing, dance and talk about the role of women in the community instead.
What other approaches can be taken to end FGM?
While the bans FGM in Gambia and Nigeria are something to celebrate, ending FGM is a battle that's not over yet, and it will take more than laws to stop. Kathleen Ebbitt wrote an article earlier this year which details seven ways organizations and world leaders are working to end FGM. From global awareness (like this UN resolution)—acknowledging FGM is a problem not just in rural African communities but in developing countries, too—to grassroots approaches of communicating the health risks between genders and generations, the world will need to use all available methods to end this horrendous gender-based human rights violation against women and children.
You can pledge to help end violence against women by going to TAKE ACTION NOW and telling world leaders and politicians to prioritize ending gender-based violence.