Food & Hunger
#YieldWise, the new $130 million dollar project to cut food waste
Up to a third of food is lost, costing over a trillion dollars. This is how to stop it.
More than a third of the world's food is wasted in the arduous process of getting it from the field to a person's table.
One of the NGO leaders in international development, The Rockefeller Foundation, announced at the World Economic Forum in Davos (aka Davos) a $130 million USD project, "YieldWise," to cut this food waste in half by 2030.
Food waste exacerbates the challenges facing the 1.2 billion people who are hungry or undernourished around the world. It also costs the world economy about $1 trillion dollars. Seriously. 1 TRILLION US Dollars. According to The Rockefeller Foundation:
In an announcement piece on their website, The Rockefeller Foundation said:
"In Africa, 50 percent of fruits and vegetables, 40 percent of roots and tubers, and 20 percent of cereals—all of which are staple foods—are lost in the post-harvest stage or processes."
That is a stunning set of figures.
Food waste on this level is caused by a range of issues, including a lack of market opportunities, information, technology and alternative markets.
A large amount of this new project will focus on Sub-Saharan Africa.
"YieldWise" will work in all areas of food supply from small farmers to large distribution companies. They are hoping partnerships with companies like Coca-Cola, Dangote Group and Rockefeller Foundation grantees like Pyera will help provide support and improvement at every step in the food supply chain.
The Foundation outlines their approach in this graphic: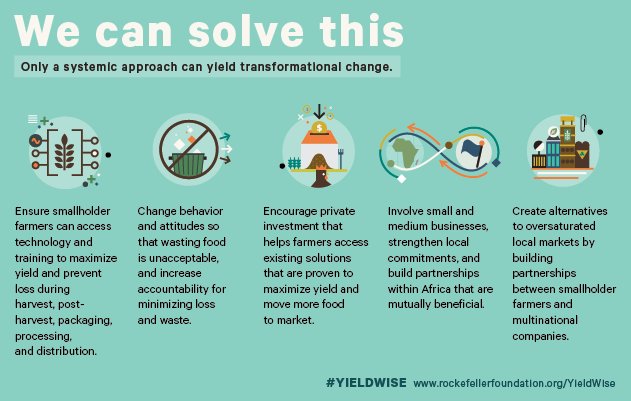 Food security is an issue that affects over a billion people and is a barrier to ending extreme poverty. Initiatives like YieldWise will play a crucial role in accomplishing the Global Goals and giving a humanity a future without the injustice of extreme poverty.
What's Trending In Food & Hunger