Demand Equity
15 of the best UN General Assembly quotes so far
Words that reverberate around the world.
The 70th UN General Assembly opened on an historic note: the Global Goals were ratified by 193 countries. 
The gathering has featured a lot more than the Goals, however, and a lot of high-flying rhetoric has been deployed to advance various agendas. 
Among all the competing claims for attention, many moving and important statements have been made. 
Here are 15 of the most notable things said so far: 
UN Secretary General Ban Ki-moon on the need for unity: 
"There is nothing we can say to the world's children that can convince them the world needs to be the way it is. That means we must do everything we can to close the gap between the world as it is, and the world as it should be."
Evo Morales, president of Bolivia on capitalism:
"The only way to end poverty and all the other serious problems facing humankind is to do away with capitalism. The exploitation of human beings and pillaging of natural resources must end, as should wars aimed at securing access to those resources."

Image: UN Photo/Kim Haughton
Brazilian President Dilma Rousseff on refugees: 
"The profound sense of indignation caused by the picture of a dead Syrian boy on the beaches of Turkey and by the news of the 71 people asphyxiated inside a truck in Austria must be translated into unequivocal acts of solidarity. In a world where goods, capital, data and ideas flow freely, it is absurd to impede the free flow of people."
Image: UNICEF/Tomislav Georgiev
Bill Gates on malaria eradication:
"Eradication is the only sustainable solution to malaria. The alternative would be endless investment in the development of new drugs and insecticides just to stay one step ahead of resistance. The world can't afford that approach."
Image: WHO/PAHO
Malala Yousafzai on education: 
"The world leaders need to take all these issues more seriously. They need to give it full attention and they should think about their own children. No one leader would want their own daughter, their own son, to be neglected of education, to be neglected in society and not given full rights."
Image: UN Photo/Mark Garten
Pope Francis on the environment and poverty: 
"A selfish and boundless thirst for power and material prosperity leads both to the misuse of available natural resources and to the exclusion of the weak and the disadvantaged."
Image: UN Photo/Mark Garten
WHO Director-General Dr. Margaret Chan on polio:
"The outstanding commitment and efforts that got Nigeria off the endemic list must continue, to keep Africa polio-free. We must now support the efforts in Pakistan and Afghanistan so they soon join the polio-free world."
Ban Ki-moon on nuclear weapons: 
"The norm against the use of nuclear weapons – the most destructive weapons ever created, with potentially unparalleled human costs – has stood strong for seven decades. But the only absolute guarantee that they are never used again is through their total elimination."
Director of UN Women Phumzile Mlambo-Ngcuka on gender equality: 
"There can be no gender equality without investment and willingness to change the status quo. To make 2030 the expiry date for all forms of gender discrimination, everywhere, all businesses will need to step up essential investments in gender equality."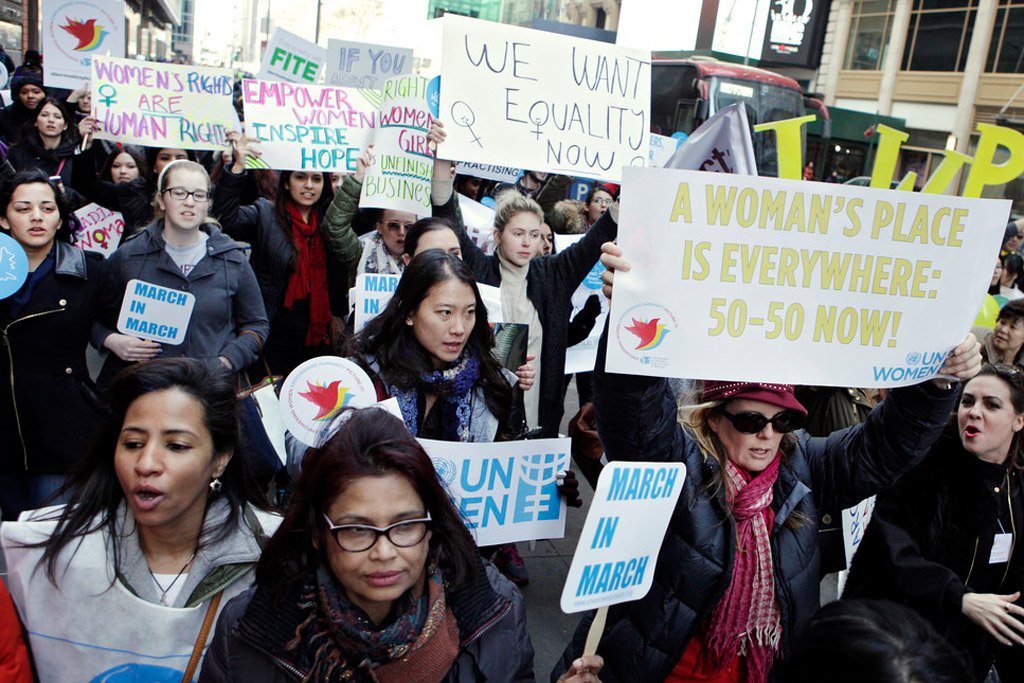 Image: UN Women/J Carrier
United Nations Deputy Secretary-General Jan Eliasson on water: 
"Water must never be a reason for rivalry or competition. Water must be a source of cooperation and of shared security and prosperity. Let us remember that water is our primary source of life. So this is also, fundamentally, an existential challenge and a moral obligation."
Image: World Bank/Arne Hoel
UN Special Rapporteur on the Right to Food, Hilal Elver: 
"Often, the residues of these hazardous pesticides are found in the food that we consume and this impedes individual's right to access safe healthy food. The exposure is particularly serious for farmworkers and their families. Children are exposed to highly hazardous pesticides through their mother's milk."
"Urgent action is needed. States must reorient their methods of food production towards systems that inflict less harm, are more sustainable, and truly contribute to the realization of all human rights."
Seychelles president James A. Michel on climate change:
"Climate change is not of the making of the small island developing States, but we bear the full brunt of it, which is why we will never cease to raise the issue in every forum, including this one, because we are the conscience of the world."
Image: Hansueli Krapf
Palestinian President Mahmoud Abbas on breaking with the Oslo Accords: 
"My hands remain outstretched for the just peace that will guarantee my people's fights, freedom and human dignity. I say to our neighbours, the Israeli people, that peace is in your interest, in our interest, and in the interest of our future generations."
"I hope that you will consider the dangerous reality on the ground and look to the future and accept for the Palestinian people what you accept for yourselves. Then, you will find that the achievement of peace will be possible, and you will enjoy security, safety, peace and stability."
Image: Flickr: Wall in Palestine
Chinese president Xi Jingping on unity: 
"Let us establish a new win-win partnership for all mankind. Let prosperity, fairness and justice spread across the world."
Image: Wikimedia Commons- Ozonefrance
Rwadan president Paul Kagame on unity:
"The only sustainable solution is one that includes us all."