Citizenship
Will a new era of politics begin in Argentina?
Presidential elections head into a runoff November 22nd
In the center of Plaza de Mayo, is the statue of Manuel Belgrano, seen here with the Casa Rosada as a backdrop.
The other week, Argentines went to the polls to vote for their next president, and for the first time in 12 years "Kirchner" was not on the ballot.
President Cristina Fernandez de Kirchner was elected in 2008, following the death of her late husband, who was in office from 2003 to 2007. After a total of 12 years in office, Argentina is suffering from weak economic growth underpinned by a mismanagement of public funds and corruption, double-digit inflation, and rising gang related violence.
President Cristina Fernández de Kirchner of Argentina will step down to make room for the upcoming president.
Image: Flickr: Mauro Rico
It's clear that Argentinians are ready for a change in power. The presidential election two  Sundays ago is evidence of that.
In Argentina, a presidential candidate can obtain a first-round victory either by winning more than 45 percent of the vote or by winning between 40 and 45 percent and simultaneously besting the first runner-up by at least 10 percent.
Cristina Kirchner's chosen successor Daniel Scioli failed to win outright in Argentina's presidential election, being forced into a run-off with businessman Mauricio Macri -- sparking a crisis for "Kirchnerismo."
This refers to the political philosophy and legacy they've left on Argentine politics. It is a contemporary spin on the "Peronismo" of Juan and Eva Perón. And like the 1950s-era edition, it is less an ideology than a ruling style, defined by concentration of power, populist social welfare programs and a steady diet of Argentine nationalism.
So what does this mean?
In short, this election revealed unexpected results. Scioli is barely the frontrunner in this election. Despite an endorsement from Kirchner, Scioli could not gain enough momentum to secure the presidency -- indicating the country is considering a change in leadership.
Daniel Scioli (on the left) is s an Argentine politician, sportsman, and businessperson. He was the 33rd Vice President of Argentina from 2003 to 2007, under Néstor Kirchner, and has been Governor of Buenos Aires Province since 2007.
Image: Romina Santarelli
In brief interviews with The Wall Street Journal, Mr. Scioli wouldn't say how his presidency might differ from Mrs. Kirchner's. "They are phases of the same project," he said, implying his administration would continue with her policies.
Meanwhile, Macri, the current mayor of Buenos Aires, is looking to challenge Kirchner's rule, putting an end to the economic slump Argentina is currently in. Viewed as a conservative, he gained prominence by running on a campaign promising change through a more business-friendly approach. If he wins, he says, he will dismantle capital controls and trade restrictions on his first day in office.
Mauricio Macri is an Argentine businessman and politician, and Head of Government of the Autonomous City of Buenos Aires.
Image: Flickr: Area Fotografía
Scioli is portraying Macri as a threat to political stability and a throwback to the neoliberal policies of the 1990s that preceded the 2001-02 depression. Meanwhile, Macri calls out Scioli for supporting a  continuity of populist policies that have driven up inflation and strangled investment.
This signals an intense new phase of campaigning ahead of the runoff election on Nov. 22. Whoever now wins the 2nd round will become the 1st president elected through a run-off in Argentine history.
Regardless of who wins the election later this month, Argentina is bound to experience some kind of transformation. In light of the scandals and economic lows Kirchner's presidency has faced, the people are looking for new leadership to revive the economy.
The outcome of this electoral process will have a profound impact on the extent to which Argentina is able to lift its citizens out of poverty. A study by the Catholic University of Argentina calculated a 27 percent poverty rate for Argentina in 2014. Women, particularly those in rural areas, make up a large percentage of the poor. They comprise 60% of those employed in low-paying jobs. The report also insists that the population of children and adolescents in economic poverty situation is "very significant" in the urban belt of Buenos Aires city, where it reaches 48.8%.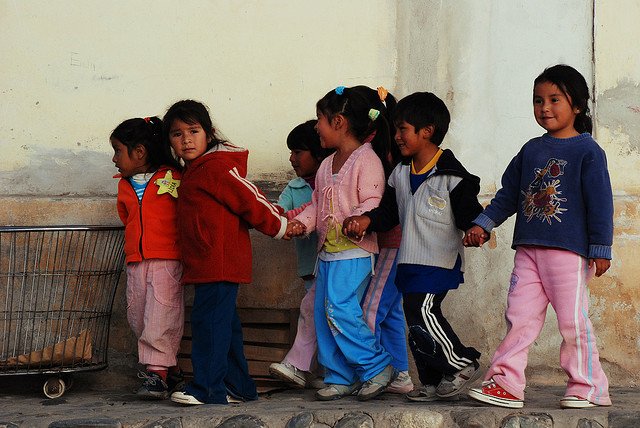 Image: Carola Jacobs
Argentina's 2015 elections  are critical and mark the end of the Kirchner era," he says. There is opportunity for a fresh political environment, with new opportunities to improve the lives of those living in poverty. It is time for change-- Argentina's government needs new leadership that promotes greater transparency and accountability.
I'm personally excited to see how this all plays out. There is room for progress to be made and the world must applaud the progress that's been made. The South American country's 32 million voters, who cast ballots on Sunday, should be optimistic that the polls took place without protests or blatant evidence of corruption like in previous presidential elections.
This in particular is an incredible victory for democracy and a good sign for things to come! As candidates continue to campaign the world must encourage leaders to put poverty and malnutrition at the forefront of the political agenda. Whoever succeeds Fernández de Kirchner in 2015 will have a chance to strengthen the Argentine economy, and more importantly allow individuals to build a country where everyone can lead a healthy and happy life.