Citizenship
11 Photos of Courage and Catastrophe From Around the World This Week
Australians celebrated gay marriage and US Dreamers demanded recognition — all under a super moon.
This week, Australia became the 26th country to legalize gay marriage, prompting ecstatic Aussies to take to the streets to celebrate.
The legislation came after an overwhelming majority of Australians voted in favor of marriage equality during a nationwide mail-in referendum last month.
Throughout the Middle East, rallies had a darker motivation as angry protestors demonstrated against the Trump administration's decision to recognize Jerusalem as the capital of Israel. For decades, the US had considered Tel Aviv as the Israeli capital to quell tensions in the region. Palestinians consider East Jerusalem as the capital of their future state.
In the US, demonstrators organized against another Trump decision — the repeal of the Deferred Action for Childhood Arrivals (DACA) program, which enables undocumented immigrants brought to the US as children to remain in the country. They rallied outside the US Capitol in Washington, DC to voice their support for the Dreamers.
On the other side of the country, terrifying photos of flaming hillsides shocked the world as wildfires, propelled by intense winds and fueled by dry conditions, continued to rip through Southern California.
The #MeToo movement continued to gain strength around the globe, earning Time Magazine's People of the Year award and forcing the resignation of US Senate Al Franken. 
Women also earned a massive victory in Bangladesh where the country's first female military pilots hopped into the cockpits of air force jets as part of a United Nations peacekeeping mission.
---
Image: Jae C. Hong/AP
1) California Wildfires: Firefighter Ryan Spencer battles a wildfire as it burns along a hillside toward homes in La Conchita, Calif., December 7. The wind-swept blazes have forced tens of thousands of evacuations and destroyed hundreds of homes.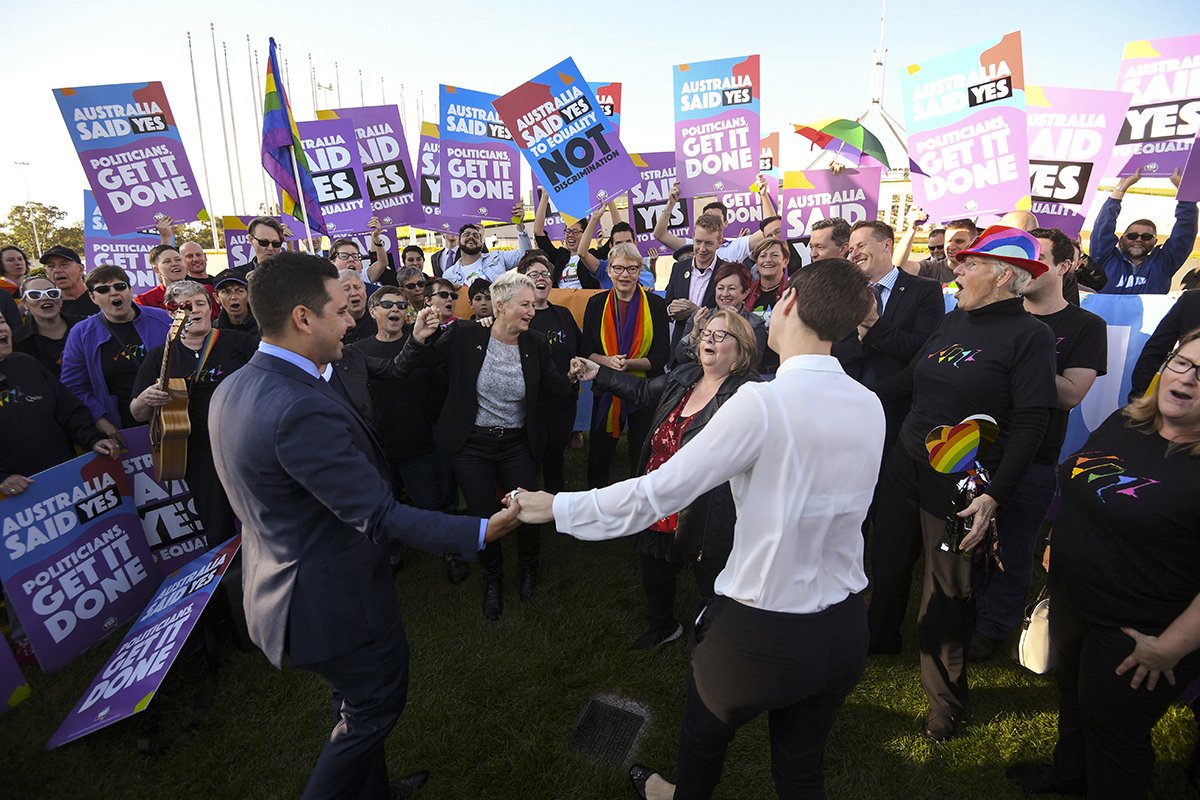 Image: Lukas Coch/AAP Image/AP
2) Australia Gay Marriage: Same-sex marriage campaigners and volunteers cheer as they call on politicians to pass marriage equality legislation during rally outside Parliament House in Canberra, Australia, Thursday, December 7. Gay marriage was endorsed by 62 percent of Australian voters who responded to a government-commissioned postal ballot by last month.
Image: Bilal Hussein/AP
3) World Reactions to Trump's Jerusalem Announcement: Protesters chant slogans as they hold Palestinian flags after Friday prayers during a march in the streets of Beirut, Lebanon, December 8, 2017, against President Donald Trump's decisions to recognize Jerusalem at the capital of Israel.
4) First Female Pilots in Bangladesh: Flight Lieutenant Tamanna-E-Lutfy (left) and Flight Lieutenant Nayma Haque pose for a photo at Dhaka cantonment in Dhaka, Bangladesh, on December 4. Bangladesh's first-ever female military pilots have joined the peacekeeping mission of United Nations in Congo, the defence ministry said. A press release from the Inter Services Public Relations declared the deployment of Flight Lieutenant Nayma Haque and Flight Lieutenant Tamanna-E-Lutfy. The two pilots were selected after considering all the professional risks and challenges by the Bangladesh Air Force. After completing 65 hours of basic helicopter conversion training, they performed duties in different operational squadrons of the Bangladesh Air Force, the press release said.
Image: Andrew Harnik/AP
5) US Immigration Rally: Demonstrators hold up their fists as they are arrested outside of the US Capitol during an immigration rally in support of the Deferred Action for Childhood Arrivals (DACA), and Temporary Protected Status (TPS), programs, on Capitol Hill, December 6, in Washington. Also pictured is Rep. Luis Gutierrez, D-Ill., third from left.
6) Rohingya Refugee Crisis: Rohingya Muslim refugees children queue for aid suplies at the Kutupalong refugee camp in Cox's Bazar on December 4. Rohingya are still fleeing into Bangladesh even after an agreement was signed with Myanmar to repatriate hundreds of thousands of the Muslim minority displaced along the border, officials said on November 27. 
Image: Aung Shine Oo/AP
7) Supermoon: The supermoon rises behind the Uppatasanti Pagoda seen from Naypyitaw, Myanmar, December 3. The December 3 full moon will be the first of three consecutive supermoons.
Image: Noah Berger/AP
8) California Wildfires: A motorist on Highway 101 watches flames from the Thomas Fire leap above the roadway north of Ventura, Calif., on December 6. As many as five fires have closed highways, schools and museums, shut down production of TV series and cast a hazardous haze over the region. About 200,000 people were under evacuation orders.
9) Philippines: A man separates recyclable materials from the trash of an office building along a street in Manila on December 5, 2017. He earns around $4 a day from collecting recyclable materials from the trash. 
10) Sexual Misconduct in US Senate: Senator Al Franken (D-Minn.) gets into his vehicle after speaking on the Senate floor at the US Capitol in Washington, D.C., on December 7. Franken announced Thursday hell resign to end the turmoil over allegations that he groped or tried to forcibly kiss several women after more than half of his Democratic colleagues demanded he step down to make clear that mistreatment of women is unacceptable.
Image: Noah Berger/AP
11) California Wildfires: Smoke rises behind a leveled apartment complex as a wildfire burns in Ventura, Calif., on December 5.
What's Trending In Citizenship