Citizenship
14 Photos of Tragedy and Resilience From Around the World This Week
These powerful images show both struggle and strength.
A daring sea rescue saved the lives of more than 100 refugees and migrants off the coast of Libya. Hawaii residents watched molten lava overtake their cars and homes. And flooding in Kenya killed more than 40 people. Meanwhile, signs of hope popped up in Iraq, India, and Turkey, as people celebrated the return of nice weather. 
Global Citizen is bringing you these photos, and more, from around the world this week.  
---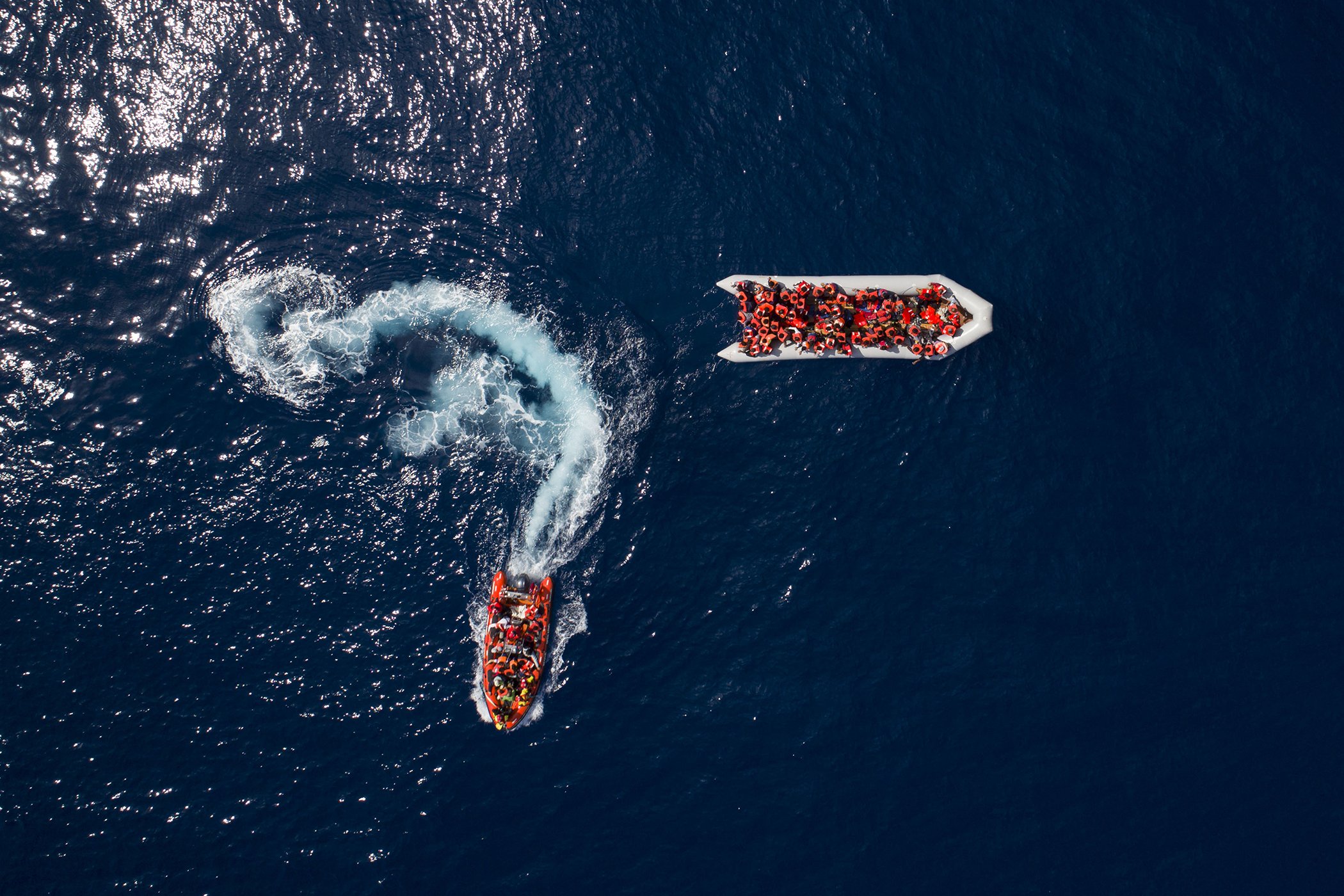 Image: Felipe Dana/AP
1. Migrant Crisis: Refugees and migrants were rescued by members of the Spanish NGO Proactiva Open Arms on May 6, after leaving Libya trying to reach European soil aboard an overcrowded rubber boat. In total, 105 refugees and migrants from various countries — including Bangladesh, Egypt, Nigeria, Morocco, Ghana, Pakistan, Sudan, Libya, Eritrea, and Senegal — were rescued north of the Libyan coast.
Image: US Geological Survey/AP
2. Hawaii Volcano: This photo, provided by the U.S. Geological Survey, shows a lava lake at the summit of Kilauea near Pahoa, Hawaii, on May 6. Hawaii's erupting Kilauea volcano has destroyed homes and forced the evacuations of more than 1,000 people.
3. Iraq: An Iraqi boy, who lost his leg in the government offensive to retake the city of Mosul from the Islamic State group, plays football in Arbil, the capital of the Kurdish autonomous region in northern Iraq, during an event sponsored by the Kuwaiti government on May 7.
4. UNESCO Site in Japan: A Japanese tourist wearing an ancient kimono walks past prayer flags at the Kumano Hongu Grand Shrine in Tanabe city, Wakayama prefecture, Japan, on May 6. This year marks the 2,050th year anniversary since the founding of the Shinto shrine. The Kumano Hong Grand Shrine is registered as an UNESCO World Heritage Site.
5. Weather in India: Young people in India play in a swimming pool during a hot day in Chennai on May 9.
Image: Anupam Nath/AP
6. India Daily Life: An Indian woman returns home after fetching drinking water on the outskirts of Gauhati, India, on May 9. The UN estimates that more than 1 in 6 people worldwide do not have access to 5-13 gallons of safe freshwater a day to ensure their basic needs for drinking, cooking, and cleaning.
7. Flooding in Kenya: The burst bank of the private Patel dam, used for irrigation and fish farming, is seen in Solai, north of Nakuru, Kenya, on May 10. At least 41 people died, 20 of whom were children, police said.
8. Festival in Turkey: A man jumps over a huge fire during the Kakava festival in Edirne, Turkey, on May 5. Kakava is an annual festival of Romani people who live in Turkey that celebrates the arrival of spring. The festival opens with a bonfire followed by various events. At the end of the day, wishes are written on papers and are then released in the river.
Image: Felipe Dana/AP
9. Migrant Crisis: Kazi Arif, 16, from Bangladesh, rests inside the Astral sailing vessel a day after being rescued by members of the Spanish NGO Proactiva Open Arms as he tried to leave Libya and reach European soil on May 7.
10. Volcano Erupts in Hawaii: In this handout photo provided by the US Geological Survey, lava errupts from a new fissure from Luana Street after the eruption of Hawaii's Kilauea volcano on May 5 in the Leilani Estates subdivision near Pahoa, Hawaii. The governor of Hawaii has declared a local state of emergency near the Mount Kilauea volcano after it erupted following a 5.0-magnitude earthquake, forcing the evacuation of nearly 1,700 residents.
11. Children in Afghanistan: Afghan boys work at a brick kiln in Herat, Afghanistan, on May 7. Due to the lack of schooling and education facilities in Afghanistan, and the need to earn an income for big families, parents usually send their children to the factories to work. According to reports, some three to five million children, mostly girls, are still unable to attend schools.
12. Crisis in Yemen: A malnourished Yemeni child lies in the lap of his mother at a hospital amid worsening malnutrition, in Sana'a, Yemen, on May 5. According to reports, an estimated 3.3 million children in Yemen are malnourished, with more than 400,000 children under the age of five facing severe malnutrition.
13. Safe Homes for Nepali Women: Children of the residents of the Casa Nepal safe house prepare for school on May 8 in Kathmandu, Nepal. Casa Nepal is a safe house that provides shelter and rehabilitation for survivors of gender-based violence located throughout Nepal. Based in Kathmandu, the shelter houses approximately 60 women and their children annually. Presently, 17 government-funded safe houses, formally known as Women's Service Centers, exist countrywide, but unfortunately lack the necessary budget and management for widespread reach. According to the 2011 Nepal Demographic and Health Survey, 1 in 5 women of reproductive age 15-49 have experienced physical violence. 
14. Migrant Crisis: Refugees and migrants watch the Sicilian coastline from aboard the MV Aquarius, a rescue vessel chartered by humanitarian organisations SOS Mediterranee and Doctors Without Borders on May 10. Italy's coast guard granted authorization for 105 migrants rescued at sea by Spanish NGO Open Arms and allowed them disembark from the MV Aquarius at the port of Catania, Sicily.