Citizenship
17 Stunning Photos of What Happened Around the World This Week
Week in Pictures: May 13-19
This week, in Culiacan, Mexico, friends and family laid flowers at the grave of respected reporter Javier Valdez, who was killed in his quest to cover his country's ever-growing crime and drug problems.
Flares and tear gas bombs soared through the air as protests escalated in Venezuela. Vigils were held for the victims of the country's worsening crisis and alleged dictator, President Nicolas Maduro, has shown no signs of addressing the country's humanitarian issues.
Across the ocean, in South Sudan — the world's youngest nation — thousands continue to flee war, poverty, and famine. Even more refugees have flooded the shores of Italy, rescued from small wooden boats that helped them traverse the dangerous Mediterranean crossing.
Chinese honor guards welcomed Argentinian President Mauricio Macri in Beijing and US President Donald Trump escorted Turkish President Recep Tayyip Erdogan following meetings in the White House.
Iranian women lined up to vote in the country's first presidential election since its nuclear deal with world powers as strikes broke out in front of the Greek Parliament.
Reservoirs in India lay barren and dry, a volcano erupted in Indonesia after a long period of inactivity, and coca fields in Colombia are being replaced with legal crops in an initiative launched between leftist guerrillas and the government.
Global Citizen brings these haunting and mesmerizing images from events that have unraveled this past week.
---
Image: Ariana Cubillos/AP
1) Protests in Venezuela: A demonstrator holds a sign that doubles a shield that reads in Spanish "It's for you," during a national sit-in against President Nicolas Maduro, in Caracas, Venezuela, May 15, 2017. Opposition leaders are demanding immediate presidential elections. 
2) Farmers in Colombia: A coca grower stands in a coca field in Pueblo Nuevo, in the municipality of Briceno, Antioquia Department, Colombia, on May 15, 2017. The Colombian government and the Revolutionary Armed Forces of Colombia (FARC) leftist guerrillas inaugurated a plan to eradicate coca plantations and replace them with legal crops. 
3) Conflict in Gaza: A Palestinian girl watches from the door of her house as mourners gather before the funeral of a fisherman in Gaza City, on May 15, 2017. An Israeli patrol boat fired at Palestinian fishermen accused of breaching the blockade off the northern Gaza Strip, leaving one of them dead, officials said.
Image: Rashide Frias/AP
4) Journalist Slain in Mexico: Friends and relatives say their last goodbyes during the funeral mass of slain journalist Javier Valdez, in Culiacan Mexico, May 16 2017. Valdez, a veteran reporter who specialized in covering drug trafficking and organized crime, was slain Monday in the northern Mexico state of Sinaloa, the latest in a wave of journalist killings in one of the world's most dangerous countries for media workers.
5) Erdogan in DC: President Donald Trump escorts Turkish President Recep Tayyip Erdogan (not pictured) to his car following meetings in the West Wing of the White House in Washington, D.C., May 16, 2017.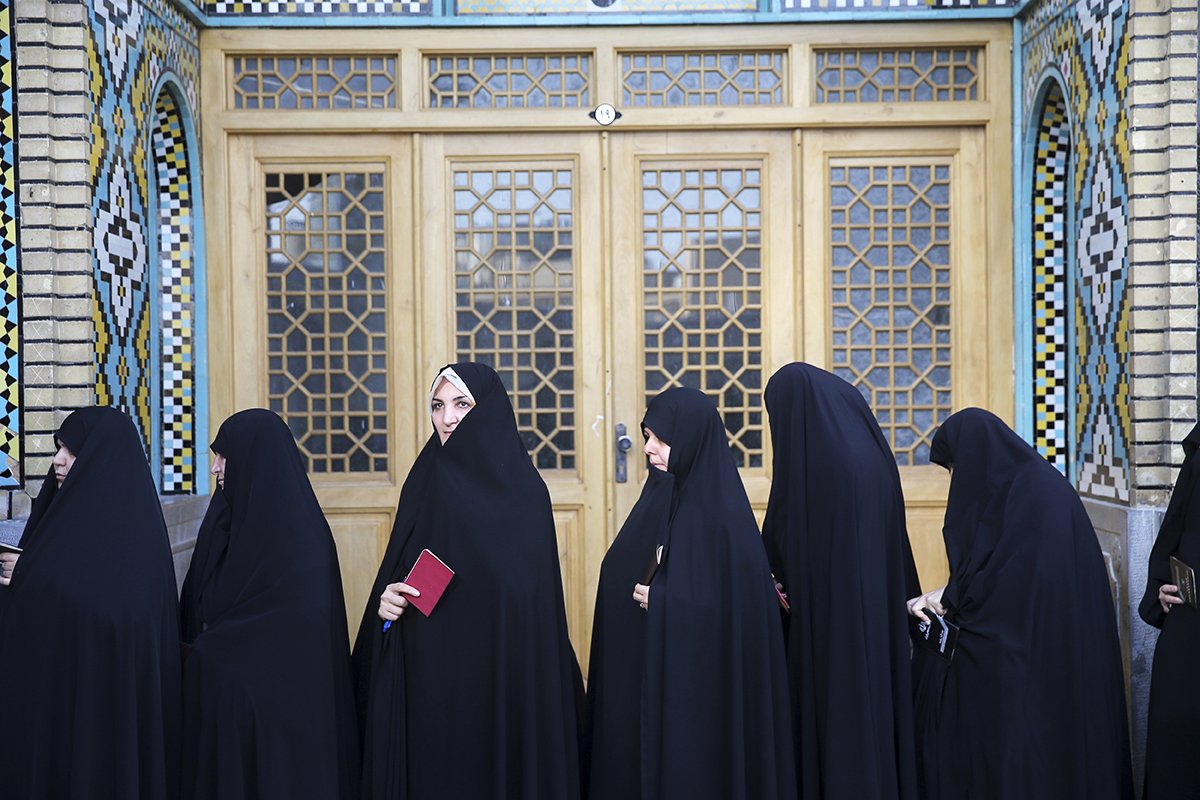 Image: Ebrahim Noroozi/AP
6) Women Vote in Iran: Female voters queue at a polling station for the presidential and municipal council election in the city of Qom, 78 miles (125 kilometers) south of the capital Tehran, Iran, May 19, 2017. Iranians began voting Friday in the country's first presidential election since its nuclear deal with world powers, as incumbent Hassan Rouhani faced a staunch challenge from a hard-line opponent over his outreach to the wider world.
Image: Thanassis Stavrakis/AP
7) Strike in Greece: Protesters chant slogans during a nationwide general strike in central Athens, May 17, 2017. Greek workers walked off the job across the country Wednesday for an anti-austerity general strike that was disrupting public and private sector services across the country.
Image: Mark Schiefelbein/AP
8) Diplomacy in China: Flagbearers of a Chinese honor guard stand in formation before a welcome ceremony for Argentina's President Mauricio Macri at the Great Hall of the People in Beijing, May 17, 2017.
9) Protests in Venezuela: Opposition activists holding candles protest against the deaths of 43 people in clashes with the police during weeks of demonstrations against the government of Venezuelan President Nicolas Maduro, in Caracas on May 17, 2017. The United States warned on Wednesday at the United Nations that Venezuela's crisis was worsening and could escalate into a major conflict.
10) Protests in Venezuela: Opposition activists, seen here behind a Venezuelan flag, protest against the deaths of 43 people in clashes with the police during weeks of demonstrations against the government of Venezuelan President Nicolas Maduro, in Caracas on May 17, 2017.
Image: Maya Alleruzzo/AP
11) Airstrike in Iraq: Smoke from an airstrike rises in the background as a man flees with a toddler during fighting between Iraqi special forces and Islamic State militants, in the al-Rifai neighborhood of western Mosul, Iraq, May 17, 2017.
12) Refugees in Sudan: South Sudanese refugee children play at the UNHCR camp of al-Algaya in Sudan's White Nile state, south of Khartoum, on May 17, 2017. More than 95,000 South Sudanese have entered Sudan so far this year, the UN said, as thousands continue to flee war and famine in the world's youngest nation. South Sudan, which split from the north in 2011, has declared famine in parts of the country, saying a million people are on the brink of starvation.
13) Migrants in Italy: Refugees and migrants wait to be rescued from a small wooden boat by crew members from the Migrant Offshore Aid Station (MOAS) Phoenix vessel on May 18, 2017 off Lampedusa, Italy. Numbers of refugees and migrants attempting the dangerous central Mediterranean crossing from Libya to Italy has risen since the same time last year with more than 43,000 people recorded so far in 2017.
14) Riots in Greece: Greek riot policemen react as protesters throw Molotov cocktails and flares during clashes outside the Greek parliament on May 18, 2017, during a demonstration on the sidelines of a voting on new austerity measures. Greek police fired tear gas Thursday at a thousands-strong demonstration in Athens against new austerity cuts turned violent with some hooded youths throwing Molotov cocktails. The parliament is set to pass a bill in a vote expected around midnight which Athens hopes will help it gain a pledge of debt relief and loan disbursements by the country's EU-IMF creditors this month.
15) Volcanos in Indonesia: Villagers look on as Mount Sinabung volcano spews thick volcanic ash, as seen from Beganding village in Karo, North Sumatra province, on May 19, 2017. Sinabung roared back to life in 2010 for the first time in 400 years. After another period of inactivity, it erupted once more in 2013 and has remained highly active since.
16) Protests in Venzeula: Venezuelan opposition activists clash with the riot police during a rally against the government of President Nicolas Maduro, in Caracas, on May 18, 2017. Venezuelan opposition leader Henrique Capriles said Thursday authorities confiscated his passport and prevented him from travelling to New York to discuss his country's deadly political crisis with United Nations officials. On Monday Venezuelans launched a seventh week of anti-government demonstrations by blocking roads, vowing not to budge all day in protest at a deadly political and economic crisis.
17) Drought in India: An Indian man walks over the parched bed of a reservoir on the outskirts of Chennai on May 17, 2017.