Citizenship
13 Pictures of Strength and Unrest From Around the World This Week
World Water Day highlighted the deep disparities in water access around the globe.
Water is crucial for sustaining human life, the United Nations considers access to clean water a universal human right, and people residing in wealthy countries tend to take the cold water flowing from their taps for granted.
Yet, conflict, poverty, pollution, and climate change prevent roughly 2.1 billion people from accessing clean, safe drinking water.
Photos from around the world illustrated those striking disparities as the international community recognized World Water Day on Thursday. The annual observance highlights water inequality in impoverished areas. The day also acknowledges water restrictions within conflict zones and regions vulnerable to climate change-related catastrophes.
In India, for example, about 78 million people in India lack consistent access to clean drinking water and are forced to drink from contaminated sources or purchase expensive packaged water.
Amid a humanitarian crisis and a devastating cholera outbreak, young sisters in Yemen lugged large buckets to fetch water for their families. And in Myanmar, another young girl waded into a pond to fill her water containers, demonstrating the challenges many face when trying to get clean water.
---
Image: Khalil Hamra/AP
1) Gaza Daily Life: A Palestinian fishing boat sails as the sun sets on the coast off Gaza City, March 18.
2) Citizenship Ceremony in California: A new US citizen waves while departing a naturalization ceremony on March 20 in Los Angeles, Calif. The naturalization ceremony welcomed more than 7,200 immigrants from over 100 countries who took the citizenship oath and pledged allegiance to the American flag. During fiscal year 2016, the United States welcomed 752,800 new citizens to the country. 
3) World Water Day: A girl loads a pair of buckets on her shoulder as she collects fresh water from a pond at Dala township, on the outskirts of Yangon, Myanmar, March 22. The town has no underground fresh water and with its water supply system very limited residents mostly rely on earthen rainwater ponds. World Water Day is held annually on March 22 to focus attention on the importance of access to clean water and to advocate for the sustainable management of freshwater resources.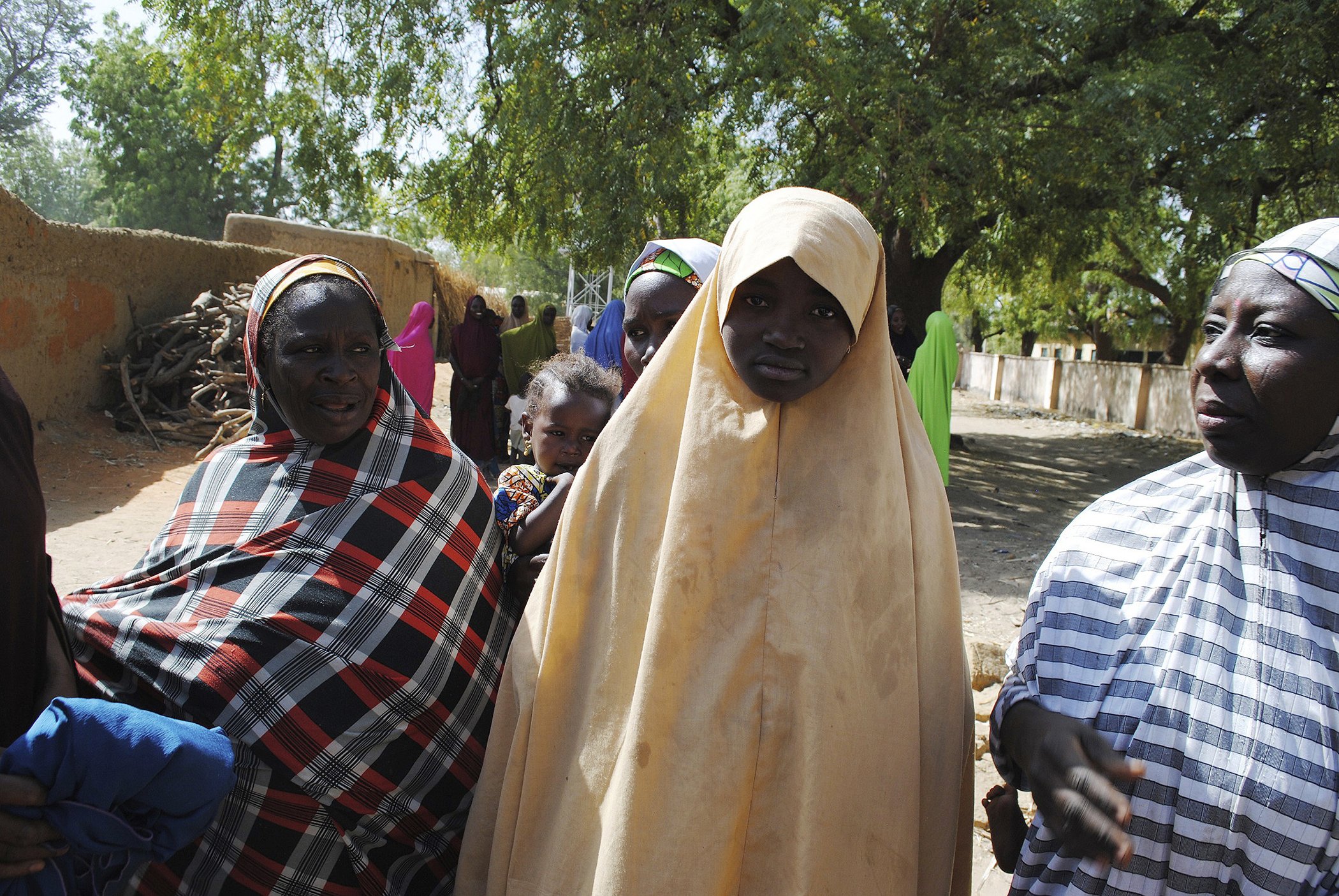 Image: Jossy Ola/AP

4) Nigerian School Girls: Falmata Abubakar, centre, one of the kidnapped girls from the Government Girls Science and Technical College Dapchi who was freed, is photographed after her release,  in Dapchi, Nigeria, March 21. Witnesses say Boko Haram militants have returned an unknown number of the 110 girls who were abducted from their Nigeria school a month ago.
5) Spring Snowstorm: A man walks down steps toward the Bethesda Fountain and Terrace in Central Park during a snowstorm, March 21 in New York City. The fourth nor'easter in three weeks hit the city on Wednesday, bringing wind and accumulating snow.
Image: Gemunu Amarasinghe/AP
6) Sunrise in Sri Lanka: A fisherman paddles a canoe as the rising sun mirrors on the surface of calm water at a lake in Balapitiya, south of Colombo Sri Lanka, March 19.
Image: Michael Probst/AP
7) Luminale Festival in Germany: Light shines from one of the buildings at Roemer Square during the official opening of the "Luminale" light festival in Frankfurt, Germany, March 20.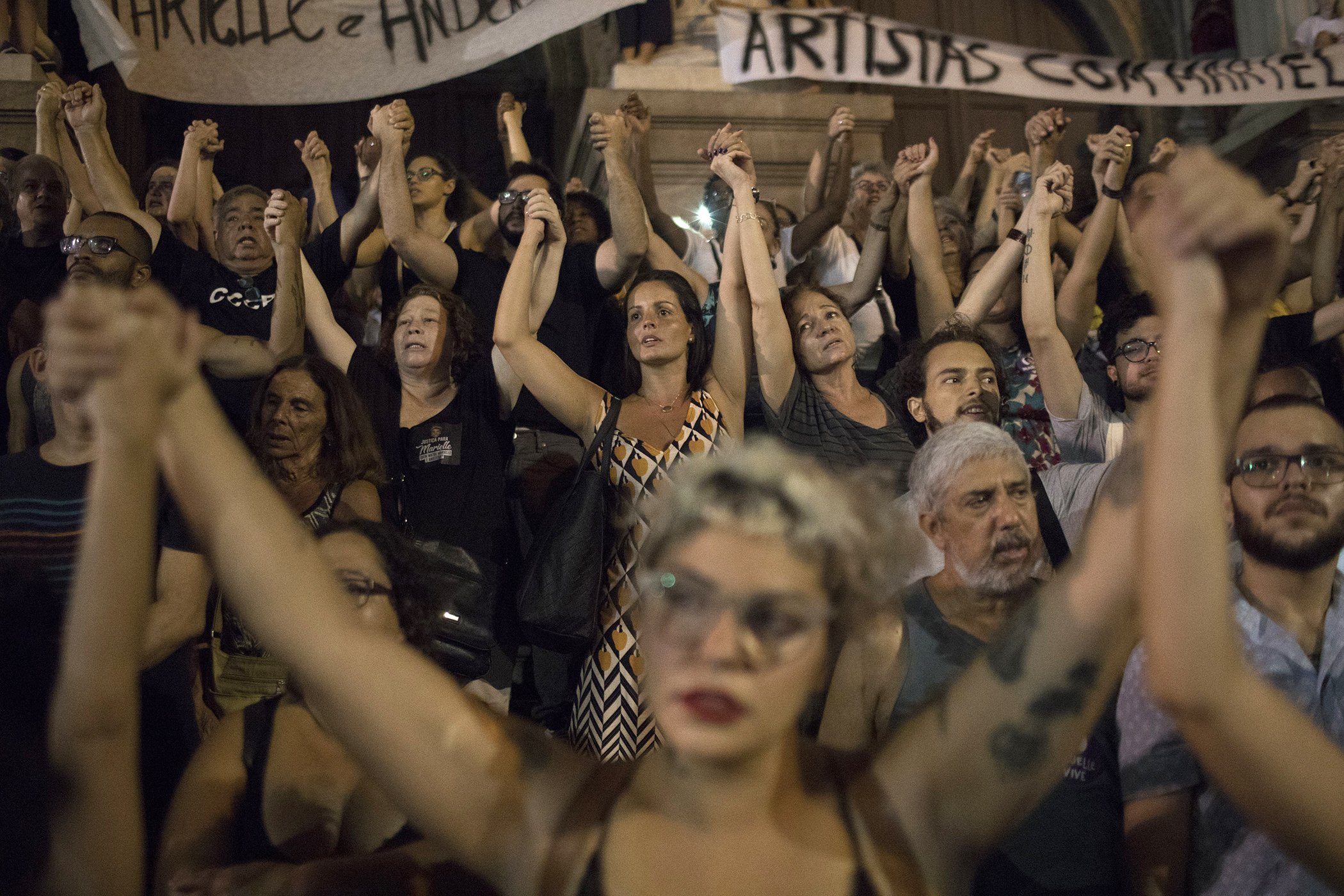 Image: Leo Correa/AP
8) Protests for Marielle Franco: People hold hands during a protest against the murder of councilwoman Marielle Franco in Rio de Janeiro, Brazil, March 20. Franco's murder came just a month after the government put the military in charge of security in Rio, which is experiencing a sharp spike in violence.
9) Labor Strike in France: Workers hold flags and flares during a demonstration on March 22 in Paris as part of a nationwide day of protest against French President Emmanuel Macron's planned labor overhauls. Seven trade unions have called on public sector workers to strike, including school and hospital staff, civil servants and air traffic controllers. More than 140 protests are planned across France, the biggest culminating at the Bastille monument in Paris where unions expect 25,000 demonstrators.
Image: Anupam Nath/AP
10) World Water Day, India: A train moves on a track over a polluted river on World Water Day in Gauhati, India, March 22. According to UNICEF, nearly 78 million Indians, or about 5 percent of the country's 1.3 billion population, must make do with contaminated water sources or buy water at high rates.
11) Brazil National Park: A park visitor wrapped in a Brazilian flag stands above a natural rock window known as "The Leap from Garimpo" and looks at the Salto do Rio Preto waterfall, in Chapada dos Veadeiros National Park in Alto Paraiso, Brazil March 17, 2018. Brazil is hosting the 8th World Water Forum starting Monday, March 19.
Image: Sebastian Scheiner/AP
12) Golden Lion Tamarin Monkey: A golden lion tamarin monkey holds its newborn baby at a zoo in Jerusalem, March 22. Golden lion tamarins are among the rarest animals in the world, according to the World Wildlife Fund. It is listed as endangered according to the International Union for Conservation of Nature.
13) Clean Water In Short Supply In Sana'a: Yemeni little sisters carry jerrycans as they walk to a water pump to fill it with water on March 18, 2018 in Sana'a, Yemen.