Citizenship
15 Photos of Celebration and Devastation From Around the World This Week
From the Pride marches to monsoon rains, this week has seen incredible highs and lows.
From world leaders reaching an impasse at the G7 Summit to the arrival of monsoon rains that wreaked havoc on Bangladesh's Rohingya refugee camps, this was a week of distress and turmoil for many.
Migrant children continue to be separated from their parents at the US border, and two years after the horrific Pulse nightclub shooting in Orlando, Florida, activists are still calling for stricter gun control.
But amid the devastation and disappointment, there was hope and celebration.
Take Action: Be the Generation to End Extreme Poverty
Muslims around the world broke their 30-day fast, commemorating the end of the holy month of Ramadan, and eager soccer fans geared up for the World Cup, which kicked off Thursday. People took to the streets of London to celebrate the 100th anniversary of some women's right to vote in England, and the public caught a glimpse of Meghan Markle and Queen Elizabeth on their first public outing together.
Global Citizen has gathered some of this week's best images, below.
---
Image: Mosa'ab ElshamyAP
1. Ramadan: Friends and families gather to break their fast on the beach in the holy month of Ramadan in Rabat, Morocco, on June 9. Stocked with food and drinks, local families and friends swarm daily to the beach during Ramadan to enjoy the Atlantic breeze and take in the ocean view and, when the day's fasting is declared over, share in the "iftar" meal.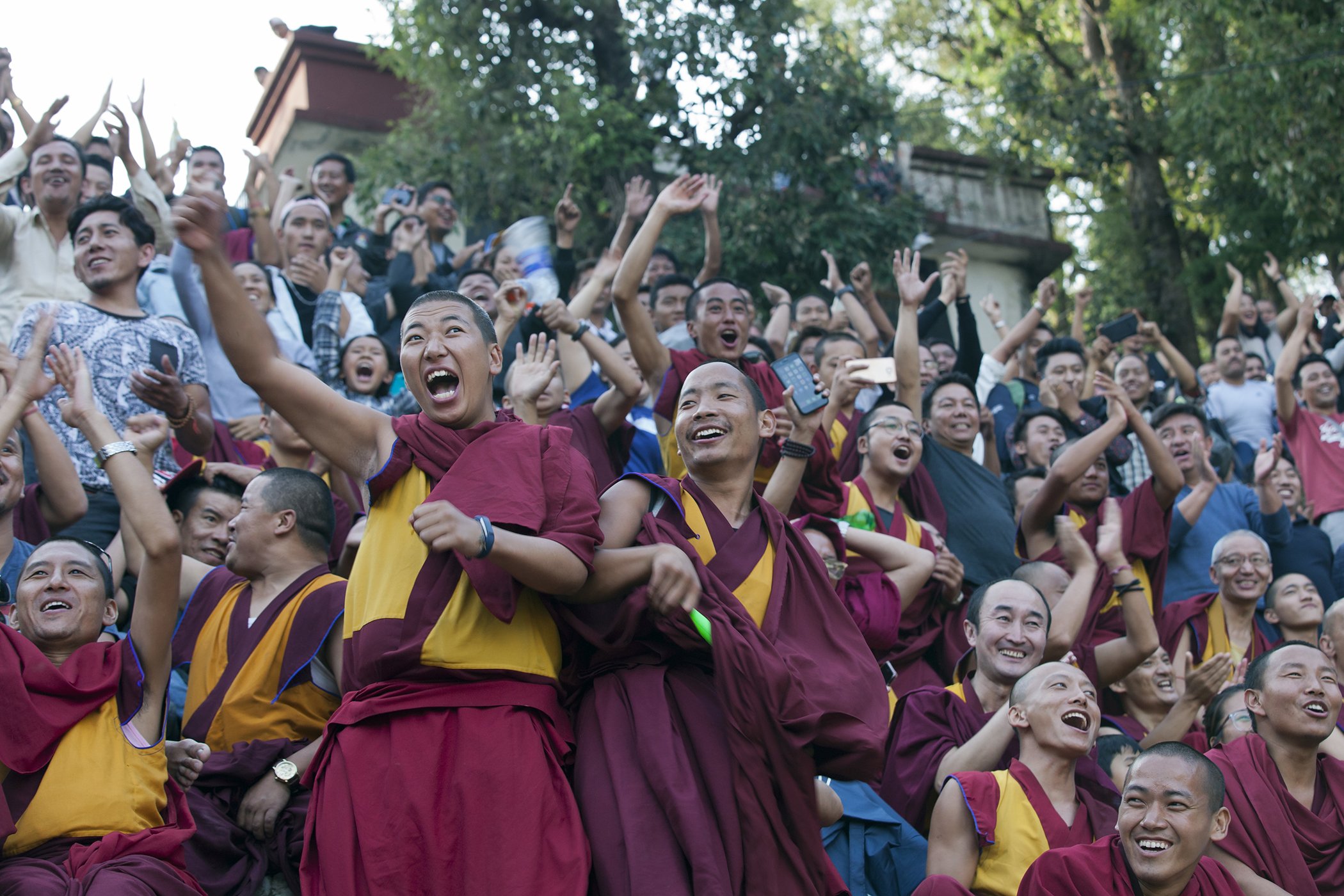 Image: Ashwini Bhatia/AP
2. Daily Life in India: Exile Tibetan Buddhist monks cheer their team as they watch a soccer match in Dharmsala, India, June 10. Soccer fans around the world are gearing up to watch the 2018 World Cup tournament, hosted in Russia. 
Image: Vadim Ghirda/AP
3. Pride in Romania: Two women kiss while holding a rainbow flag during the Gay Pride march in Bucharest, Romania, on Saturday, June 9. People taking part in the march in the Romanian capital demanded more rights and acceptance for same-sex couples.
4. G7 Summit: In this photo provided by the German Government Press Office, German Chancellor Angela Merkel deliberates with US President Donald Trump on the second day of the G7 Summit on June 9 in Charlevoix, Canada. Pictured are (L-R) Larry Kudlow, director of the US National Economic Council; Theresa May, UK prime minister; Emmanuel Macron, president of France; Merkel; Yasutoshi Nishimura, Japanese deputy chief cabinet secretary; Shinzo Abe, Japan prime minister; Kazuyuki Yamazaki, Japanese senior deputy minister for foreign affairs; John Bolton, US national security adviser; and Trump.
Image: Danny Lawson/PA/AP
5. Royals: Britain's Queen Elizabeth and Meghan, the Duchess of Sussex, left, attend the opening of the new Mersey Gateway Bridge, in Widnes, northwest England, on June 14. 
Image: Frank Augstein/AP
6. Women's Voting Rights Anniversary March: Participants march through the streets to celebrate 100 years since some women were granted the vote, in London, on June 10. Thousands of women gathered Sunday to turn British cities into rivers of green, white, and violet to mark 100 years since the first U.K. women won the right to vote. 
Image: L.E. Baskow/AP
7. Hawaii Volcano: Lava from the Kilauea volcano flows in and around Pahoa, Hawaii, on Sunday, June 10.
Image: Evan Vucci/AP
8. US-North Korea Summit: US President Donald Trump shakes hands with North Korea leader Kim Jong-Un at the Capella resort on Sentosa Island in Singapore on Tuesday, June 12. 
9. Immigration in the US: A two-year-old Honduran asylum seeker cries as her mother is searched and detained near the US-Mexico border on June 12 in McAllen, Texas. The asylum seekers had rafted across the Rio Grande from Mexico and were detained by US Border Patrol agents before being sent to a processing center for possible separation. Customs and Border Protection (CBP) is executing the Trump administration's "zero tolerance" policy toward undocumented immigrants. U.S. Attorney General Jeff Sessions also said that domestic and gang violence in immigrants' countries of origin would no longer qualify them for political asylum status.
Image: Roger LeMoyne/UNICEF
10. Rohingya Refugees: Rohingya refugee children struggle with the mud collecting on a retaining wall during the first days of monsoon rain in Kutupalong Camp in Cox's Bazar, Bangladesh, on June 10. Much of the infrastructure of the camps is eroding as the rain falls and deforestation has left the sandy ground unstable.
11. World Cup 2018: Pakistani children sit under the flags of participating countries in the upcoming FIFA 2018 World Cup, Argentina and Brazil, in the Lyari neighborhood of Karachi on June 13.
12. Protests in Kenya: Activists hold placards during a protest against the alleged rape of three girls at Moi Girls School Nairobi, a prestigious government boarding school, in Nairobi, Kenya, on June 11.
13. Warm Weather in Afghanistan: An Afghan youth cools off as he takes a shower next to a hand pump along the roadside in Kabul on June 13.
14. Pulse and Parkland Shooting Survivors Rally Against Gun Violence: People hold pictures of victims of the Pulse nightclub shooting during a rally in front of Orlando City Hall on June 11 in Orlando, Florida. Pulse nightclub and Marjory Stoneman Douglas High School shooting survivors and their supporters held the rally to demand that political leaders stop the epidemic of gun violence as well as reject NRA influence and help the communities around the country that have experienced mass shootings.
Image: A.M. Ahad/AP
15. Eid al-Fitr: Bangladeshi Muslims maneuver their way onto the roof of an overcrowded train to travel home for Eid al-Fitr celebrations, at a railway station in Dhaka, Bangladesh, June 14. Hundreds of thousands of people working in Dhaka are leaving for their hometowns to celebrate the upcoming Eid al-Fitr with their families. 
Global Citizen believes that the world needs people who are engaged in the world, knowledgeable about its diversity, and passionate about change. You can join us by taking action here.