Citizenship
Fox News Correspondent Apologizes for 'Racist' Chinatown Segment. Twitter Doesn't Accept.
"This racist mocking of NY Chinatown makes clear that Fox doesn't care about Asian American voters.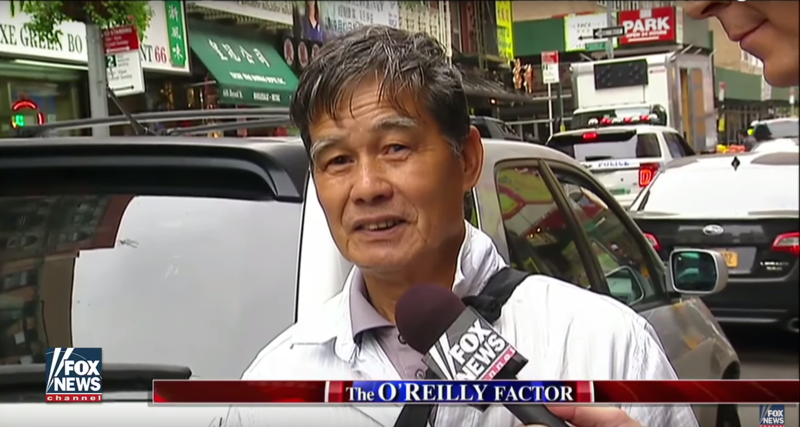 Fox News' Jesse Watters is no stranger to controversy. 
The Bill O'Reilly show correspondent has made fun of Italians, interviewed homeless people living in Penn Station, and questioned University of North Carolina students about microaggressions. But never has a story of his come under such a rapid and intense media fire as his most recent segment on Chinatown.
In a segment that aired Wednesday, Watters went to New York City's Chinatown and interviewed people about whether they planned to vote for Hillary Clinton or Donald Trump.
His questions, however, quickly veered away from this goal.
"Am I supposed to bow to say hello?" he asked two Asian women. He then questioned a street vendor: "I like these watches — are they hot?" And to a man who seemed not to understand the initial question about the election, Watters launched the follow-up question: "Is it the year of the dragon?"
Much of the video contained vaguely Chinese background music, a large segment of the video was about karate, and at one point Watters even cut to a clip of squealing Asian schoolgirls. 
Speaking to Bill O'Reilly after the video, Watters implied that the majority of his interviewees didn't understand the questions.
"They're such a polite people, they won't walk away and tell me to get out of here. They'll just sit there and say nothing," he said.
Journalists and Asian American community leaders lambasted Watters' for being offensive to Asians and trafficking in stereotypes. The show is now offering apologies to those who might have taken offense to its most recent segment.
Immediately after the segment aired, Asian American journalists took to Twitter in response to its treatment of Asians:
It's 2016. Here is a person from Fox News going to Chinatown and asking people if they know karate. https://t.co/YAC8kiM2up

— Andrew Keh (@andrewkeh) October 5, 2016
Like to think I'm not easily offended.  Just watched Watters Fox News segment on politics & Chinatown: I am offended https://t.co/K9cy2PCIZs

— Tim Wu (@superwuster) October 5, 2016
How many Asian racist tropes can Fox News fit into one news segment? Let's find out https://t.co/VjdzuwcJQF

— Andrew Ba Tran (@abtran) October 5, 2016
Other community leaders responded to the show's stereotypical treatment of Asians, which included several quips about karate, a visit to a foot massage parlor, and elderly Chinatown residents who struggled to speak English:
"Though it's not surprising that The O'Reilly Factor did such a segment, we're still extremely disappointed in the racist and stereotypical coverage of Chinese Americans on a major outlet," Gregory A. Cendana, the executive director of the Asian Pacific American Labor Alliance and Institute for Asian Pacific American Leadership & Advancement, told Media Matters.
Watters eventually issued a two-tweet apology statement: 
As a political humorist, the Chinatown segment was intended to be a light piece, as all Watters World segments are.

— Jesse Watters (@jessebwatters) October 5, 2016
My man-on-the-street interviews are meant to be taken as tongue-in-cheek and I regret if anyone found offense.

— Jesse Watters (@jessebwatters) October 5, 2016
But some have found fault with the nature of his apology.
Watters is expressing "regret if anyone found offense." Many DID find this offensive: https://t.co/jCumWln2a4https://t.co/167VgoaFDu

— Brian Stelter (@brianstelter) October 5, 2016
The segment ostensibly aired in order to gauge the voting preferences of Asian American voters, a bloc that is predicted to gain 9.3 million eligible voters this year. The Asian American Legal Defense and Education Fund noted that the segment will not sit well with Asian American voters:
This racist mocking of people in NY #Chinatown makes clear that @FoxNews doesn't care about Asian American voters. https://t.co/uTfr8WkoME

— AsianAmericanLegal (@aaldef) October 5, 2016
The group is now planning a rally at Fox News today at 4 pm.
What's Trending In Citizenship