Education
Lots of US Schools Are Broken. These Educators Are Trying to Fix Them
A group funded by Steve Jobs' widow is giving out $10 million grants to educators who #rethinkhighsc
On the wall of Erin Mote's office in downtown Brooklyn hangs a large sheet of construction paper inscribed in marker with the words "Portrait of a Graduate" at the top and a series of stickie notes in rows beneath. The project was a collaboration by a group of students and teachers at the Brooklyn Laboratory charter school, who had been asked to imagine what a high school graduate should look like in 2016.
The students who put together this display are part of a new generation of learners whose needs and desires go beyond what the traditional high school experience provides.
Read more: 7 Myths About Private and Public Education Unlocked
Despite enormous technological advances in the past several decades, educational systems in the US have remained largely unchanged. With more and more high schools trying to adapt to the times, XQ: The Super School Project, a campaign started by Laurene Powell Jobs to improve education systems, put out a call to educators to redesign the high school experience. Erin Mote is one of high school's new designers. 
Mote is the cofounder of Brooklyn Lab and executive director of InnovateEDU — one of 10 "super schools" that each won $10 million grants from XQ this September to redesign high school.
Brooklyn Laboratory is only in its second year of operation, but putting the school together took several years of work. Along with co-founder and director Eric Tucker, Mote knocked 22,000 doors in various Brooklyn housing projects to identify students that were underserved by their local schools. Forty percent of the students at Brooklyn Lab are "complex learners," or students who require additional educational resources, and 85% qualify for free and reduced lunch. 
Students at Brooklyn Lab High School, one of ten XQ super schools. Image: Kate Cochran / Brooklyn Lab

"I think it shows that education is not a function of your zipcode," Mote told Global Citizen. "Too often in education we say, 'Because that's always how we've done it.' We have to evolve."
Brooklyn Lab's curriculum focuses on individualized and experiential learning. It follows an individualized learning program called Cortex, in which test scores are tracked against common core standards. By the end of their second year of high school, students choose an academic specialization. They can graduate high school with up to eight AP credits. 
Students are encouraged to engage with the local community through internships in downtown Brooklyn's tech triangle, and teachers can take on "externships" locally as well.
If there's one thing that all 10 of the super schools selected by XQ share in common, it's this: a focus on working within the local community to engage marginalized students.
A few examples: RISE High, in California, will feature a "mobile resource center" that moves between different urban centers in Los Angeles; New Harmony High, in Louisiana, plans to open a floating classroom that allows students to study coastal erosion; and the Grand Rapids Public Museum High School, in Michigan, will use museum artifacts to create a new curriculum.
The XQ Super Schools
XQ: The Super School Project is the brainchild of the Emerson Collective and Laurene Powell Jobs — Steve Jobs' widow. Its goal is, as chief executive to the XQ Institute Russlynn Ali told the New York Times, to create "schools that don't exist today."
Powell Jobs' initiative is not the first to reimagine the future of high school. In 2001, the Bill and Melinda Gates Foundation embarked on a similar project.
The foundation's High School Grants Initiative provided funds for educators with the goal of "starting new high schools or redesigning existing schools in ways that better prepare low-income, African-American, and Hispanic/Latino youth for higher education and the workplace."
XQ took this idea to the next level by creating a large-scale competition to encourage innovative solutions to improve the country's high school education system. This year, XQ received nearly 700 applications from schools across the country. While the organization initially intended for five schools to receive the $10 million grant, it ended up nominating 10 super schools. 
When 82-year-old principal Bertie Simmons got the news that her school, Furr High School, in Houston, had been named a "super school" back in September of 2016, she told Global Citizen she "nearly had a heart-attack."
Simmons came out of retirement to serve as the principal of Furr High School in 2002. At the time, the school was labeled a "drop-out factory for the state" and a "direct pipeline to prison." The kids, according to Simmons, saw it as a "throwaway school." Gang violence was prevalent and the graduation rate hovered around 50%.
The problems Simmons encountered at Furr High School are unfortunately not unique. Eighteen percent of urban students in the US reported the presence of gangs in school in a survey from 2011 to 2013.
Read more: Inmates Get $30 Million in Grants for College
In many cases, gang-affiliated students are arrested in school or suspended from it. Across the United States, children of color are disciplined far more harshly than their white counterparts. Forty percent of students who are expelled from school are black and 70% of students arrested in school are black or Latino, according to SuspensionStories.com. A 2011 report by the New York Police Department revealed that 94% of kids arrested in New York City Schools were black or Latino.
Instead of suspending gang members, or sending them to correctional schools, Simmons worked with them to clean up the school's image.
"I broke the rules and I met with them and learned some interesting things just listening to them," she told Global Citizen. "We started respecting each other and they started helping me to turn the school around."
Furr High School is now a super school, which means that additional funding from XQ can be used to further personalize instruction. Already a STEM (science, technology, engineering, and math) campus, Furr has focused on incorporating visual arts into the curriculum.
Students at Furr have created and presented a documentary about air and water pollution in Houston to the city council. They also wrote letters to the Environmental Protection Agency (EPA) regarding water pollution in the San Jacinto river, and were rewarded with a school visit by an EPA representative.
Furr High School, which is 75% Hispanic and 25% African American, now has a graduation rate of 90%.
"The school that was once so violent that we couldn't even have assemblies, now is very peaceful, and students are taking that into their own communities," Simmons said.
To STEM and Beyond
The move toward prioritizing science, technology, engineering, and math in the US education system can be traced back to the early 2000s. In 2000, then-governor George W. Bush allocated funding toward student-loan forgiveness for students who studied those subjects.
A student at Washington Leadership Academy. Image: Stacy Kane / Washington Leadership Academy

Internationally, American 15-year-olds trail students from other countries in both math and science. Out of 64 developed and developing countries, the US ranked 35th in math and 27th in science, according to Pew Research Center.
Read more: Chicago Public Schools Will Now Teach All Graduates Computer Science
Recent years have seen an uptick in the amount of STEM-focused schools, but progress has been slow. STEM education was enshrined in the "No Child Left Behind Act," and has also been supported by President Barack Obama. The term is often invoked by political, as well as business and, of course, tech leaders to praise the role technology can play in education.
But for Stacy Kane, co-founder and executive director of Washington Leadership Academy (WLA), "technology has so much potential to transform education that has not been realized yet at all." 
Kane and Seth Andrew, the founders of WLA, have several big ideas for using more and better technology in schools. These ideas include the use of lasers, virtual reality, and holograms of Obama.
Kane wants her students — 99% of whom are of color and 97% are African American — to be "creators of tech, rather than consumers."
"You have all these technologies being created for people by people who are not part of the population," Kane said, in reference to the lack of diversity in technological fields.
Last year, in WLA's first year as a charter, all 110 students took computer science principles. They will go on to take four years of computer science in their time at the school. Kane hopes that WLA's technology-first approach can be scaled across the country.
Much like Kane, Dr. Cristina Alvarez, co-founder and CEO of Design-Lab High in Delaware, believes in the importance of using technology to bridge educational divides. Design-Lab High is a pioneer in design-thinking, an educational framework that focuses on solving problems found in one's own backyard.
"We're not interested in theory," Alvarez said. "We're interested in taking what you've learned and applying it in practice to help someone else."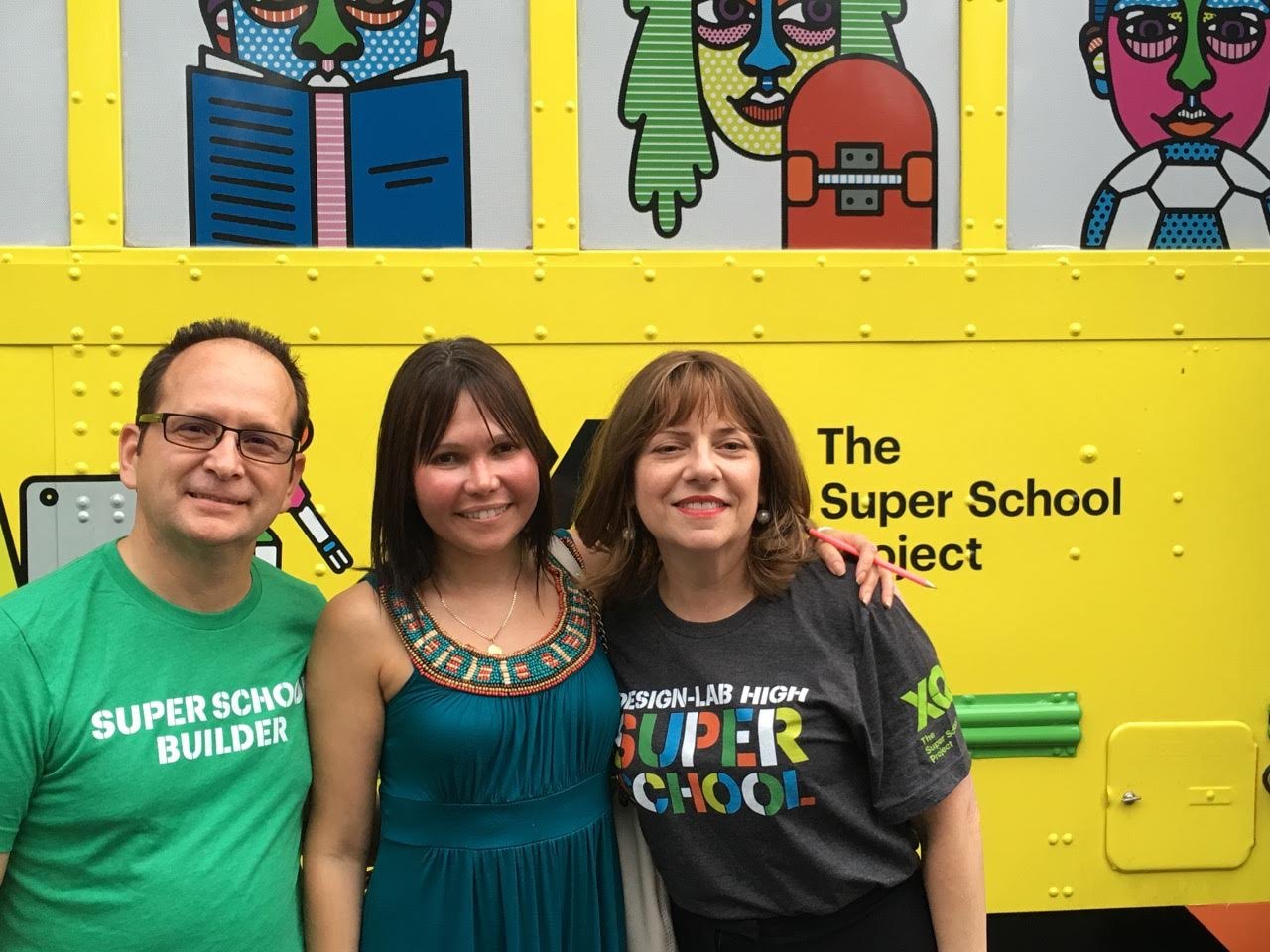 World language teachers (left) and Dr. Alvarez (right), co-founder and CEO of Design Lab High. Image: Cristina Alvarez / Design Lab High

Design-Lab High's take on STEM is Science, Technology, Engineering, Media, and Design (or STEMD for short), which urges students to put themselves in the shoes of others to solve problems they encounter in their own communities.
At Design-Lab High, students have already helped design their own classroom spaces, and their own curriculum. The XQ grant may help the school to purchase a full-time school building, as opposed to the rental it currently inhabits.
Design-thinking, Alvarez believes, can play a major role in bridging the educational divide and improving equity in the US public education system:
"It's not the water they're drinking, it's the teaching and learning," she said.
The Greatest Social Injustice of Our Time
Although the Department of Education's goal is to "ensure educational equity," students at schools with large black and Latino populations are less college-ready than students at white-majority high schools. The "achievement gap," according to a new book by Russell Sage, Too Many Children Left Behind, has grown in the past nine years.
"I think [unequal access to education] is the greatest social injustice of our time, and I think it's crazy that people aren't rioting in the streets about how unequal our educational system is," WLA's Stacy Kane said.
Read more: Why Schools in Rich Areas Get More Funding Than Poor Areas
The school of the future, whatever that might look like, will have to find ways to stop these inequalities from growing. The XQ super schools have created an opening, but the question remains whether they will build a movement. 
For the schools that won funding from XQ this year, now begins the difficult work of pioneering a much larger shift in the nation's educational system.
"The challenge is how we can share what we're learning," Mote said. For projects like XQ to have a lasting effect, students and educators will need to "understand how they can take change into their communities and their own high schools."
What's Trending In Education