Finance & Innovation
Unreasonable ideas to change the world
How do you become a social entrepreneur?
Here at Global Citizen, we're determined to help end extreme poverty by 2030. But it's not as simple as flicking a switch or finding a big bucket of money – it involves governments, communities and businesses working together, and often it requires new thinking and new innovation. People who use business techniques to solve social problems are known as "social entrepreneurs", and they're wonderful. Instead of seeking to maximise profit, these people seek to maximise social benefit. This isn't hippy drum circle stuff, though – these are professionally run businesses, but with a slightly different definition of success.
But how does someone become a social entrepreneur? More and more people are talking about social entrepreneurship, but it can still feel like a bit of a cloudy, mystical thing to be doing. I mean, how do you figure out what product to launch, how do you get investors, how do you find good advice? There are some university degrees specialising in social entrepreneurship these days, but some of the most successful social entrepreneurs in the world today got an extra boost from something a bit more hands on.
Your parents have probably never even heard of this...
Image: KPMG
There are plenty of organisations around the world (it's grown a LOT since this graph was made) that offer support and training to social entrepreneurs, and there's probably one near you. But let's take a look at two of the most well-known ones; The Unreasonable Institute and Echoing Green, and find out what they do to help social entrepreneurs to change the world for the better. After that, we'll meet two social entrepreneurs who are out there making it happen!
The Unreasonable Institute
Every year, The Unreasonable Institute selects two dozen entrepreneurs from every corner of the globe, and puts them under the same roof in Colorado, USA for a month. They receive one-on-one assistance from high profile experts and mentors, along with support in areas like financial modelling, legal, and design. They're then connected to investors, ongoing mentorship, and the mutual support of the other entrepreneurs they've attended the institute with. The program has now expanded to Mexico and Uganda, hopefully with more countries coming soon! So far, these social entrepreneurs have reached over 4.5 million people with their products, and received investment of over $50 million.
Echoing Green
Fellowships from Echoing Green are a coveted way for social entrepreneurs to gain the advice and support to help them succeed. The two year fellowships include a stipend of up to $90,000, participation in leadership development gatherings, and access to mentors from a wide range of fields. After the two year fellowship period, the fellows continue to have access to mentors and programs. Echoing green has invested more than $36 million in early stage funding and assistance in over social entrepreneurs, who have gone on to start organisations such as Teach For America.
Meet the companies: Biosense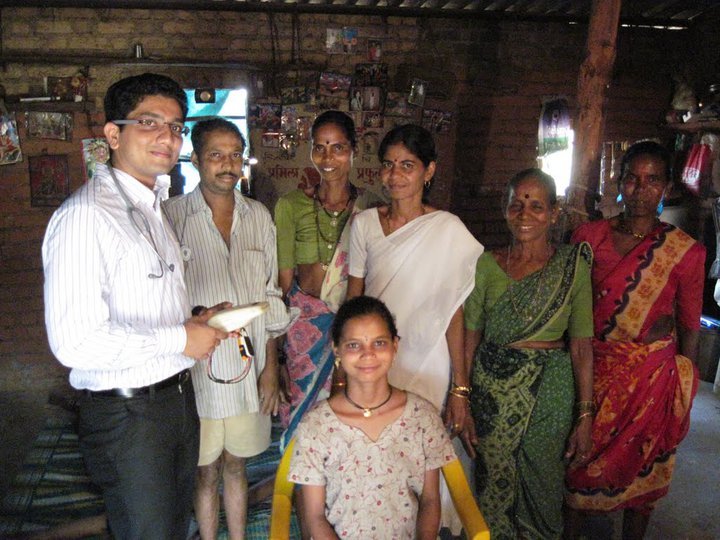 Biosense graduated from the Unreasonable Institute in 2011, and subsequently developed low-cost portable devices that diagnose blood-based illnesses in rural communities in India.
Co-founder Myshkin Ingawale attended Unreasonable Institute after quitting his job as a management consultant in Mumbai. He decided to create the device after witnessing a woman die in childbirth because of complications related to anemia, which she had never been tested for. "I come from an engineering and consulting background," he said, "so it struck me that there had to be a business solution for a disease that impacts millions of women and children in South Asia."
Biosense's devices can diagnose anaemia, gestational diabetes, pre-eclampsia and early-stage kidney disease in a matter of minutes, said co-founder Dr. Abhishek Sen. "This is critical because the speed of the diagnoses can save lives," he said.
So far, Biosense's devices have conducted more than 100,000 tests and are currently being used in 2,500 hospitals and clinics in small towns and villages.
Meet the companies: One Acre Fund
Founder of One Acre Fund, Andrew Youn also used to be a management consultant, but decided to stop solving the problems of large American corporations, and start solving the problems of farmers living in poverty in Africa. As an Echoing Green fellow in 2006, Youn went to Kenya to start One Acre Fund.
One Acre Fund helps smallholder farmers (farmers with small farms) by providing financing, fertiliser, training on agricultural techniques, and helping them to get their products to market. When farmers improve their harvests, they pull themselves out of poverty and provide a boost to their communities. With 70% of the world's poor working in farming, there's a massive capacity to make a difference.
As Youn told a Reuters interviewer, "One Acre Fund puts farmers first in everything we do. We listen to farmers every day, and run trials together to learn from them. We measure success in our ability to make farmers more prosperous and when we develop our products and services, we test them in the field with farmers to see what they think."
In 2015, One Acre Fund will serve 300,000 families across Kenya, Rwanda, Tanzania, and Burundi. Last year, farmers partnering with One Acre Fund reported a 57% gain in farm income.
Now what?
It's clear that social entrepreneurs are making a big difference in the world. They're trying new things, taking risks, and finding ways to plug gaps between governments, conventional businesses, and NGOs. If this sounds like your idea of a good career, then reach out to programs who are training and supporting the next generation of social entrepreneurs. You'll find a community of like-minded people who want you to succeed.
Also, please support businesses which are tackling social problems as part of their business model. Whether it's a shoe company that donates shoes to poor communities, a cafe which provides its unused food to the homeless, or a bar that is training at-risk young people in your community, the success of these enterprises depends on people like you!