Education
New report from UNICEF tells how the world's children fare
Every child deserves a fair chance to survive, develop, and reach their full potential.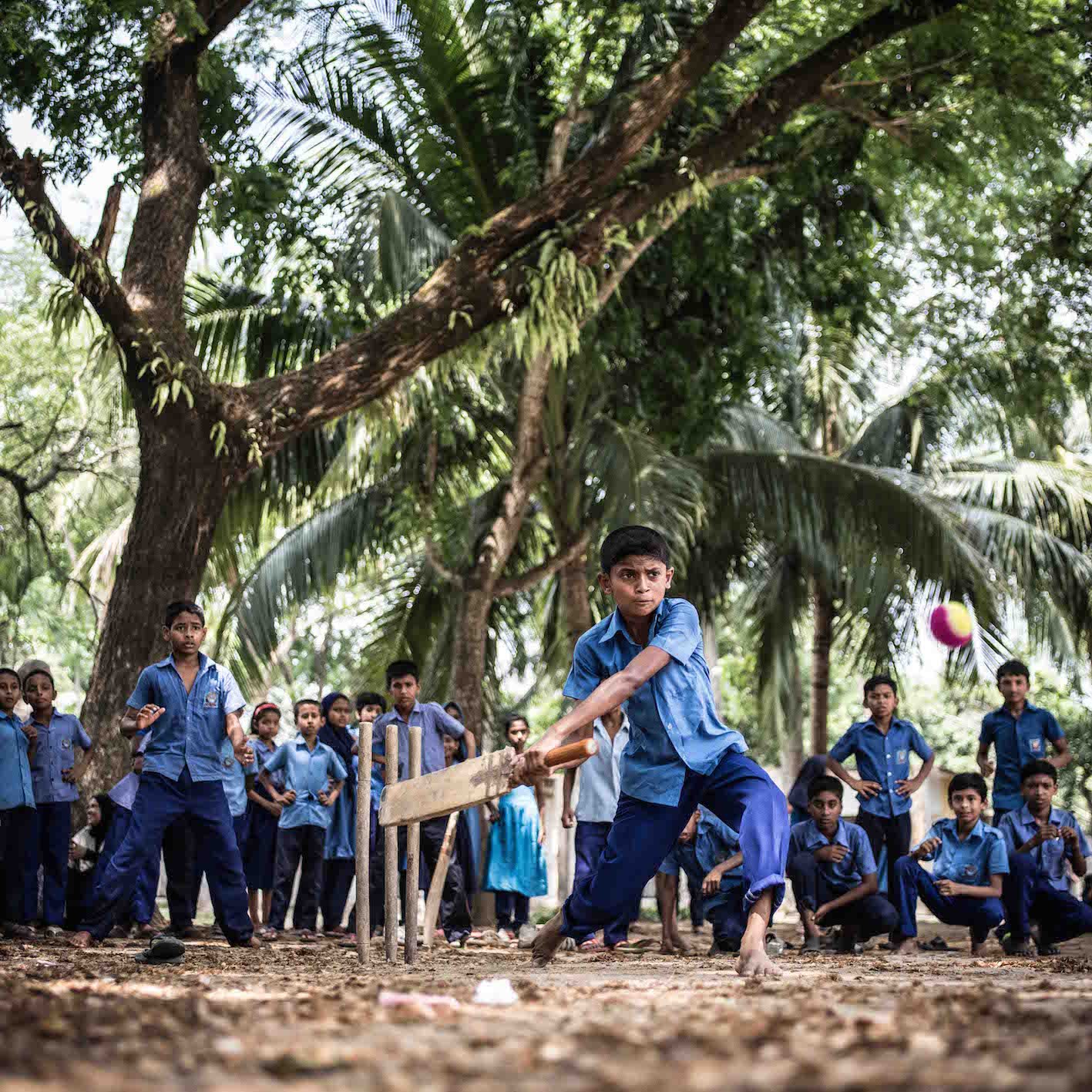 Rakib Hosain Sabbir, 9, a fourth grade student takes a turn at bat during a cricket game at Labsha Government Primary School in Satkhira Sadar, Bangladesh.
Image: © UNICEF/Gilbertson VII
Every child deserves an opportunity to survive, develop, and reach his or her full potential — every child deserves a fair chance. UNICEF's 2016 report The State of The World's Children: A fair chance for every child explores the current challenges children face and the solutions to address them.
Image: © UNICEF
Here are the things world leaders and the global community need to focus on today to achieve a fairer, brighter future.
Child Health, providing every child with a fair start in life.
Ana, 2.5 years old, at the Zvecanksa Centre in Belgrade, Serbia. Ana arrived at the center directly from the hospital when she was 2 months old.
Image: © UNICEF/Gilbertson VII
Children born to the poorest and most disadvantaged families face more challenges from the start. The poorest children, for instance, are nearly twice as likely to die before their fifth birthdays as the richest.
Nearly half of the 5.9 million deaths of children under 5 in 2015 can be attributed to undernutrition and/or preventable diseases like malaria, meningitis, pneumonia, and diarrhoea. These deaths disproportionately occur in Eastern and Southern Africa, South Asia, and Central Africa – areas that are home to some of the world's most disadvantaged.
Image: © UNICEF
Gender Equality, ending child marriage to give girls a fair chance
Yafati Sanda, 40, the principal of the largest school for Internally Displaced People in in Maiduguri, Nigeria. When she started the school as a volunteer two years ago there was one classroom and 30 students. Today enrollment has ballooned to 8,000.
Image: © UNICEF/Gilbertson VII
By 2030, 750 million girls will have been married as children if we don't step up efforts to end the practice. Girls who experience early marriage are less likely to attend school and face heightened risks of complications during pregnancy.
It doesn't have to be this way. Increasing access to education and empowering youth to say no to early marriage can help end the practice. 
Education, levelling the playing field with equal access to quality education
Education has long been a leveller of opportunity. But it's not enough to simply provide access to education – quality learning is what counts. 
Yafati Sanda, 40, the principle of the largest school for Internally Displaced People in a classroom located inside the Dalori Camp, on the outskirts of Maiduguri, Nigeria, on March 21, 2016.
Image: © UNICEF/Gilbertson VII
Good education increases knowledge, sparks innovation, builds, skills that drive growth and prosperity, and fosters inclusivity — it helps to propel societies forward.
But many children have limited access to education due to poverty, gender, ethnicity, disability, or location — factors outside their control.
To level the playing field, countries need to focus on closing gaps in access to quality education – starting with the earliest years of life. Early childhood education gives children born into poor and non-literate homes a boost, so they can enter school on a strong footing.
Musamat Murshida Sultana, 6, plays a game with other students at Bakchora, a UNICEF supported pre-primary school in Satkhira Sadar, Bangladesh.
Image: © UNICEF/Gilbertson VII
Holistic approaches to education that combine nutrition, health, sanitation, water, and stimulation can help address the overlapping and multiple dimensions of poverty. In Bangladesh, for instance, primary school students in a school meal program showed a 15.7 percent improvement in learning metrics compared to those who did not participate in the program.
We know what it takes to end extreme poverty. What we need is action. The State of the World's Children recommends ways that world leaders, businesses and civil society can provide more equal opportunities for all children. The report shows that with the right policies, priorities, and investments focusing on the children left furthest behind, we can end extreme poverty by 2030 and give every child a fair chance to survive, thrive and make the most of her potential.