Citizenship
From the frontline of the refugee crisis: an aid worker's perspective
How UK aid provides vital support for thousands of refugees.
This piece was contributed on behalf of Save the Children  by Olivia Watson, Humanitarian Information and Communications Coordinator.
Take action to protect the UK aid budget. Email your MP now.
---
Hassan, 14, is one of more than 150,000 refugees and migrants who have arrived in Greece since the beginning of 2016. He is a child refugee, who arrived without his family, and had been detained in a police cell on mainland Greece for five weeks before he was released. Like many others, Hassan had been placed in detention owing to the lack of available shelters for lone children. The risks for children like Hassan are huge, including potentially being trafficked, exploited, subjected to violence, or even just being forced to sleep in parks or on the streets, after already having fled war. It's terrifying to think this is happening right on our doorstep. Hassan was not the first who needed an advocate, and he won't be the last, as Greek authorities struggle to shelter, protect and care for large numbers of refugee children.
Around the world, British aid has been used to save the lives of millions of children, like supporting immunisation programmes which save a child's life every two minutes. But it's not just immediate and life-saving aid; it's making sure millions of children, like Hassan, can grow, develop, are protected and can fulfil their potential. British aid supported over 10 million children to go to school between 2011 and 2014, an amazing achievement which enables communities to overcome longer-term and chronic issues, and ultimately helps them move closer to self-reliance. 
Often it can be hard to see the impact overseas aid can have, but on the ground, Save the Children's frontline staff see it every day. 
Image: Gabriele Casini / Save the Children
I wrote this from Greece, where last year more than 850,000 people arrived on its  shores. As fatalities increased, images like those of Alan Kurdi, a three-year-old Kurdish Syrian boy who drowned when his family attempted the crossing from Turkey to Greece, prompted public outcry. Save the Children and other NGOs stepped in to respond as Greek authorities struggled to cope with the large numbers of people arriving in Europe to seek asylum.
Some of this year's arrivals found themselves stranded as borders closed. The conditions in Idomeni, a sprawling refugee settlement at the northern Greek border hosting more than 10,000 refugees, were notorious. When it rained, the dirt roads turned to thick mud; in warmer weather, the sun drove refugees and migrants to seek out the little shade available to them on the exposed agricultural land. The camp was made up of hundreds of small tents pitched haphazardly against an eight foot tall barrier that separates the Former Yugoslav Republic of Macedonia from Greece. Most people there had been stuck for nearly two months, stranded after the refugee route through the Balkans and towards Western Europe closed in March. The border fence prevented them going forwards, and fear for their own and their children's safety stopped them from going back to the war-torn countries from which they have fled.  
There were some 4,000 children in the camp, including babies born either in the camp itself or in the local hospital. Here, anything resembling a normal childhood was impossible. Parents struggle to provide their children with adequate food and shelter while they await an uncertain future. Aside from the psychological challenges of being far from home and having their lives put on hold, children are vulnerable to illnesses, and unable to access any kind of formal education.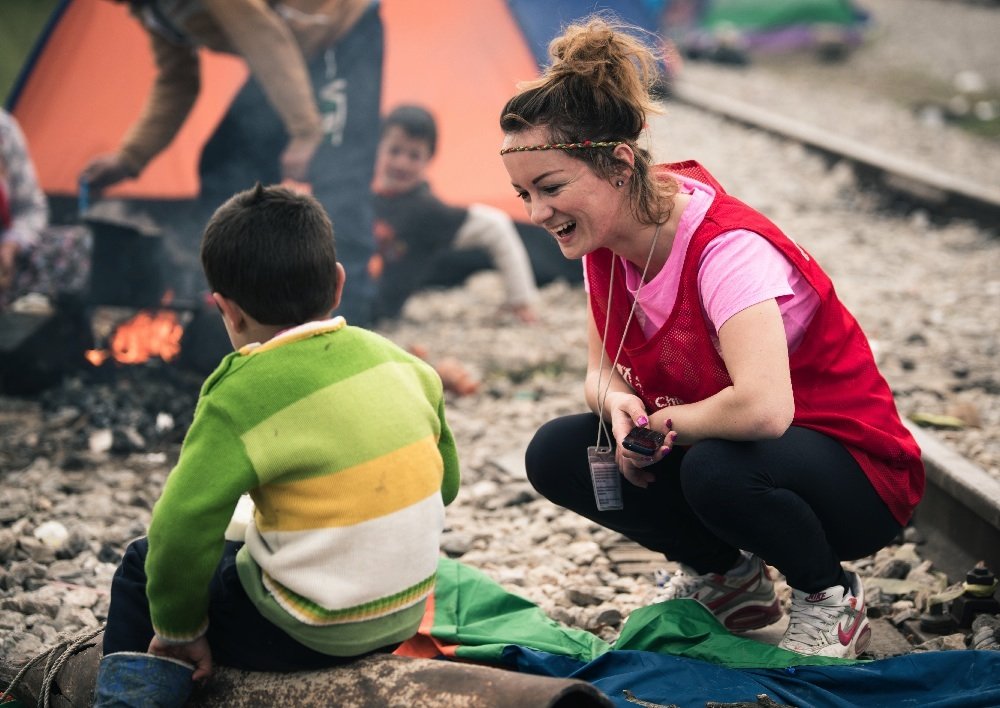 Image: Gabriele Casini / Save the Children
In a corner of Idomeni, opposite a meandering pathway where hundreds of people queued for their daily allowance of food and fruit, a tent was set up by Save the Children as a child-friendly space: a place where children could come to play, learn and – crucially – to be identified by case workers if they need protection or additional support. For many of the children who used the space, it was simply an opportunity to escape the worries of the camp for a few hours. The success of the project was clear from the expressions and behaviour of the children who attended, whether in Idomeni or further south, on the Greek islands where Save the Children was also working. 
This kind of space is all the more important as a way of spotting children who have either undertaken the journey from their home country alone, or become separated from family en route. Without an adult to look out for them, these children are particularly vulnerable to exploitation and harm. Moreover, as the Greek authorities struggle to cope with the sudden influx of lone children, state shelters have filled up, and children like Hassan are being placed in detention – a situation that is far from suitable for a teenager alone in a foreign country.
Without someone to support them, many refugee children would find themselves without help at a critical moment, as they find themselves stranded in northern Greece with nowhere to turn. It is thanks to the joint efforts of aid agencies – and the British Department for International Development that helps to fund them – that children like Hassan receive help. 
Save the Children has reached over 350,000 people with everything from food, to clothes, to protecting vulnerable children. The positive impact of aid in Greece is clearly visible. It can be seen in the words and drawings of the children who use the child-friendly spaces in camps across Greece, and in the energy and commitment of the people who work directly with children in the camps. It is obvious from the successes of our staff who speak up on behalf of lone children. Without it, the lives of refugee children stranded through no fault of their own in Greece, victims of political unrest, conflict, and violence, would be still more desperate.
Do you want to take action to protect the UK aid budget? Email your MP now.
---
Names have been changed to protect identity. 
Refugee children and families were relocated on 24th May from Idomeni camp to new sites in northern Greece, where Save the Children are running child protection and nutrition programmes for children and their families. Save the Children has suspended its services at detention centres on the Greek islands due to concerns for the welfare of vulnerable children. They are continuing to conduct child protection activities, as well as infant and young children feeding support to mothers and babies.
---
The views expressed here do not necessarily represent those of Global Citizen and each of its partners.