Education
This is Hannah, and you're paying her school fees
How, you ask? Let me start from the beginning.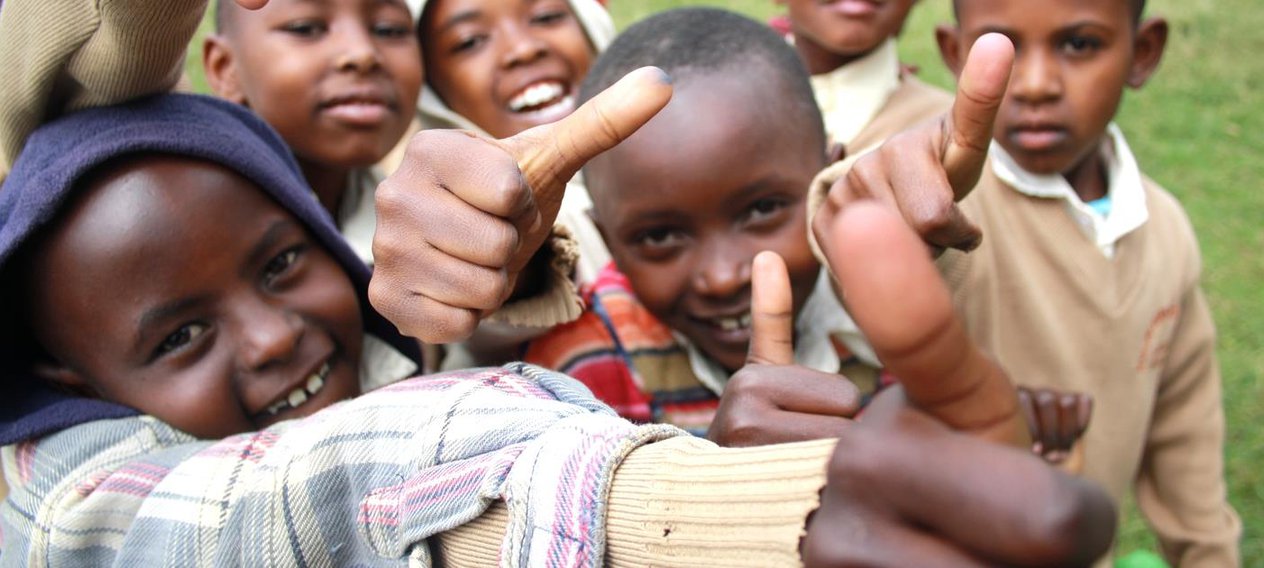 Schoolchildren in Nakuru, Kenya. Photo by Nakuru Children's Project.
Hi there. You don't know me, but my name's Zoe. I'd like to introduce you to my friend Hannah, and surprise you with a fact. Without knowing it, you've been paying her school fees.
How, you ask? Let me start from the beginning. I founded and direct a small charity named Nakuru Children's Project. We aim to improve education and relieve poverty for children in Nakuru, Kenya. I spend a lot of time working in suburban Kenya, with children who the rest of the world has forgotten. Or so I thought.
Pupils studying in Nakuru, Kenya. Photo by Nakuru Children's Project.
Over the years, I've become slightly hardened to the awful mix of emotions inevitably experienced when you work with people living in extreme poverty. I've come to accept that you meet people who suffer hardships infinitely greater than any person deserves, and the daily struggle of convincing the rest of the world to care. Despite this, listening to Hannah's story, it seemed almost inconceivable that one family could be so badly done by.
I met Hannah on a sunny afternoon. She arrived with a bashful smile on her face, hand-in-hand with her mother, and oversized shoes flopping around on her feet. She later explained that they belonged to her grandmother - Hannah owned no shoes but wanted to look 'smart' for our meeting. Speaking in Swahili, Hannah's mother told me their story.
Lack of funds for books, uniform and even shoes can be a barrier for Kenyan children trying to get an education. Photo by Nakuru Children's Project.
Hannah is the eldest girl in a family of eight children. 14-years-old, she helps her mother around their mud house, cooking, cleaning and washing clothes. Hannah's father is severely disabled, unable to walk, and thus unable to work. Meanwhile, Hannah's mother wasn't able to get an education, putting an end to any hope of full-time employment. To provide for Hannah and her siblings, her mother does any job she can for neighbouring friends - washing clothes, digging on farms or sewing clothes. This type of work pays little more than £2 a day and that's on a day when you're 'lucky' enough to find work.
When we met Hannah and her mum, they had not been 'lucky'. With a pained expression on her face, Hannah's mum told us how she'd been forced to send two of Hannah's siblings to a local children's home - essentially an orphanage. She loved her children - but love wasn't enough. She felt in her heart they would have a better life - more food, clothes, and opportunities - in an institution. Meanwhile, Hannah was in her last year of primary school, for the second time. A year previously she had completed school with very good grades, enough to send her to a top secondary school. But secondary school in Kenya costs money that the family didn't have. Desperate to stay in education, Hannah repeated her final, free year of primary school. Only a week before I met her, she'd achieved the best results in the district in her mock exams. Despite poverty and family heartbreak, Hannah defeated thousands of local children with her hardwork and determination. She is very, very clever. But intelligence can't pay school fees.
Now this is where you come in. You remember those taxes you didn't really want to pay? Well 0.7% of the UK's gross national income is spent on international aid. That's less than a penny in every pound. Through international aid, the UK government supports a programme in Kenya called 'Wings To Fly'. The programme provides secondary school scholarships, including tuition, room and board, to academically gifted but economically disadvantaged children. In other words, it gives the Hannahs of this world a chance.
Hannah just before she joined secondary school. Photo by Nakuru Children's Project.
I left Hannah in December in despair, terrified of staying trapped in the same cycle of poverty as her mother. I will return to Kenya next week to find her in a top boarding school for the brightest of Kenya's children, protected from hunger and struggle and given the chance to build a better future. I've seen girls like Hannah trapped in child labour, on the streets or working in horrific trades to make ends meet. I am proud that my money stopped this from happening to Hannah. And it was your money too.
This isn't even the end of the story. Since 2011, the UK has supported nearly 600 scholarships through the 'Wings To Fly' programme, the majority for girls. Worldwide, UK aid has helped 10.2 million children get into school. It also saves a life every 2 minutes through vital immunisations against disease. All with less than a penny from a UK pound.
This money isn't a waste - it's an investment. With this chance, Hannah can escape the cycle of poverty and make sure the future of her own children does not depend on aid.
Wings to Fly scholars in Nairobi before joining secondary school. Photo from Wings To Fly.
I believe that we should not abandon those in greatest need simply because they don't live on our doorstep. I hope that next time a girl like Hannah could do with a friend, we will be there. Earlier this year, the UK made it a law that we spend 0.7% of GNI on aid. For girls like Hannah, I am proud to be a part of this.