Water & Sanitation
A photo reflection on the precious items survivors of the Nepal earthquake carried one year ago
"It was such chaos. But life could not be spent in temporary shelters. I had to do something."
This article was written by Alanna Imbach and contributed in support of WaterAid in honor of the one year anniversary of the Nepal earthquake. 
---
One year after the Nepal earthquake changed their lives forever, survivors share the precious possessions that give them strength today
From science textbooks and favorite dresses, to religious items, necklaces and wedding gifts, Nepal earthquake survivors supported by WaterAid share the personal possessions that mean the most to them since losing their homes, water supplies, toilets and more in the April 25, 2015 earthquake that rocked the country to its core. 
One year on, people remain profoundly affected by their experiences and a year's worth of relentless aftershocks. Rebuilding processes have been slow, financial resources insufficient, and living conditions difficult. Hundreds of thousands of families now live in single-room, wood and corrugated metal huts that lack the size, insulation and protection of the two- and three- story brick houses they once called home, and reliable access to water and sanitation has again become a challenge in villages that had previously enjoyed ready access to water and Open Defecation Free status.
Yet in the face of unimaginable loss and continuing hardship, ordinary people are finding strength and hope in the small things. "The Things They Carry" by WaterAid and photographer Miguel Samper, includes powerful images of the physical items that people have been grateful to recover, along with images of people's homes—both those that were destroyed and those where they are living today.
---
Thirty-one year old father of two, Prakash Parajuli, lost nearly everything that day.
Image: WaterAid/ Miguel Samper
"My dad's father build the old house. He grew up there. I just felt like crying. Everything was destroyed. I was thinking about how we could possibly care for the kids. For the first five to seven days, I cried. All the responsibility was on me. It was such chaos. But life could not be spent in temporary shelters. I had to do something. I could not just sit under a tent. We were afraid of disease. Everyone was going to the bathroom outside."
Image: WaterAid/ Miguel Samper
The Parajuli family was not able to recover much from the decimated ruins of their home. But they did salvage a small figurine, a statue of the Pashupatinath Temple. "It was crushed and is broken now, but I think it's a symbol of God. I want to repair it and put a glass case over the top."
---
It's a similar story for Laxman and Hari Maya Gongaju.
Image: WaterAid/ Miguel Samper
Image: WaterAid/ Miguel Samper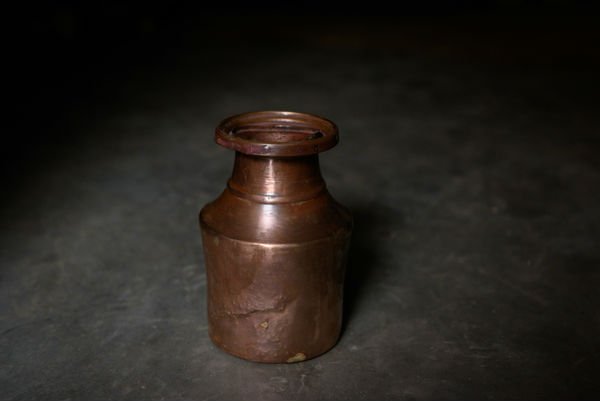 Image: WaterAid/ Miguel Samper
They were buried beneath their five-story home in Bhaktapur and felt certain they would die that day. They now live with 60 families in the Libali Ganesh Internally Displaced Persons Camp in Bhaktapur, where access to water is a challenge and permanent solutions seem bleak.
"For nearly one year now, we have gone back to the rubble of our house to search for our worshiping items. Finally, last week, while we were preparing for the New Year celebrations, we found them. We have been looking for them so many times, but they were buried in the clay. Finding them is like a small glimmer of hope."
---
Image: WaterAid/ Miguel Samper
Prapti Tamang, 24, stands in front of the corrugated metal home her neighbors helped build after her two-story stone home was destroyed in the April 25 earthquake. Syauli Bazar, Nepal.
"In our old home, we had many rooms and a separate kitchen. Now our house is much smaller. There are no doors, and the kitchen is next to the bedroom. I fear that someone might break in because there are no men in the house, and this house is not strong. At night, I am afraid of the drunkards around the village, that they might come in and assault me. Nothing has happened yet, but all the women are afraid. I told my husband. When I can't sleep, I call him. I wish we were together. People gossip here when I talk to other men."
Image: WaterAid/ Miguel Samper
"I was filled with joy when we found this water jug in the rubble. It was given to me by my sister as a wedding gift when my husband and I were married."

---
Image: WaterAid/ Miguel Samper
Ayushma Lama, 22, lives with her husband and 7 month old son Yashu at the top of a hill in Lamatole, Nepal, where they've rebuilt a corrugated metal home where their two-story brick home once stood before the April 25 earthquake.
"The most important problem with toilets is that there is no water [to clean them after each use]. People can't put water on it, and it becomes dirty. There is a piped water system, but we often can't get water because the source is blocked. Ever since the earthquake, there has been mud in the water tank, and the water has been slightly muddy. Otherwise, the water has been the same since the earthquake."
Image: WaterAid/ Miguel Samper
"We were very lucky. We were able to save everything from the old house. But I was most happy when we discovered my wedding necklace. It was in a cupboard, and when they took out that cupboard I was so happy to see it still there. It was given to me by my husband at our wedding."
---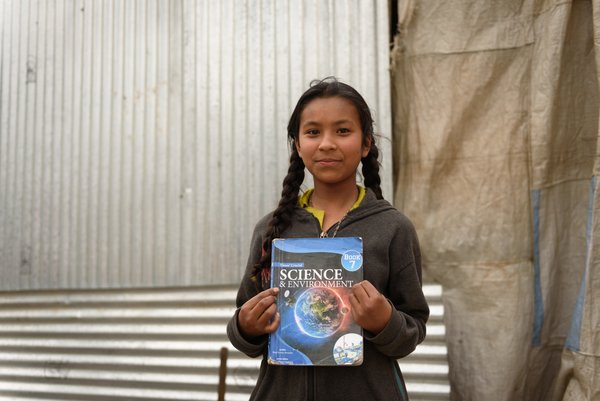 Image: WaterAid/ Miguel Samper
Shreesha Duwal, 12, holds one of her most precious posessions recovered from her collapsed home in Bhaktapur, Nepal, a school textbook. She now lives in the Libali Ganesh IDP camp.
"The biggest worry people have is how to rebuild their home. Everyone here is from the Newar community and no one wants to stay here. There are so many Newari festivals and everyone wants to celebrate them from their own home, their real home."

Shreesha Duwal lives now lives at the camp with her mother, father, grandfather and one sibling. "I miss having my own room. The room here is so small and there is nowhere to sleep or read. If the room was bigger, we could live easier and sleep and read better."

"I feel safe here. I don't feel scared here, but I do when I have to go to the toilet at night [it's a 5 minute walk]. Sometimes I have to go alone. At night some people might come - a drunk person or a bad person."
Image: WaterAid/ Miguel Samper
"I was so happy when they found my Science and Environment textbook. I love science and I was very happy. I want to be a doctor. I read this book during school time and at home every day."
---
The individuals featured in the "Things They Carry" series have benefitted from WaterAid's earthquake recovery and relief efforts. During the early relief response from May-July 2015 alone, WaterAid and its local partners reached 160,000 earthquake survivors with immediate relief. One year on, WaterAid continues to work with communities in four districts of Nepal to rebuild damaged latrines, restore water tanks, taps and pipelines, identify alternative water sources and learn about the importance of handwashing and other hygiene practices critical for warding off disease.
These efforts have contributed to what may be Nepal's greatest untold post-disaster success: the country succeed in heading off any outbreak of cholera or illnesses related to poor water, sanitation and hygiene. The fact that a major public health outbreak did not occur in these conditions is a triumph credited to fast-acting and far-reaching sanitation and hygiene awareness efforts by the government, community health workers, volunteers and organizations like WaterAid. 
Sarina Prabasi, WaterAid America Chief Executive said: 
"To lose everything you own, everything you know and love in such a sudden and dramatic way is nearly beyond comprehension. From Nepal to Myanmar, Japan to Ecuador, our thoughts are with all those whose lives have been rocked by earthquakes in the past months. WaterAid has invested in the people and long-term future of Nepal for over 30 years, and we remain steadfast in offering the support needed to build back better and more resilient than ever before."

"When I see these photographs, I see the strength and resilience of mothers, fathers and neighbors who refuse to be defined by the hardship they've experienced. I see people who have every ability to build back better, including by creating the ownership, interest and physical infrastructure needed so that everyone in their community has access to clean water, toilets and hygiene education. But I am also reminded that they need our support—especially financial support—in order to get fully back on their feet. Building back better will be neither quick nor easy but is a long-term journey that WaterAid is honored to support."
---
The views expressed here are not necessarily those of each of the partners of Global Citizen.