Girls & Women
This is what happens when refugee girls imagine their dream jobs
Imagine you are a girl who has fled conflict in Syria.
From the outside, refugee camps look gloomy and cramped. Among rows of makeshift shelters, a feeling of transience lingers. They're supposed to be in-between places, stations on the way to stability, and that's what they look like. 
But that doesn't mean the people living in such camps have paused their lives. Refugees sometimes experience crippling trauma, but they're all striving for a better life. The children, especially, are striving. And if they don't receive encouragement and support, their aspirations can sputter and die. 
This is especially true for young girls who experience violence and discrimination and are pushed off the path of their dreams to fill more traditional roles.
The International Rescue Committee's Vision not Victim program tries to provide that encouragement and support to young girls. In the following series, Meredith Hutchinson photographed and interviewed young Syrian and Jordanian refugees in camps and urban areas. 
Prior to the joining Vision not Victim, many of the girls feared that their dreams would never materialize, that they would be stopped along the way. But after various mentorship programs and support groups, the girls are invigorated with purpose. The clarity of their dreams should be inspiring to all.
From the series: These photographs provide a visual call to action. Peace and progress in any part of the world is dependent on investing in the growth of leaders, like the remarkable girls profiled here, who have ideas, potential and power that can drive change.
---
Image: Meredith Hutchison/IRC
Fatima / 11 / Future surgeon
"In this image, I am examining an x-ray of a patient to see what is causing the pain in her chest. At this point in my life I am a well-respected surgeon in the region. I treat many patients, but the patient I care most about – the one that drove me to be a doctor – is my father, who has lots of medical issues. To be able to help my father, this makes me feel strong, powerful, and capable."
---
Image: Meredith Hutchison/IRC
Fatima / 16 / Future architect
"I've always wanted to be an architect. Yet, when I was young people told me that this is not something a woman could achieve, and they encouraged me to pursue a more 'feminine' profession. But I dreamt constantly of making beautiful homes for families, and designing buildings that bring people joy. Now that I've reached my vision, I hope I am a model for other girls - showing them that you should never give up on your dream - no matter what others say."
---
Image: Meredith Hutchison/IRC
Fatima / 11 / Future policewoman
"I am a kind, yet serious policewoman who is respected and a role model in the community. People are not afraid of me, but call me when they are in trouble. I teach them how to respect and love one another. I fight for justice. I help the innocent."
---
Fatima / 12 / Future teacher
"In this image, it is the early morning and I am waiting in my classroom for my students to arrive. I teach younger children to read and write Arabic. I am a very compassionate and kind person, and so a perfect teacher. I am strict, but I go out of my way to gently help those students who are having difficulties."
---
Image: Meredith Hutchison/IRC
Merwa / 13 / Future painter
"In this image, I am a popular painter, working on a landscape in oils. When I was younger, painting was a hobby – but as I grew older I saw I had a great talent and went to art school. Now I have my own gallery where I sell my paintings and sculptures. My hope is that my artwork inspires peace in the world and encourages people to be kind to one another."
---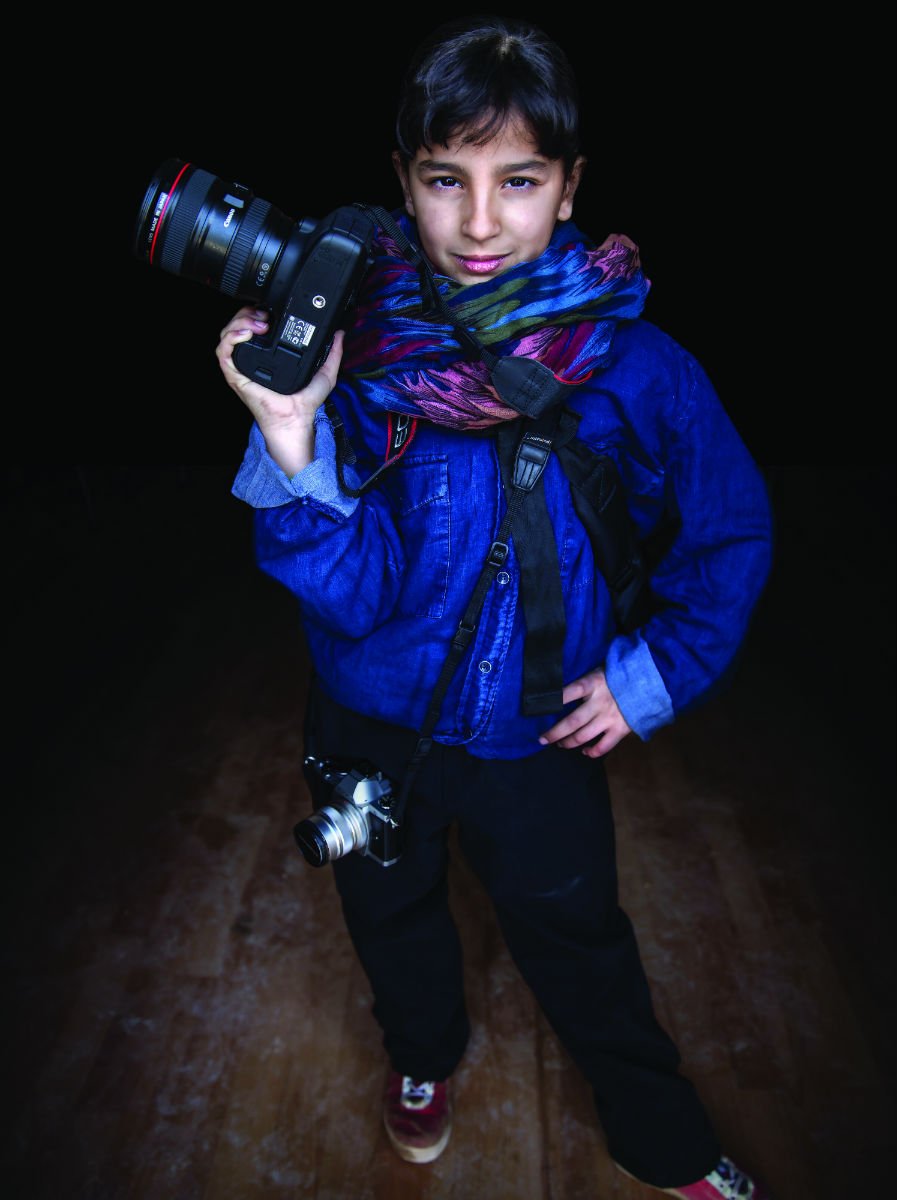 Image: Meredith Hutchison/IRC
Muntaha / 12 / Future photographer
"Since I was a young girl I loved taking people's photographs. I loved going to different events and documenting what was happening – both the good and bad. Now, as a professional photographer I use my images to inspire hope in others – to encourage love and understanding."
---
Image: Meredith Hutchison/IRC
Malack / 16 / Future policewoman
"I've always wanted to be a policewoman because the police not only keep people safe, but they also create justice in society. Everyday I wake up, go to the station, and then head out into the city to see where I can help. I also work to inspire other young girls to become policewomen – supporting them to dream about their future and thinking about how they will overcome obstacles."
---
Image: Meredith Hutchison/IRC
Rama / 13 / Future doctor
"Walking down the street as a young girl in Syria or Jordan, I encountered many people suffering – sick or injured – and I always wanted to have the power and skills to help them. Now, as a great physician in my community, I have that ability. Easing someone's pain is the most rewarding aspect of my job. To be able to give them relief and make them smile – this is what I love most."
---
Image: Meredith Hutchison/IRC
Wissam /15 / Future pharmacist
"Our neighbor in Syria had a pharmacy, and when I was younger I would go next door and help. As the war started, I watched this pharmacist help the injured. When I saw this I knew that this was an important job and what I wanted to do. Now that I am a pharmacist, I see myself as a role model for girls and a leader changing the world."
---
Haja / 12 / Future astronaut
"Ever since we studied the solar system in primary school, I have wanted to be an astronaut. I would imagine myself up in the sky discovering new things. I love being an astronaut because it lets me see the world from a new angle. In this society my path was not easy – many people told me a girl can't become an astronaut. Now that I have achieved my goals, I would tell young girls with aspirations to not be afraid, to talk to their parents about what they want and why, to always be confident and know where you want to go."
---
Image: Meredith Hutchison/IRC
Bassima / 17 / Future dairy chef
"I have always found great pleasure in cooking. When I was young, I spent a lot of time in the kitchen with my mother – learning how to create different dishes. I was really good at it. Now as a chef, I have my own restaurant where I create the menu, and a shop where I make and serve different dairy products like milk, cheeses, and yogurt."
---
Image: Meredith Hutchison/IRC
Nour / 16 / Future lawyer
"I want violence against women to end. I want women to be able to make decisions for the community, and say their opinion without fear. I want our society to open up and give space for women to be whoever they want to be. This is why I decided to become a lawyer. When I was younger, my mother told me I was courageous and truthful, and that I could be a great lawyer who fought injustice. I took her advice, and now am a respected lawyer working on women's rights and defending women who are victims of domestic violence."
---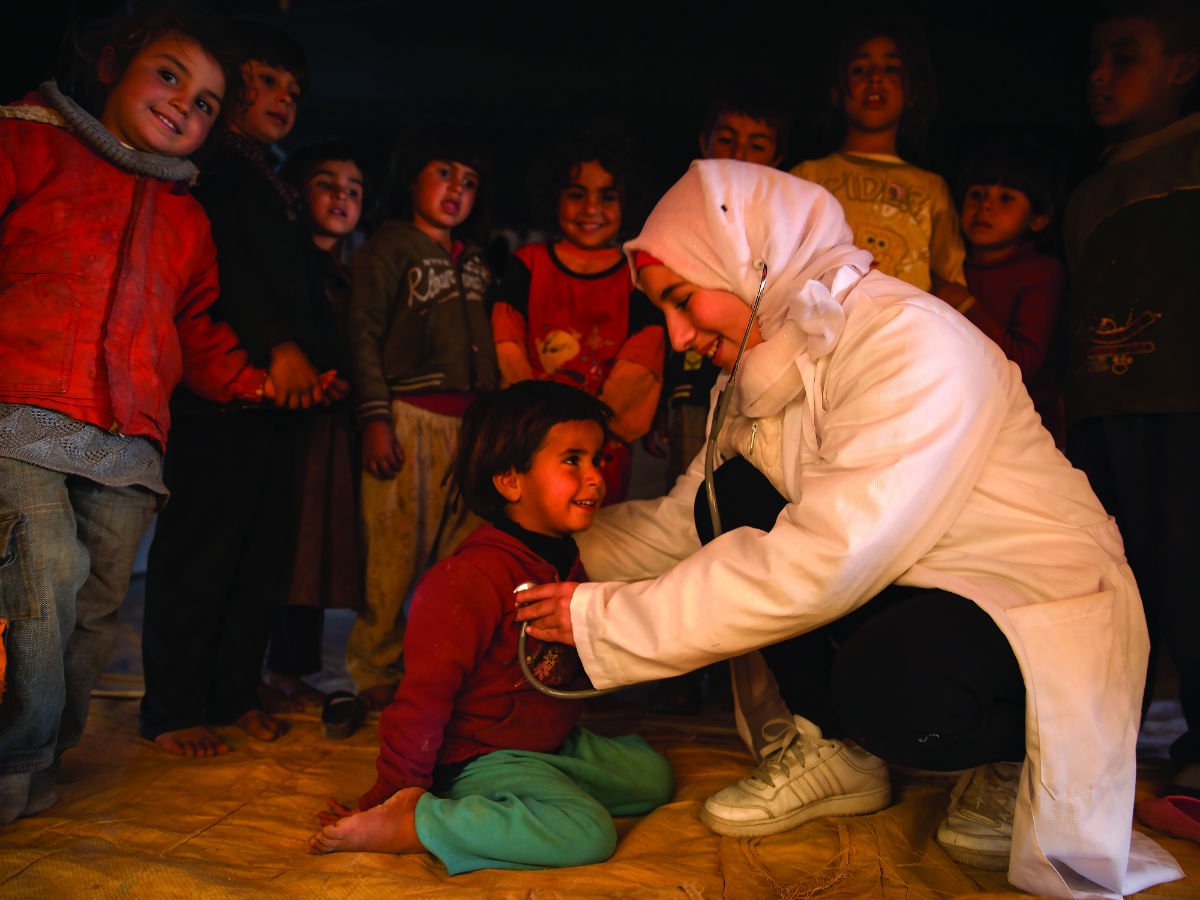 Image: Meredith Hutchison/IRC
Nebal / 13 / Future emergency doctor
"The moment I love most in my daily life as a doctor is when I arrive at the clinic and see rows of patients waiting to see me. To know that people trust me and that there are so many I may be able to help makes me feel like nothing else – it makes me feel so hopeful. I am currently based in Jordan, but I often go to places that are in conflict or crisis, to provide medical care for those who are most in need. I also have my own clinic for refugees and those in poverty here in the north of Jordan."
---
Image: Meredith Hutchison/IRC
Amani / 10 / Future pilot
"I love planes. Even before I had ever been on a plane, I knew I wanted to be a pilot. Flying is adventurous and exciting. When I was younger, my brother always told me that a girl can't be a pilot, but I knew deep down this is what I wanted to do. I finished my studies and found a way to get to flight school. Now, not only do I get to live my dream, but I also get to help people travel, to see the world, and discover new places."
---
Image: Meredith Hutchison/IRC
Mona / 10 / Future physician
"In this image, I am in the future and a well-respected physician at a major hospital in Syria. I am asking my patient about her pain, and helping her get better. I feel very fortunate to be where I am today. My mother was born and raised in a village and didn't go to school, but as a young girl I had the opportunity to learn and grow into a great doctor. People feel safe around me, they believe in me, and I use my skills and compassion to help many others."
---
Image: Meredith Hutchison/IRC
Sarah / 15 / Future fashion designer
In the future I am a famous fashion designer – creating chic clothing for women that makes them feel elegant. I design normal daywear that combines rough and soft fabrics, as well as formalwear and wedding dresses. I love fashion because it is a way for everyone to express themselves, and when it is done right – your clothing should make you feel special, beautiful, and confident.
---
Image: Meredith Hutchison/IRC
Hiba / 9 / Future pediatrician
I have always wanted to help children, and this is what drove me to be a pediatrician. I am kind and loving, and therefore an excellent doctor that children can trust.
---
Image: Meredith Hutchison/IRC
Nesrine / 11 / Future policewoman
"I saw a policewoman for the first time when I was 11 – before that I hadn't considered it as a career. At that moment of my life I wasn't even going to school – I just had no interest. But once I decided this was my dream, I studied hard and pursued it. Now that I am a policewoman, I help many people who are in danger or trouble, and I encourage young girls to get their education so that they can reach their goals."
---
There are currently more than 4.5 million Syrian refugees. At least 2 million of them are children. Most of these children are out of school and living in dismal conditions. If they don't receive support and stability then, unlike the girls pictured above, their dreams could be squashed. 
This can't happen. 
Every child everywhere has the right to pursue their dreams and access opportunity.