Citizenship
These Dads Are Becoming Outspoken Advocates for Fatherhood, And It's So Important
"If you are a father, there's no other way you can teach than by example," said actor Adam Pally.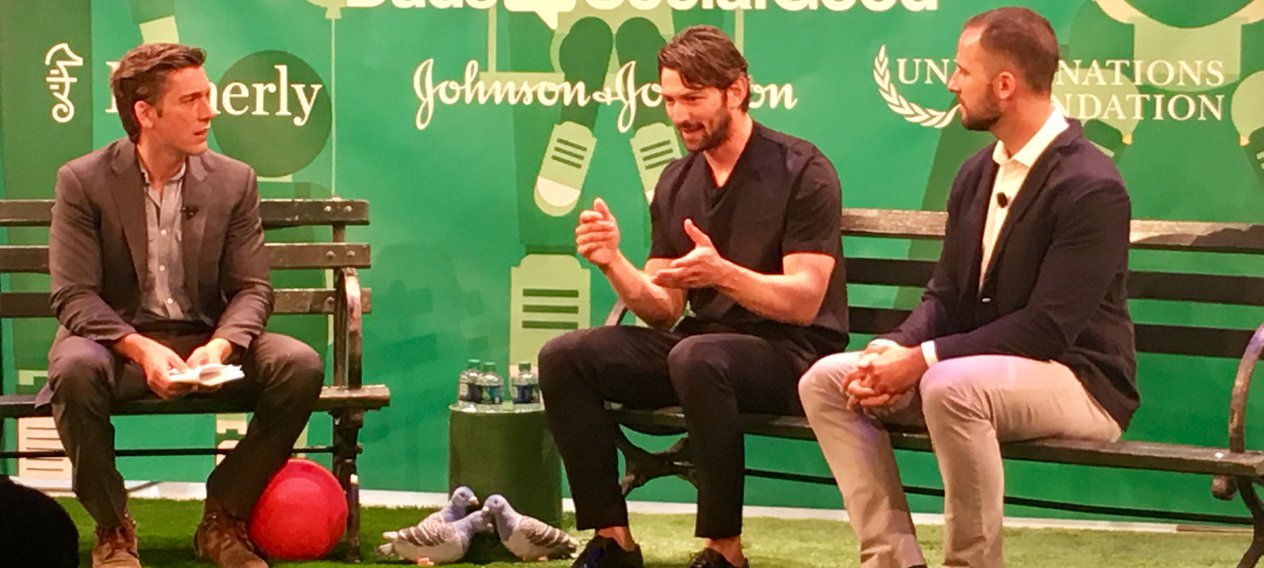 Last month, dozens of passionate women and men — advocates, experts, public figures, and moms —  gathered in New York City to talk about the important roles mothers play in their families worldwide.
On Tuesday, Johnson & Johnson and the United Nations Foundation partnered with Global Citizen and Fatherly, an online parenting resource for men, to create a similar forum, but this time for papas.
"Fatherhood, while it's extremely rewarding and a beautiful thing, can also feel quite lonely," said actor and dad, Adam Pally, during the summit. "You're often asking questions that don't have definitive answers. So a place where there can be discussion and points of view offered is really nice"
The one-day summit opened with a rap about diaper bags from American hip-hop artist, Beleaf, and ended with an empowering speech about girl power from fashion photographer, Nigel Barker. ABC World News Tonight anchor David Muir and actor Michiel Huisman also spoke about fathers, families, and social good.
Read More: What do you wish were true for every child, everywhere?
The panel delved into how fathers can help tackle the world's most pressing issues — from gender disparity to the refugee crisis, and even the looming outbreak of the world's next infectious disease.
Ultimately, by investing more time, support, and care into children's lives, fathers can make a difference in their own families and beyond.
As women increasingly become the breadwinners of the family, fathers are taking on more childcare responsibilities. On average, fathers now spend seven hours a week caring for their children, a huge leap from 1965.
Children who spend more time with their fathers grow up to have higher IQs, according to a 2006 report by the Office on Child Abuse and Neglect. Time spent with fathers can influence a child's future ambitions, relationships, and leadership skills.
Read More: The Global Moms Relay Posts We Love
"Becoming a parent started making me more aware about my responsibility and the world," Huisman said. "And it came to a point where I felt I had to do something."
As an ambassador for Save the Children, the Game of Thrones actor visited the world's largest refugee camp, Bidi Bidi in Uganda, where he helped raise awareness of these families' daily struggles.
"I discovered that, of course, we all want the same thing for our families," he said. "We want our kids to be safe, we want them to be healthy, and we want to see them thrive."
Dads like Huisman, Barker, and Pally are helping combat some of the world's most concerning issues on the ground, online, and everyday in their homes. Here's what these leaders, and others, had to say about the importance of fatherhood:
---
On Fatherhood
Adam Pally, actor, comedian, writer
"If you are a father, there's no other way you can teach than by example."
Carlos Lejnieks, CEO Of Big Brothers Big Sisters Of Essex, Hudson & Union Counties
"My father had left early on in life. I really don't remember when my father was in the picture, but I know that for those big milestones he was not there...And so in the absence of his position in my life, there were men who stepped up and they were critical in helping me facilitate my sense of manhood. My grandfather moved from Ecuador to live with us for a couple years and show me unconditional love."
Dr. Joi C. Spraggins, President Of Legacy Pathways, LLC
"Data shows that children feel really safe when fathers talk to them. So take the time to invest in them. Find what's important to you and what's important to them."
On Paternal Leave
David Crutchfield, President, Global Oral Care & Wound Care, Johnson & Johnson
"I remember when an absolute rockstar came into my office with this look of pure dread on her face and at the time my thought was simple 'she's either nervous because she's going to resign or somebody had died.' I remember she sat down and said 'I have some news to share with you'...and she said 'I'm expecting.' I was taken aback, jumped up, gave her a big hug and congratulated her. I watched that fear and dread transform into relief. Imagine, you're about to share the most exciting news of your life and you're terrified. Nobody should have to feel that way and I know because I've walked in her shoes. So every day, I try to set the right environment in my team."
Scott Behson, Professor, Fairleigh Dickinson University & Author
"The universal aspiration for most men is wanting to succeed at work while being a highly involved, hands-on, loving father...Society doesn't talk about the normalcy of good, involved fatherhood. Most dads are doing a pretty good job."
On Girl Power
Nigel Barker, Photographer, Filmmaker, TV Personality
"I think that actions speak louder than words and as much as a parent can tell a child how to behave, you as a parent have to do it yourself. When a child sees a parent behaving in a certain way, talking in a certain way...it becomes the way they want to behave too. I try as much as I can to lead my life in that way."
"Until we have equality, where women are able to stand next to men all around the world as equals, I'm certainly not going to sit down and stop that fight...We need every man out there. Being a man is about being absolutely okay with equality."
Christopher Persley, Writer, Fatherhood Advocate, Educator
"It comes down to who you want your child to interact with, who's in your village, and how you address whatever issues might come up either at home or in public. Taking that time to talk to your child, empowering her in so many different ways to be that voice for change."
Adam Pally, actor, comedian, writer
"I was thinking about how it feels slightly odd, as a man, to be talking about the need for space. I'm a man. I have all of the space I need. It's women who have been marginalized throughout our history and they're the ones that continually need space. It's true, there are a ton of "Mommy and Me" blogs, and there are a ton of places where they can go and find information, but I do think that it's important that we, as fathers, acknowledge that. And as we raise our children, not just our girls but our boys too, we make sure that they understand that there's a reason that we need to make sure women are treated the same."
On Infectious Diseases and Vaccines
Zack Yaksich, Executive Director, Alana's Foundation
After losing his daughter to influenza: "Grief is a complicated thing in and of itself, but as a father, it was difficult because society expects the father to be strong and support the rest of the family. I was the breadwinner of the family so I was expected to soldier on and get up every day and go to work...I don't feel I was ever granted the opportunity to grieve properly."
Dr. Sam Maldonado, VP Of Child Health Innovation And Leadership Department, Johnson & Johnson
"We have vaccines that are safe and effective...I get it because I have parents at home who are in their 80s and I need to protect them. I also have a child at home who is handicapped and has pulmonary issues and I have to protect her. So everybody should get it, not only for themselves but for those around them."