Citizenship
Syrian Refugees Living in Darwin, Australia, are Using Their Food Truck to Bridge the Cultural Divide
The magic of a free falafel.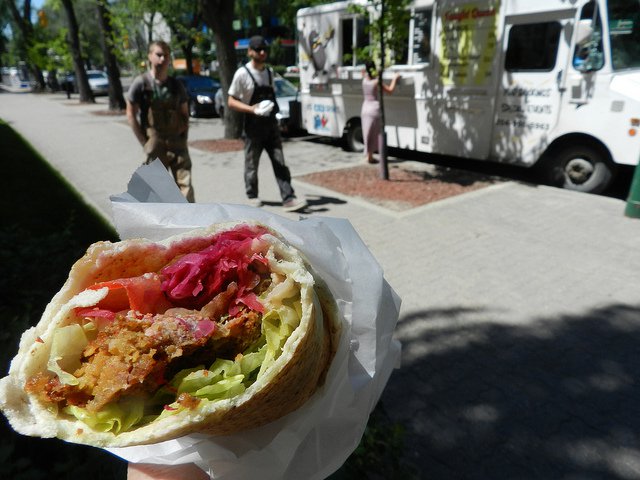 Nadeem Turkia's citizenship has been an issue in every country he's ever lived — including the place of his birth. 
After finishing at the top of his class for his hospitality in his home country of Jordan, Mr Turkia planned to go to the United States on a scholarship. But his citizenship became a problem. 
Although Mr Turkia was born and lived most of his life in Jordan, where his mother is from, citizenship in Jordan is passed down through the paternal line, meaning children do not automatically inherit their mother's citizenship.
"The head of my university told me, 'they didn't accept you because you are Syrian. There is nothing we can do.' That was the moment my dreams stopped," Turkia told The ABC
As Jordan began to experience an influx of thousands of Syrian refugees escaping war and arriving on its shores, the Government changed its policy on Syrian nationals having rights to residency and work.
"You couldn't work, you couldn't do anything, because they would send you back to hell, to Syria." Turkia said.
Turkia's family arrived in Australia as part of the country's Syrian refugee commitment intake and eventually settled in Darwin.
Mt Turkia now runs a food truck, Flavours of Damascus, which he travels around Darwin with to various suburbs and markets.
Looking back he recalls family holidays in Syria before the war, in a picturesque mountain village where food was abundant and everyone lived in peace.
He now wants to share this vision with Australians who only know the war-torn devastation of Syria.
To connect with Australians, bridge the cultural divide and share his story, Mr Turkia breaks the ice by employing the Middle Eastern tradition of giving away free falafel.
Mr Turkias' family always planned on using their love of food to connect with Australians.
"In our food you will taste our culture, you will taste all the spices that have thousands of years of history."
What a beautiful way to thank a country for accepting them and contribute to a diverse community.
What's Trending In Citizenship