Citizenship
14 Photos of What Happened This Week That (Mostly) Don't Involve Donald Trump
John McCain's unexpected vote, Rihanna's high-profile meeting, and more from around the world.
It was a busy week on the floor of the US Senate, as the healthcare debate kicked into overdrive and Sen. John McCain (R-AZ) flew to D.C. just days after undergoing surgery for a brain tumor to vote. 
McCain wasn't the only person making waves for his high-profile travel plans. Singer and Global Citizen superstar Rihanna traversed the Atlantic to meet with French President Emmanuel Macron to discuss France's commitment to the Global Partnership for Education. 
Elsewhere around the world, wildfires broke out in Portugal and France, as Italy suffered water shortages. Check out these stunning photos and more, below: 
---
1) Migrant Crisis: (Above) Two young migrants sit in a boat after being rescued by aid workers of Spanish NGO Proactiva Open Arms in the Mediterranean Sea, about 15 miles north of Sabratha, Libya on Tuesday, July 25.
2) Health Care Overhaul: Sen. John McCain (R-AZ) takes an elevator to the U.S. Capitol on July 26 in Washington, DC. The US Senate continued to debate on the Better Care Reconciliation Act.
3) Wildfires in Portugal:  A woman watches the column of smoke during a wildfire in Macao, central Portugal, on July 26.
4) Venezuela Protests: Masked opposition activists hide behind shields as they clash with riot police during a march towards the Supreme Court of Justice (TSJ) in an offensive against President Maduro and his call for Constituent Assembly in Caracas on July 22. The legislative power, controlled by the opposition, appointed Friday a parallel supreme court in a public session claiming the TSJ judges had been illegally appointed by the parliaments former pro-government majority.
Image: Hussein Malla/AP
5) Syria: A Syrian displaced young girl who fled with her family the battle between US-backed Syrian Democratic Forces (SDF) and the Islamic State militants from Raqqa city, carries a baby carseat on her head upon her arrival at a refugee camp, in Ain Issa town, northeast Syria, Monday, July 24. The US military is supporting local Syrian forces in a campaign to drive IS from Raqqa.
Image: Andrew Medichini/AP
6) Water Shortages in Italy: A view of the shore of Lake Bracciano, about 35 kilometers northwest of Rome, Thursday, July 27. Rome area's governor last week ordered no more water drawn from Lake Bracciano, which supplies much of the Italian capital, raising risk for staggered water supply shutdowns as long as eight hours daily in alternating neighborhoods. Scarce rain and chronically leaky aqueducts have combined this summer to hurt farmers in much of Italy and put Romans at risk for drastic water rationing starting later this week.
7) Wildfires in France: A fire fighting Canadair aircraft drops water over a fire in Mirabeau, southeastern France, on July 24. Some 400 hectares of forest were hit by a fire on July 24 in the Luberon massif in southeastern France, mobilising 250 firefighters and five Canadair aircrafts to attempt to put it out, fire fighting service said.
Image: David Goldman/AP
8) Arctic Ice: In this Saturday, July 22, photo, Canadian Coast Guard Capt. Victor Gronmyr looks out over the ice covering the Victoria Strait as the Finnish icebreaker MSV Nordica traverses the Northwest Passage through the Canadian Arctic Archipelago.
9) Transgender People in the Military: Protesters display placards against US President Donald Trump during a demonstration in front of the US Army career center in Times Square, New York, on July 26. Trump announced on July 26 that transgender people may not serve 'in any capacity' in the US military, citing the 'tremendous medical costs and disruption' their presence would cause.
10) President Macron and Rihanna: President of France Emmanuel Macron, Rihanna and Global Citizen's Co-Founder and CEO Hugh Evans sit down to discuss France's commitment to The Global Partnership for Education and the critical need to get 264 million kids educated. 
Image: John Minchillo/AP
11) Cincinnati Police Shooting Protest: Protestors chant as they march during a demonstration demanding former University of Cincinnati police officer Ray Tensing be retried for murder in the shooting death of motorist Sam DuBose, Saturday, July 22, in downtown Cincinnati. Hamilton County Prosecutor Joseph Deters declined a third trial during a news conference Tuesday after two juries deadlocked on murder and voluntary manslaughter charges, claiming he does not believe the case can succeed.
12) Chechnya:  A Chechen Muslim prays in the Aymani Kadyrova Mosque built in hi-tech style in the city of Argun, second largest city of Chechnya, about 18 km from Grozny on July 25.
Image: Aaron Favila/AP
13) Storms in the Philippines: Girls play along a flooded street during heavy rains brought on by tropical storm "Nesat" on the outskirts of Manila, Philippines on Thursday, July 27. Strong rains caused floods in low-lying areas and classes were suspended in most schools in the capital.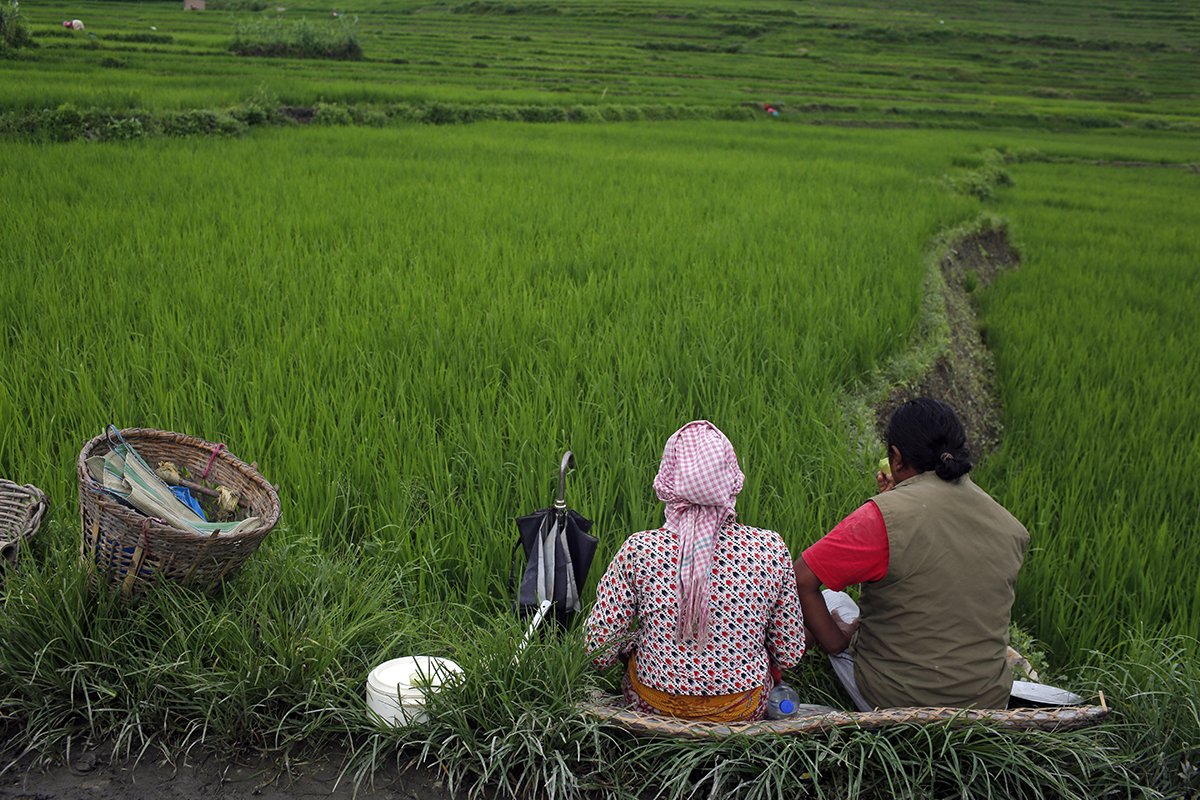 Image: Niranjan Shrestha/AP
14) Agriculture in Nepal: A Nepalese farmer couple eat their lunch while they take a break while working in a paddy field in Khokana, Lalitpur, Nepal, Wednesday, July 26. Agriculture is the main source of income and employment for most people in Nepal, and rice is one of the main crops.