Citizenship
Stunning photos from India and Nepal's Holi Festival
A vibrant celebration of Hindu tradition brings together love, colour, and culture.
Holi Festival takes place this week, welcoming Spring in Hindu regions of India and Nepal.
Remember when Coldplay lead singer, Chris Martin, and Beyoncé took global citizen's on a virtual trip to India in their music video Hymn For The Weekend?
What seemed like a dream world in the video is in fact the Holi Festival – an annual celebration in the Hindu religion known as the "Festival of Colour" or the "Festival of Sharing Love" and it's a stunning event!
Festivities begin with a bonfire on the eve of Holi (March 23rd this year). The celebrations transition to an explosion of color the next day. Traditionally, this was accomplished by throwing naturally derived dyes such as turmuric, deem, dhak, and kumkum, into the air and over fellow celebrators.
Holi is also a time to forget and forgive misdeeds by friends and loved ones, as well as repair any troubled relationships.
Historically, the festival was held throughout the Braj region of India and Nepal (home of Krishna the Hindu deity of love) to welcome the end of winter and the beginning of Spring. 
Today, it is celebrated in regions throughout India and Nepal. The festival even extends to Brazil and the US.  
The festival comes to an end (sadly) after about a week - but that doesn't need to be the end of sharing love. The practice of loving and showing empathy toward all humanity can continue long after Holi is over, even if it is not quite as colourful.
In honour of the Hindu celebration of colour and sharing love – here are some truly remarkable images from the festival. 
---
A bonfire kicks off Holi on the eve of the festival.
Image: Wikimedia: psubhashish
---
Vendors begin selling coloured dyes the week prior to the festival.
Image: Wikimedia: Nicholas Barker
---
Women prepare for Holika, the bonfire on the eve of Holi.
Image: Flickr: Wonker
---
Image: Wikimedia: Pordas Chowdhury
---
Image: Wikicommons: Eliza Raschke
---
Lathmar takes place a little before the colour throwing during Holi. It's a tradition where women hit men with stick (while men shield themselves). Lathmar originated from Krishna's visit to Barsana where the deity playfully teased friends.
Image: Wikimedia: Ekabhishek
---
Image: Flickr: Michael Foley
---
Image: Wikicommons: Narender9
---
Image: Flickr: Analucía Rodríguez Dávila
---
Image: Flickr: Nicolas Mirguet
---
Image: Flickr: Rajesh Pamnani
---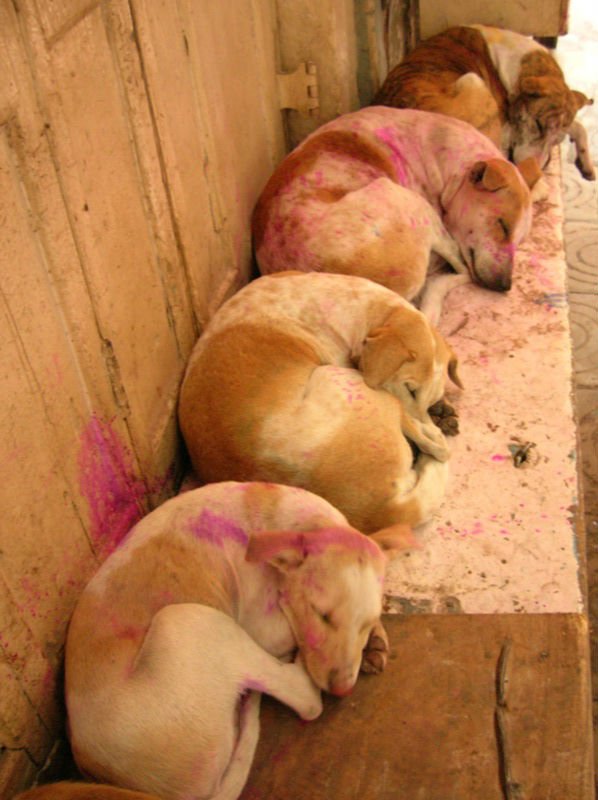 Whew! Looking at all that colour can be tiring.
Image: Flickr: Jon Brew
---
The festival is a reminder to respectfully appreciate the beauty of diversity in various cultures and religions of the world. While the Northern Hemisphere ushers in the Spring season, we can all be reminded to continue to treat one another with warmth, compassion and find the colour in life.
"Our ability to reach unity in diversity will be the beauty and the test of our civilization." - Mahatma Gandhi  
---