Demand Equity
3 Important Female Street Artists Who Are Breaking Boundaries
Chances are you've been captivated by a piece of street art you've seen, whether it was because of a political message or incredibly bright, saturated colors.
Illegal in most cities but found all over the world, street art is often subversive. It gives the voiceless a platform to share ideas and experiences, and provides a well-needed dash of color to bustling cities. 
The street art scene is largely dominated by men, but there are several important female street artists who are worth a look. 
These artists are from all over the world, but what they all have in common is that they are challenging stereotypes of women and breaking boundaries simply by doing what they love.
La Suerte (Quito, Ecuador)
La Suerte, which means "luck" in Spanish, has been creating murals in Quito for more than 7 years. She is part of an art collective called Los Fenómenos. Through her art, La Suerte loves to play with the idea of the female body.
"Here in Ecuador, dealing with body issues or talking about the body is still a sin – it's frowned upon … I like the beauty that there is in the skin folds. In my work I like to take this idea of flesh to an extreme. This is my way to deny female body stereotypes," she said in an interview with Women Artists.
La Suerte also gave a TED talk at the 2016 TEDxQuito conference about her creation of art. She spoke of reinventing and recreating the city in which she lives through art, in a multimedia presentation in collaboration with David Sur and Sergio Silva.
Panmela Castro (Rio de Janeiro, Brazil)
Panmela Castro, sometimes called the "Graffiti Queen" of Brazil, uses her art to reclaim public spaces. She became aware of gender divides in the street art scene when male artists told her her graffiti was "so good that it didn't seem like a woman made it." 
Castro's newfound understanding of gender divides and stereotypes led her to make unapologetically "feminine" art. She believes that her art adds femininity to a masculine space, reclaiming the public sphere for women.
Castro also inspires young women to paint and hopes her art will awaken the feminist inside the younger generation. In 2010, she founded Rede Nami, a feminist group that uses street art to advocate for women's rights. Through this group, she leads workshops that have gotten over 5,000 people involved. Castro's art is breaking boundaries and changing the attitude towards feminism in Brazil.
Image: Flickr - Role Urbano

Image: Flickr - Emily Mills
Shamsia Hassani (Kabul, Afghanistan)
Shamsia Hassani is the first female graffiti artist in Afghanistan. Born in Iran in 1988 to Afghan parents, she was discriminated against for her nationality. When Hassani turned 16, her family moved back to Afghanistan. 
In 2010, she began to work with graffiti in a workshop organized by Combat Communications, a small anonymous group of artists advocating free expression through Afghan youth. 
According to the LA Times, Hassani sees value in her work in that it allows people who wouldn't go to galleries to enjoy art, as well as that it brings cheer and beauty to her war-torn city. She faces harassment when she paints simply because of her gender, but that doesn't deter her from doing what she loves.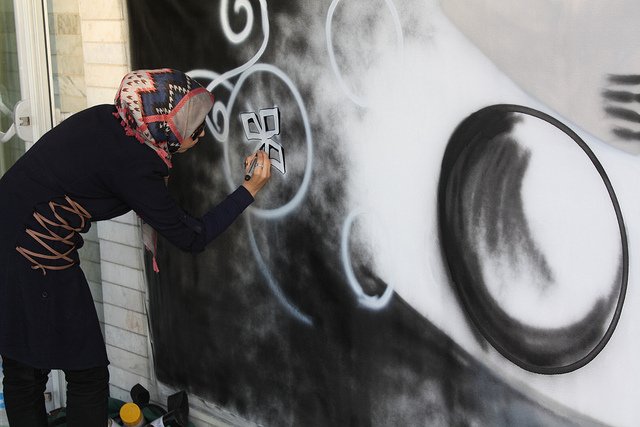 Image: Flickr - Canada in Afghanistan
These women do what they love in the face of danger – not just because they love it, but also because they have an important message to share with the greater public. Street art is a powerful medium through which to challenge stereotypes and to reclaim the streets for girls and women.