Environment
The Sri Lankan Navy Keeps Rescuing Drowning Elephants
The Navy has rescued three elephants in two weeks, so what's going on in Sri Lanka?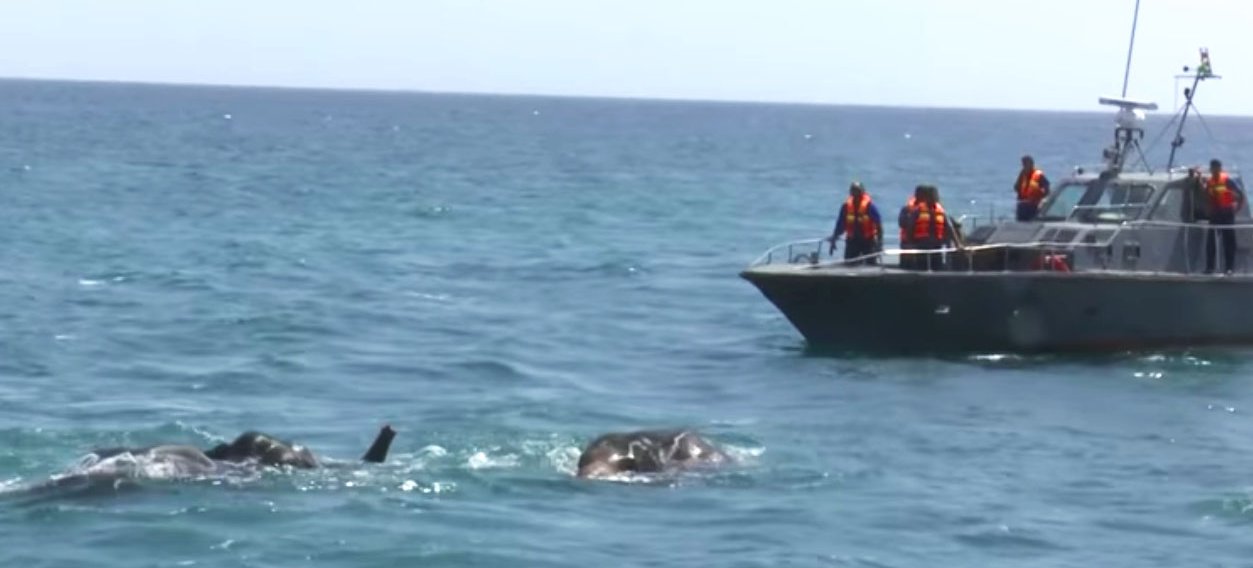 Each year in Sri Lanka, wild elephants kill an estimated 50 people. And people kill an estimated 250 elephants. 
In the past few weeks, however, this script has been flipped. Humans in the Sri Lankan Navy have saved three wild elephants in the past two weeks, according to The Guardian.
Take Action: #SomeoneLikeYou to Stand for Trees
The Guardian first reported on a drowning elephant rescue on July 13, when a wild elephant got caught in a current and dragged into the ocean, ending up stranded ten miles off the northeast coast of Sri Lanka. 
The Navy, working with the Department of Wildlife, "approached the distressed elephant and tied ropes to it, before towing it gently to shallow waters near the coast, where it was released," according to the report. 
Less than two weeks later, the Navy was back at it, this time dragging a pair of "distressed" elephants to shore in what The Guardian called "a mammoth effort involving navy divers, ropes and a flotilla of boats." 
Read More: Scared Elephant Smashes Through Town, Teaches Sustainability Lesson
According to scientists, it is not unusual for wild elephants to swim in the oceans off Sri Lanka, but they lack the stamina to traverse long distances. 
"They can't keep swimming for long because they burn a lot of energy," Avinash Krishnan, a research officer with the conservation group A Rocha, told the Guardian.  
Sri Lanka's elephant population, already endangered by human activity in Sri Lanka, can't afford a drowning epidemic. 
Read More: China Will End Ivory Trade This Year in a Big Win for Elephants
The population has decreased by anywhere from 50% to 65% since the turn of the 19th century. Where there once roamed 10,000-15,000 wild elephants, there are now an estimated 5,879. 
Factors driving this decrease include loss of habitat, slash-and-burn farming techniques, domestication, and, increasingly, human-elephant conflict. 
"Wild elephants are increasingly entering villages in search of food, rampaging through houses, destroying crops and killing an estimated 50 people a year," the Guardian reported. 
But luckily for the elephants, the population seems to be growing again. 
"These statistics show that Sri Lanka's elephants are in good health and that their population is growing," wildlife minister SM Chandrasena said.