Citizenship
This Minority Religious Group in California Saved the Community Fireworks
"Sikh values are American values."
Nearly 120,000 people in the city of Visalia, Calif., almost celebrated the Fourth of July without fireworks, until a small religious group stepped up to the plate.
After Visalia Mayor Warren Gubler told a local Sikh businessman that the city would have to cancel the annual firework display because of financial concerns, the local Sikh community stepped up to the plate in a major way. They came together to donate $10,000 toward the town celebrations — funds that will also support a children's charity, NBC reported.
Take Action: Reverse President Trump's Executive Order to Ban Refugees
Thanks to their donation, fireworks illuminated the sky in Visalia Tuesday night.
This donation also made an important statement about the Sikh community in the US, a small population that has been much maligned and misunderstood but which is trying to educate Americans about the religion.
Read More: Meet the Trailblazing, Perfectly Ordinary Sikhs Growing the American Tapestry
About $1 million in television advertisements have been created to show American Sikh families playing football and talking about their love for HBO hit show "Game of Thrones." The community hopes that the advertisements will teach viewers that "Sikh values are American values."
"Our core central beliefs are profoundly American: Racial equality; gender equality; religious tolerance," Gurwin Ahuja, a former Obama administration appointee involved with the campaign, told NBCNews.
The Sikh community is part of religious group that originated in India and is considered the fifth largest religion worldwide. Although unknown to most Americans, Sikh communities have lived in the US for over 150 years, and today nearly half a million Sikh citizens live in the country.
But only one in 10 Americans say they are friends with or have a Sikh acquaintance. The majority of Americans — 60% according to one survey — know nothing about the religious group.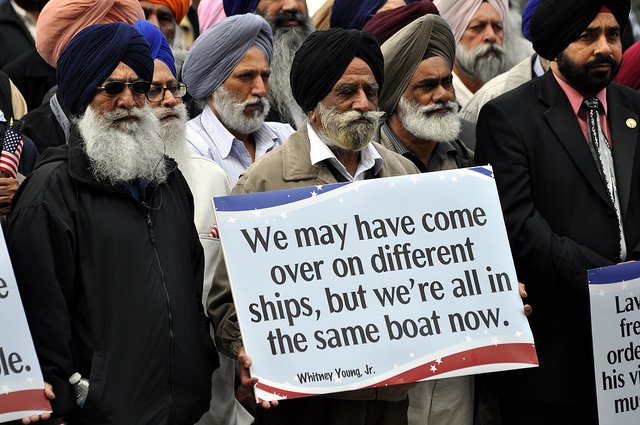 Image: jasleen_kaur/Flickr.
Most Sikh men wear turbans, which not only makes them a more visible minority but also causes many Americans to confuse them with Muslim men, who can but typically don't wear them. And the confusion and lack of awareness of the Sikh religion has resulted in recent cases of discrimination and violence.
Since the attacks on 9/11, there have been an increase in hate crimes against Sikh people, according to the survey by the National Sikh Campaign. A gunman killed six Sikh people in a Wisconsin temple near Milwaukee in 2012, and more attacks have occurred since.
Read More: Sikh Bikers Ride 7,000 Miles to Raise $100K for Cancer
"The threat of hate and racism has become a part of our daily lives," lawyer and activist Valarie Kaur told CNN.
Meanwhile, the FBI reports that hate crimes against Muslims increased by 67% last year, marking the highest rate of violence against the religious group since 2001.
Instead of throwing "another community under the bus," Sikh leaders found an educational way to address discrimination.
Supporting the fireworks display in California is just one more way the Sikh Americans are working to become more visible and more understood in American society.