Citizenship
Website Pokes Fun at Xenophobia By Showing What #ScaryImmigrants Look Like
"I created #ScaryImmigrants hours after the immigration ban was announced."
US President Donald Trump's executive order barring travelers from seven Muslim-majority countries and all refugees from coming to the US was motivated by fear. A fear that this enormously diverse group was really just a single archetype: a terrorist waiting to strike.
Since then, the order has been suspended by federal courts, but the fear remains.
Read More: Was It Legal? Trump's Travel Ban Now in the Hands of the Courts
Because the ban was lifted by a judge, many very bad and dangerous people may be pouring into our country. A terrible decision

— Donald J. Trump (@realDonaldTrump) February 4, 2017
In the US, 42% of Americans agree with the travel ban, even though there hasn't been a single terrorist attack on US soil by anyone from the seven countries blacklisted and the chance of being killed by a refugee in the US is 1 in 3.64 billion. Not to mention, less than 1 percent of refugees are ever even eligible to come to the US — only the most vulnerable are allowed to begin the two-year vetting process.  
Immigrants, in particular, have been discriminated against because of fear throughout history.
Aanjalie Collure, a senior associate in the healthcare industry, has always been aware of this, but her awareness intensified following Trump's ban.
Read More: These Companies Are Joining the Legal Fight Against Trump's Travel Ban
Collure wanted to counter this rising prejudice so she turned to the most subversive tool she could think of: satire.
"I created [the blog] #ScaryImmigrants hours after the immigration ban was announced, during an hour-long wait for a delayed flight to the United States," Collure told Global Citizen. "I'm a Sri Lankan-Canadian, so was totally taken aback by the alarming rhetoric coming out about immigrants.
"The manipulative, frightening portrayals of immigrants was not at all representative of my life, that of my parents, or my many friends and colleagues who are also immigrants," she said.
"I created #ScaryImmigrants to show just how ridiculous this narrative can be, by spotlighting immigrants doing boring, everyday things."

The blog features photos of immigrants doing normal things — petting a dog, mowing a lawn, hanging out with friends — with an ominous, panicked caption. Then if someone clicks on a photo, they are taken to a larger description, one that goes beyond "snap judgments" to describe what is actually taking place and who is actually being depicted.
Read More: The Swedish Deputy PM Just Made a Subtle Dig at Donald Trump
For example, one caption reads "#ScaryImmigrant Dad Spotted With Frightening Canine" below a picture of a middle-aged man sitting on a couch with a yellow lab. The extended description reads:
"This is a photo of my immigrant father celebrating our dog's 8th birthday. He came to Canada as a refugee from the Vietnam War roughly three decades ago. Despite stereotypes and fears that he would be a lazy Communist here to abuse the Canadian welfare state, he is the hardest working person I know and has the strongest commitment to democracy and freedom I have ever seen. His work-ethic and perseverance isn't just for our family, but also to return the generosity that was demonstrated to him when he first came here."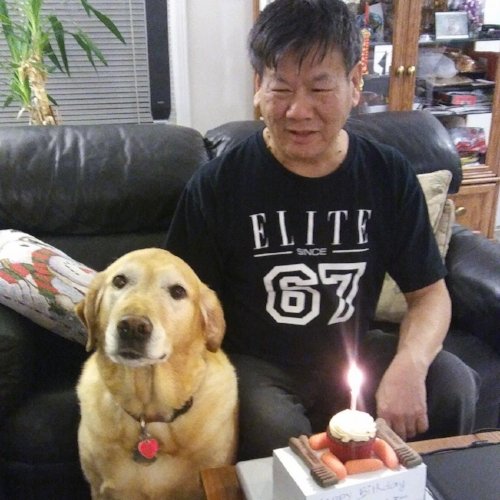 ---
Another image has the caption: "A Little #ScaryImmigrant Plots to Steal Jobs."
The extended description reads:
"A little #scaryimmigrant beginning my journey taking jobs and ruining the economy. This was my first year in the USA - I remember trying to avoid talking because other kids would make fun of my English accent. But I also remember the pride in my aunt's (far left) and Mum's (far right) eyes when I graduated from the local HeadStart program. My younger sister (you can guess which one she is) and I spend every day trying to repay the incredible sacrifices my#scaryimmigrant parents made."
---
Another image has the caption: "#ScaryImmigrants With Colourful Chemical Weapons."
The extended description says: 
"These 3 are #scaryimmigrants from Iran, Sri Lanka, and India (from left to right), who are forever grateful for the sacrifice that their resilient parents made on each of their difficult transitions from their home countries to the United States. These girls' shared interest in health equity brought them together as roommates in the DC Metro area, where the #scaryimmigrant on the left served the USAID Office of HIV/AIDS and the other 2 #scaryimmigrants conducted biomedical research at the NIH. They also discovered a common love for all things fitness, so here they are after the Color Run in DC, looking like rainbows and rocking their medals."
---
This repurposing of common — if cartoonified fears — helps to take the sting out of prejudice and could hopefully change a few minds. Immigrants might have different cultural habits but they are mundane humans just like everyone else.
Read More: In Wake of Trump's Travel Ban, Justin Trudeau Shows How World Leaders Should Welcome Refugees
Further, the US is a nation of immigrants — it was formed by immigrants, it's run by immigrants, and it will continue to evolve through immigrants.
Since taking office, Trump's actions and words has been satirized constantly. The idea of a border wall along Mexico has been reimagined as a giant Ikea, home-assembly wall. A Dutch satire site lampooned Trump's "America First" mantra from his inauguration speech. The Swedish government satirized the photos from the White House of Trump surrounded by all men.
And every day seems to yield a satirical hashtag campaign on Twitter.
But beyond the satire, Collure's message is one of unity and historical awareness. 
Prime Minister Justin Trudeau of Collure's country, however, has been a forceful advocate for immigrants and refugees.
"I think satire and comedy can be such a powerful advocacy tool," Collure said. "My hope is that this project challenges assumptions that most immigrants pose a scary security threat to their new communities, by showing just how ridiculous that notion is for the majority of immigrants and refugees in the United States and around the world."