Citizenship
Hajj, Flooding & War: 15 Powerful Photos That Capture What Happened This Week
The last week of August has seen the aftermath of floods, the start of Eid al-Adha and more.
This last week of August, catastrophic floods have sent people all around the world searching for higher ground.
Hurricane Harvey has gone down in history as one of the United States' most disastrous natural disasters, leaving 32,000 people in southeastern Texas to seek shelter and at least 19 peopledead. Meanwhile, southeast Asia has faced one of the worst flooding disasters in years. International aid agencies announced that thousands of villages have been cut off indefinitely, deprived of food and clean water.
Ahead of the Eid al-Adha Muslim holiday, over 27,000 Rohingya Muslims in Myanmar have crossed the border into Bangladesh as ethnic violence against the minority has reached an all time high.  
Global Citizen brings you pictures from this week and more: 
---
1) Hurricane Harvey: (Above) Demetres Fair holds a towel over his daughter Damouri Fair, 2, as they are rescued by boat by members of the Louisiana Department of Wildlife and Fisheries and the Houston Fire Department during flooding from Tropical Storm Harvey in Houston, Monday, Aug. 28, 2017.
Image: Mushfiqul Alam/AP
2) Rohingya Refugees: Myanmar's Rohingya Muslim ethnic minority children stretch their hands out to receive food distributed by locals at the Kutupalong makeshift refugee camp in Cox's Bazar, Bangladesh, Wednesday, Aug. 30, 2017. Thousands of Rohingya Muslims have fled fresh violence in Myanmar and crossed into Bangladesh in less than a week, with hundreds stranded in no man's land at the countries' border, the International Organization for Migration said Wednesday.
3) Afghanistan Eid-al-Adha Festival: Afghan men shop for livestock at a market ahead of the Eid al-Adha Muslim festival, on the outskirts of Jalalabad, on August 29, 2017. Muslims across the world are preparing to celebrate the annual festival of Eid al-Adha, or the Festival of Sacrifice, which marks the end of the Hajj pilgrimage to Mecca and in commemoration of Prophet Abraham's readiness to sacrifice his son to show obedience to God.
4) Syria Eid al-Adha: Syrian refugees wait on August 28, 2017 at the Oncupinar crossing gate, close to the town of Kilis, south central Turkey, as they wait to cross to Syria for the Eid al-Adha Muslim holiday. Turkish authorities allow Syrian refugees to visit their country for Eid-Al-Adha (Feast of the Sacrifice) celebrations.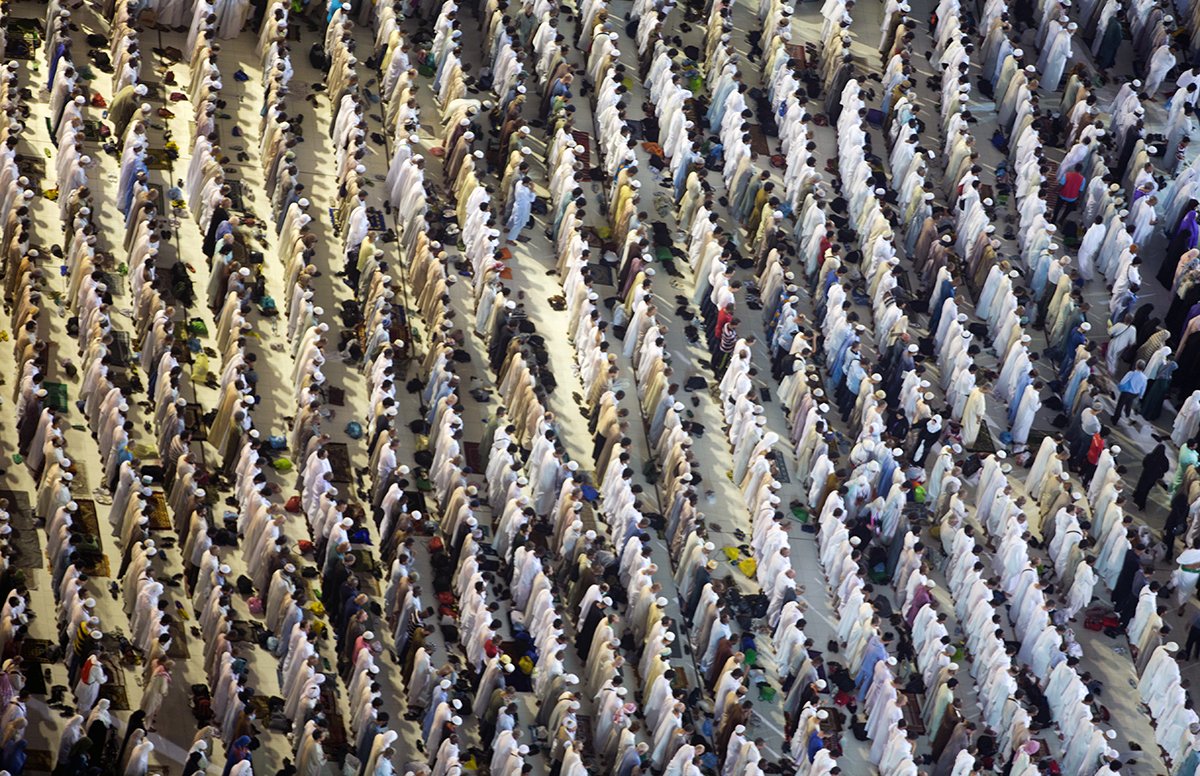 Image: Khalil Hamra/AP
5) Hajj Pilgrimage: Muslim pilgrims pray at the Grand Mosque, ahead of the annual Hajj pilgrimage in the Muslim holy city of Mecca, Saudi Arabia, Tuesday, Aug. 29, 2017.
6) Syrian Conflict: Syrian girls pose for a photograph against a bullet-riddled wall in the rebel-held village of Kafr Ghan, in the northern countryside of Aleppo, on August 28, 2017.
Image: Charlie Riedel/AP
7) Houston Flooding: People push a stalled pickup through a flooded street in Houston, after Tropical Storm Harvey dumped heavy rains, Sunday, Aug. 27, 2017. The remnants of Harvey sent devastating floods pouring into Houston on Sunday as rising water chased thousands of people to rooftops or higher ground.
Image: Ricardo Mazalan/AP
8) Venezuela Political Crisis: A follower of President Nicolas Maduro runs past a line of soldiers in Caracas, Venezuela, Saturday, Aug. 26, 2017. Authorities have shut down two radio stations that aired critical coverage of President Maduro's government by refusing to renew their licenses, a broadcast executive announced, as the country staged military exercises in defiance of Washington and new U.S. sanctions.
9) Floating Vegetable Market of Kashmir: Kashmiri men gather with their boats laden with vegetables at the floating vegetable market on Dal Lake at dawn on August 28, 2017 in Srinagar, the summer capital of Indian administered Kashmir, India. Every morning Dal dwellers visit the floating vegetable market, at Guder, in the centre of the lake at the crack of dawn, with their boats laden with vegetables that supply different parts of the city. Most of the produce sold here is grown in floating gardens on the Dal Lake. The rich ecosystem of this wetland produces plenty of tomatoes, cucumbers and Nadru. The haggling and exchange all last hardly an hour, soon after everyone disappears as if the market never existed.
10) Rohingya Refugees: Rohingya people pass with their belongings over the Bangladesh-Myanmar border fence as they try to enter Bangladesh in Coxs Bazar, Bangladesh on August 28, 2017. UN refugee agency said more than 3,000 people had arrived in the past three days.
11) Migrants in Italy: An evicted family stands by a tent in the atrium of the Church of the Twelve Holy Apostles in central Rome on August 27, 2017. Evicted families layed tents in the atrium of a famed 6th-century church in the heart of Rome after one of many forced evictions left hundreds with nowhere to go. Italy is also set to issue new guidelines on refugee evictions after the UN criticised the ousting of hundreds of people from a Rome building last week, local media reported.
Image: David J. Phillip/AP
12) Tropical Storm Harvey: Interstate 69 is covered by floodwaters from Tropical Storm Harvey Tuesday, Aug. 29, 2017, in Humble, Texas.
13) Syrian-Lebanese Border Conflict: Ina  picture taken on an army-organized press tour, Lebanese army soldiers with the 6th Brigade driving a buggy bearing the Lebanese flag in an area they recently took from the Islamic State (IS) group in Jurud Ras Baalbek on the Syrian-Lebanese border on August 28, 2017.
Image: Darko Bandic/AP
14) Mediterranean Migrant Crisis: Rescuers transfer African migrants to a rescue boat during a rescue operation from the Aquarius vessel of SOS Mediterranee NGO and MSF (Doctors Without Borders) in the sea some 25 Nautical miles (29 miles, 46 kilometers) north of the Libyan coast, Sunday, Aug. 27, 2017.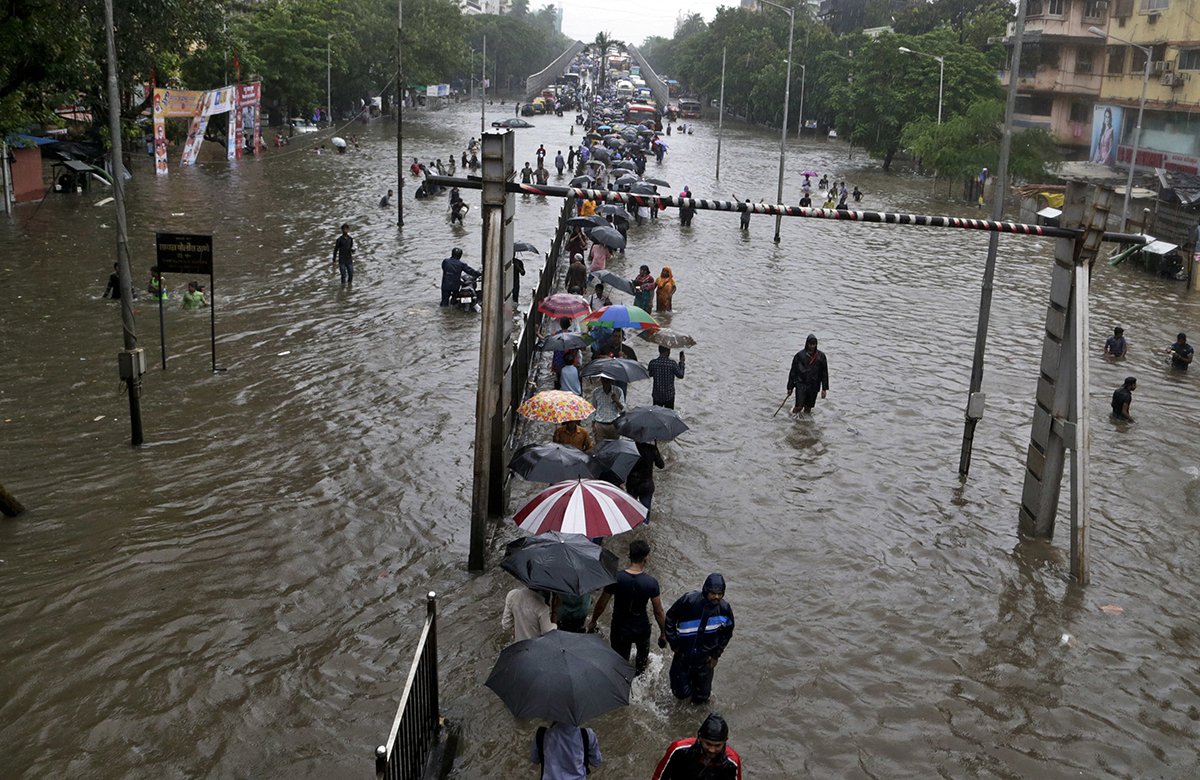 Image: Rajanish Kakade/AP
15) South Asia Flooding: People walk through a waterlogged street following heavy rains in Mumbai, India, Tuesday, Aug. 29, 2017. Heavy rains Tuesday brought Mumbai to a halt flooding vast areas of the city.