Citizenship
10 Reasons Why 2017 Wasn't Totally Awful
No, really. Hear us out.
It would be easy to start any discussion of the last 12 months by describing the litany of horrible things 2017 could be remembered by. There will certainly be a ton of lists and articles across the internet doing just that.
But we're not going to do that here.
Partly we won't do that because it's depressing. But more importantly, we're not going to do that because we think 2017 had some really amazing moments in it as well. Depending on how you look at it, you could even argue that the good the world achieved this year outweighed the bad.
Read More: 10 New Year's Resolutions That Global Citizens Can Do to Make 2018 Amazing
If you're looking to sulk in only the most cringe-worthy of happenings from 2017, this is not the article for you. Instead, we've compiled a list of some of the most inspiring, uplifting, awesome, and world-changing events of the past year.
In short, here are ten reasons why 2017 wasn't completely awful.
---
1/ It was a year of unprecedented celebrity activism
In what can only be described as a truly turbulent year, one of the biggest redeeming qualities of 2017 was the sheer number of celebrities who chose to use their platforms for purposes of activism. When 2017 reared its ugly head, those exalted beings among us more often than not took public action to help slay the beast.

Sometimes that took the form of celebrities taking on specific issues, like Chance the Rapper tackling public education in Chicago, or Taylor Swift and Terry Crews being outspoken advocates for sexual assault prevention. Let's not forget also that the first public appearance of the new royal couple was at a World AIDS Day event where they reaffirmed their commitment to tackling the disease.
FIRST ROYAL OUTING: Prince Harry and Meghan Markle were greeted with cheers today as they stepped out together to mark World AIDS Day in their first official event as a newly engaged couple. pic.twitter.com/j2mSN94VC2

— World News Tonight (@ABCWorldNews) December 1, 2017
But there were also incredible instances of celebrities banding together to create an even bigger impact, like when 131 celebrities gathered for a telethon to raise over $44 million in aid money for victims of hurricanes.  
We can take partial credit for their actions; after all, it was us that made them famous.
2/ There were big wins for indigenous peoples around the globe
Maori from New Zealand take part in the parade of indigenous beauty at World Indigenous Games, in Palmas, Brazil on Oct. 24, 2015.
Image: Eraldo Peres/AP
When protests erupted over plans to build an oil pipeline through the land of the Standing Rock Sioux people, the world watched intently as police and civilians clashed for months. Eventually, President Donald Trump signed an executive order to push the project through in a move that was widely seen as a blow to indigenous people and their rights.
But, all across the world 2017 saw victories for indigenous people that were mainly overshadowed by the drama in the Dakotas. For example, Canadian officials nixed the construction of another huge oil pipeline through the land of First Nations people on account that it might threaten their water supply. In New Zealand, the indigenous Maori people won a huge legal battle bestowing legal protections to a river their culture has revered as sacred for generations. And in Indonesia, nine different indigenous groups were awarded land rights at the end of a four-year battle.
3/ The Women's March happened
A day after the inauguration of President Donald Trump, who has been accused of sexual misconduct by almost 20 women, the streets were crowded with more than those interested in witnessing his oath of office. An estimated 500,000 people flooded the streets of Washington, D.C. for the "Women's March," an event organized to advocate for women's rights around the world. Celebrities, activists, political leaders, and civilians came together to bring attention to the gendered inequities that continue to exist even in the 21st century.
Millions more people rallied together in sister marches around the world, from London to Antarctica, in a show of solidarity and hope that the battle to win equal rights for women is going strong. Organizers hoped to bring awareness to issues like unequal pay, lack of accessibility to healthcare, reproductive rights, and sexual violence women faced by women worldwide every day.
Read More: The 10 Ads From 2017 That Left Us Shook
4/ Also, the #MeToo movement sparked a confrontation with the culture of sexual assault

Alongside the awesome force that was the Women's March, we can add another significant push for women's rights to the list of redeeming moments of 2017. Perhaps more than anything else, 2017 will be remembered as the year of the #MeToo movement, a collective moment of solidarity for women who spoke out publicly about being sexually exploited by powerful men. From the hills of Hollywood, to the bustling newsrooms of New York City, courageous voices rang out one after another to say "enough is enough."
What is so striking about the #MeToo movement is not the egregiousness of the acts committed by so many men in powerful positions, but the strength and community demonstrated by their accusers. Often times these women faced very real threats from their attackers to remain quiet, sometimes fearing losing their jobs, their reputations, or worse. But as more and more women (and some men) came forward with their own stories, the outpouring of support over social media made it easier for others to do the same.
The power of the movement was recognized by Time Magazine, who named all those who came forward (The Silence Breakers) their person of the year.  
5/ Several minority groups gained elected representation
In this June 21, 2017, file photo, Democratic nominee for the House of Delegates 13th district seat Danica Roem brings campaign signs as she greets voters while canvasing a neighborhood in Manassas, Va.
Image: Steve Helber/AP
Another reason why 2017 wasn't a complete black hole for everything that is good was that around the world, and especially in the US, ethnic and gender minorities were elected to positions of political power in record numbers. In the UK, elections saw women increase their share of female Members of Parliament increase to 32%, giving them a higher rate of representation than ever before.
In the US, Pew Research reported that the 115th Congress was the most diverse in history in terms of ethnicity and race. Although this change occurred during the November elections of 2016, new members got to work in January, so we'll count the fact that 1 in 5 voting congresspeople represent a racial or ethnic minority as a win for 2017. The November elections of this year also saw some historic moments, with Danica Roem becoming the first-ever transgender state representative in Virginia, and Andrea Jenkins becoming the highest elected transgender woman of color in Minnesota. Woohoo!
6/ People marched for science and against climate change all over the planet


After the historic support for the Women's March in January, scientists and climate change activists figured they should probably try to get in on the action. It's a good thing they did, because the March for Science and People's Climate March proved to be much-needed reminder that smart people everywhere remain dedicated to solving the our most pressing problems.
In April, both marches took place in the same week. Again, they were based in D.C, but a host of sister events were held in cities around the globe. The March for Science focused on advocating for continued funding for science of all types, and the People's Climate March was aimed at making a public statement on the need to push for action on climate change. Both of these are really good things, and both events saw massive crowds to validate that fact.
Looking back on it, protest-marches were big this year; we can count that as a double win for activism and exercise.

Read More: 12 Times Women Nevertheless Persisted in 2017
7/ Global health saw some massive victories and big discoveries
Without all of that good science, we would have never gotten another huge bright spot this year, coming in the form of huge advances in global health. There were some really exciting bits of news that popped up over the last 12 months, especially in the realm of disease prevention and eradication. For starters, the UK eliminated measles for the first time ever, making it the 33rd country in Europe to do so (Brexit hasn't happened yet: that's 2018's problem).
Furthermore, a new malaria vaccine was created, which is absolutely massive news considering the WHO reported 212 million cases of the deadly disease in 2015. Also, 2017 marked the lowest number of polio cases ever, marking significant progress since the battle against the disease began. But perhaps most excitingly, Johnson and Johnson announced that they began testing an HIV vaccine this year. Though still in early stages of testing, an HIV vaccine could literally save millions of lives every year.
And you know what we will be thanking for this years down the line? 2017. Go figure.
8/ A ton of countries stepped up to take real action on climate change

All of that marching must have done some good, because 2017 also witnessed some historic commitments from countries around the world to take real action on climate change, some of them for the first time.
First of all, China announced that it was committing $361 billion into clean energy investments though 2020. That's a heck of a lot of money. Furthermore, the country took steps this year to ban gasoline powered cars, and enforce strict emissions standards — both important moves for a country that is still the largest emitter of greenhouse gases. Similarly, India, the UK, and France all announced plans to ban gas cars in coming years, which is awesome news for the environment. Ireland did its part this year by announcing a complete divestment from fossil fuels, and offering $1 billion in incentives for companies to use renewable resources.
Oh, and the country of Costa Rica ran entirely on renewable energy for over 300 days of this year. Progress!
Read More: These Feminist Quotes Gave Us Life in 2017
9/ Marriage equality blossomed in four countries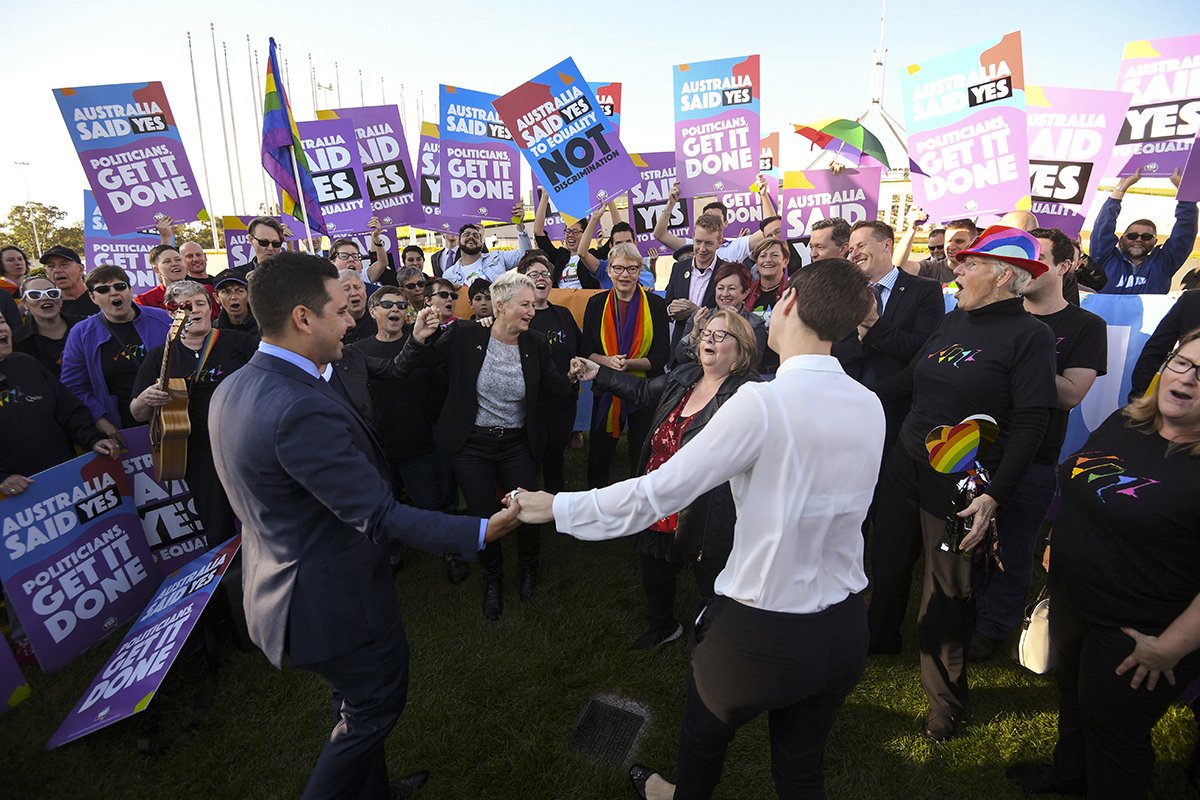 Same-sex marriage campaigners and volunteers cheer as they call on politicians to pass marriage equality legislation during rally outside Parliament House in Canberra, Australia, Thursday, Dec. 7, 2017.
Image: Lukas Coch/AAP Image/AP
Another reason not to try and erase all of your memories from the last 12 months is that you would forget that four countries granted marriage equality to same-sex couples around the world. Germany, Malta, Austria, and Australia all legalized same-sex marriage in 2017, building on the momentum to recognize the rights of all people to love how they choose.
In Austria, same-sex marriages were legalized after its highest court found denying marriage licenses on the basis of gender was discriminatory. In Malta the win came in the form of a 67 to 1 vote in favor of legalization in parliament. Similarly, the German Parliament voted in favor of legalization in June of this year. After an overwhelming show of public support for the vote in Australia, the land down under followed suit shortly after, and their first same-sex marriages were held in early December.
If you don't think weddings are the most fun events there are, you are wrong, and you should stay in 2017 forever. We'll be on the dancefloor.
10/ Global Citizens joined together to make a bigger impact than ever before
The crowd at the Global Citizen Festival in Central Park is pictured at sunset.




Last, but far from least, Global Citizens blew away the apathy, insecurity, and chaos of 2017 to achieve one of the biggest years of impact we've ever had.
Together, Global Citizens around the world took over 3 million actions on our campaigns ranging from issues of health, education, women and girls, and the environment. Those actions helped us secure $5.7 billion in commitments to help end extreme poverty from governments and organizations across the planet.
We worked with US congress members to protect American foreign aid. We helped get global poverty on the agenda at this year's G20 Summit. We achieved a $100 million commitment from the Canadian government to fight polio eradication, and much, much more.
Read More: These Are Our Favorite Activists of 2017 — And You Need to Know About Them
The actions of Global Citizen made a clear impact on the world, but they also sent a strong statement. 2017 may not have been a year where everything felt OK, but by working together to build toward our common goals we proved that even in the face of overwhelming challenges, the power to change how we live is in our hands.
Here's to the victories of 2017, and to all of you who made them possible. In 2018, let us continue on our journey to create a world of freedom and justice for all.