Citizenship
14 Moving Photos from Around the World This Week
From Vegas to Bangladesh, this is the week in pictures.
Relief efforts continue in Puerto Rico — as 95% of the island remains without power and 14,000 federal relief workers attempt to prevent a humanitarian crisis from worsening. The city of Las Vegas deals with a man-made tragedy after a shooter opened fire on a country music festival, killing 59 and wounding hundreds more. 
Outside of the United States, more than half a million Rohingya refugees have been forcibly displaced from Myanmar, settling in neighboring Bangladesh. In Spain, Catalonians march for independence. And in France, scientists attempt to preserve ocean biodiversity. 
Global Citizen is bringing you these pictures and more from around the world this week. 
---
1) Puerto Rico: (Above) Blanca Rivera and Eduard Rodriguez sleep in their car to protect themselves from the elements, since their house was destroyed by Hurricane Maria, in the San Lorenzo neighborhood of Morovis, Puerto Rico, Saturday, Sept. 30, 2017. "The night of the hurricane we protected ourselves in the basement. Helicopters fly by but they do not bring any help," he said.
2) Rohingya Refugee Crisis: Bangladeshi people wait for boats in Teknaf on Oct. 1, 2017. Bangladesh is to move to a camp at least 15,000 Rohingya refugees who have settled in a restive hill district near the border with Myanmar, a local official said on October 1. Most of the estimated half a million Rohingya who have arrived in southeastern Bangladesh over the last five weeks after fleeing violence in Myanmar are crammed into the camps that have sprung up on government land.
3) Syria: Syrians displaced from the city of Deir Ezzor wait for to get bread on the outskirts of Raqa on October 2, 2017. Syrian fighters backed by US special forces are battling to clear the last remaining Islamic State group jihadists holed up in their crumbling stronghold of Raqa.
4) Las Vegas Aftermath: A woman makes a sign at a vigil on the Las Vegas strip following a mass shooting at the Route 91 Harvest Country Music Festival in Las Vegas, Nevada, U.S., October 2, 2017.
Image: Zakir Hossain Chowdhury/AP
5) Rohingya Refugees in Bangladesh: A Rohingya woman carries an infant at Palangkhali refugee camp in Cox's Bazar, Bangladesh, Wednesday, Oct. 4, 2017. More than half a million Rohingya have fled from Myanmar to Bangladesh in just over a month, the largest refugee crisis to hit Asia in decades.
6) Sea Biodiversity in France: Scientists prepare to release young fish near a 'Biohut' artificial habitat allowing young fish to take refuge to escape predators, on October 4, 2017 off Marseille, southern France. With this technique, scientists hope to promote marine biodiversity partly destroyed by the urbanization of the coasts. 
7) Sukkot: An Ultra-Orthodox Jewish man carries palm branches for the roof of his Sukkah, a temporary hut constructed for use during the week-long Jewish festival of Sukkot, the feast of the Tabernacles, in the ultra-Orthodox neighbourhood of Mea-Shearim in Jerusalem on October 2, 2017. Sukkot Is a week-long holiday feast begins on October4 which people eat and sleep in makeshift booths to commemorate the exodus of Jews from Egypt some 3200 years ago.
Image: John Locher/AP
8) Shooting in Las Vegas: A woman sits on a curb at the scene of a shooting outside of a music festival along the Las Vegas Strip, Monday, Oct. 2, 2017, in Las Vegas. Multiple victims were being transported to hospitals after a shooting late Sunday at a music festival on the Las Vegas Strip.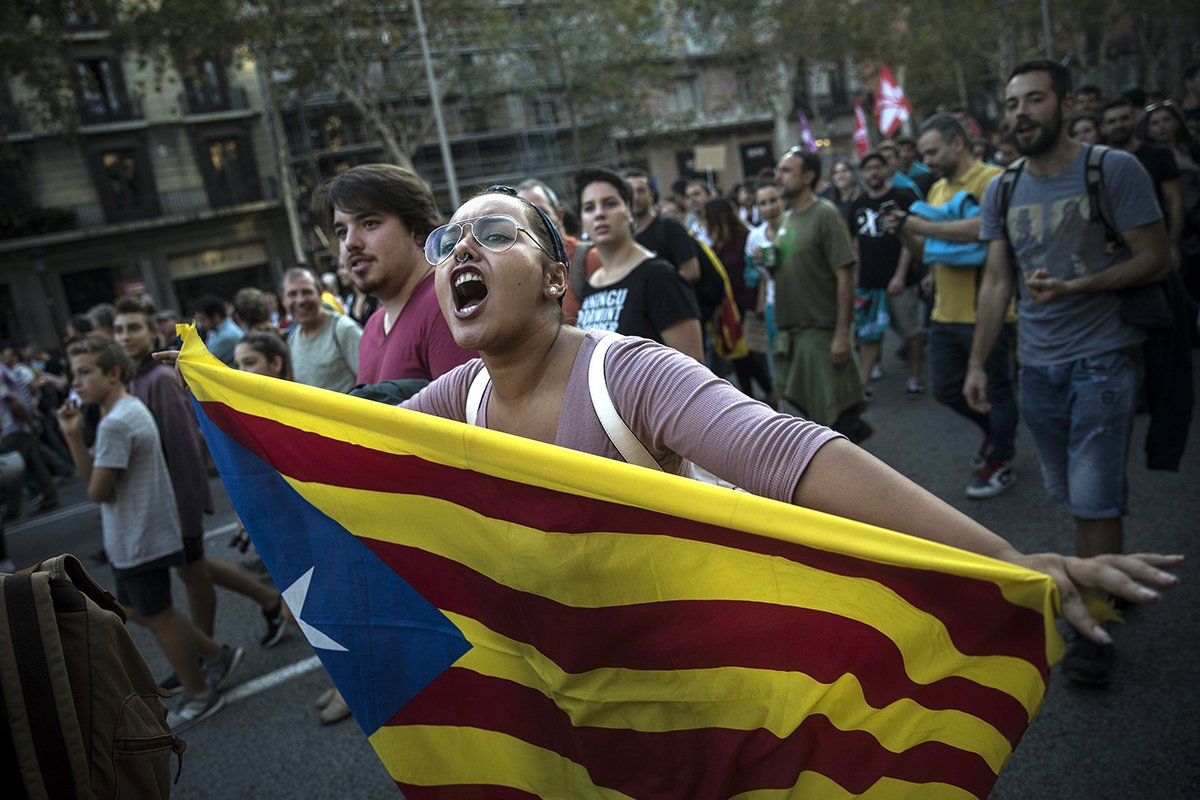 Image: Santi Palacios/AP
9) Barcelona Protests: A woman carries an independence Catalan flag as demonstrators march downtown Barcelona, Spain, Tuesday Oct. 3, 2017. Thousands of people demonstrated against the confiscation of ballot boxes and charges on unarmed civilians during Sunday's referendum, declared illegal by Spain's Constitutional Court, on Catalonia's secession from Spain.
10) Hurricane Maria Aftermath in Puerto Rico: Irma Maldanado checks on her father, Ignacio Maldanado Ortiz, who uses an oxygen machine due to his emphysema on October 2, 2017 in Corozal, Puerto Rico. Irma said her father is in need of oxygen but have no way of getting a supply in the aftermath of Hurricane Maria. 
11) Rohingya Refugees: Rohingya Muslim refugees walk toward refugee camps after crossing the border from Myanmar at the Bangladeshi shores of the Naf river in Teknaf on October 5, 2017. More than half a million Rohingya have fled ethnic bloodshed in Rakhine since late August, many by boat across the Naf River which divides Myanmar and Bangladesh.
Image: Elaine Thompson/AP
12) NFL Protests: An Indianapolis Colt player kneels on the field Sunday, Oct. 1, 2017, during warmups before an NFL football game against the Seattle Seahawks in Seattle. The unidentified player is wearing a special team t-shirt in reference to recent protests during the singing of the national anthem at NFL football games.
Image: Ramon Espinosa/AP
13) Crisis in Puerto Rico: Luis Cosme poses sitting in an armchair in what is left of his house destroyed by Hurricane Maria, in Morovis, Puerto Rico, Sunday, Oct. 1, 2017. Cosme, a worker at a cleaning company, felt the high winds and ran to the shelter at the Catholic church building. In the morning he came out and saw his house gone. "Thank God I am alive" he said.
14) Syria: A Free Syrian Army fighter holds a weapon as he stands on a military vehicle in the rebel-held area, in the town of Dael, Syria October 4, 2017.