Citizenship
11 Powerful Pictures That Show Volatility Around the World This Week
Confronting terrorism, mourning the dead and searching for safety.
This week, people around the world mourned those who died in a series of recent disasters — both natural and man-made. 
On Oct. 31, a man drove a truck against traffic down a busy bike path in New York City, killing eight people. New Yorkers placed flowers near the site and marched along the waterfront to honor those who died. The next day, Mexico remembered the people killed in its devastating September earthquake during their annual Day of the Dead — Dia de los Muertos — festivities.
In Syria, children lingered near their school in a suburb of Damascus, where bombs had recently killed at least four young students. Along the Bangladesh border, devastated Rohingya people sought refuge from violent persecution in Myanmar.
Elsewhere in the world, political tensions increased. Pro-Spanish nationalists protested Catalonia's recent declaration of independence from the country. And in Kenya, the controversial re-election of the incumbent president sparked fears of violent stand-offs between loyalists and opponents. 
---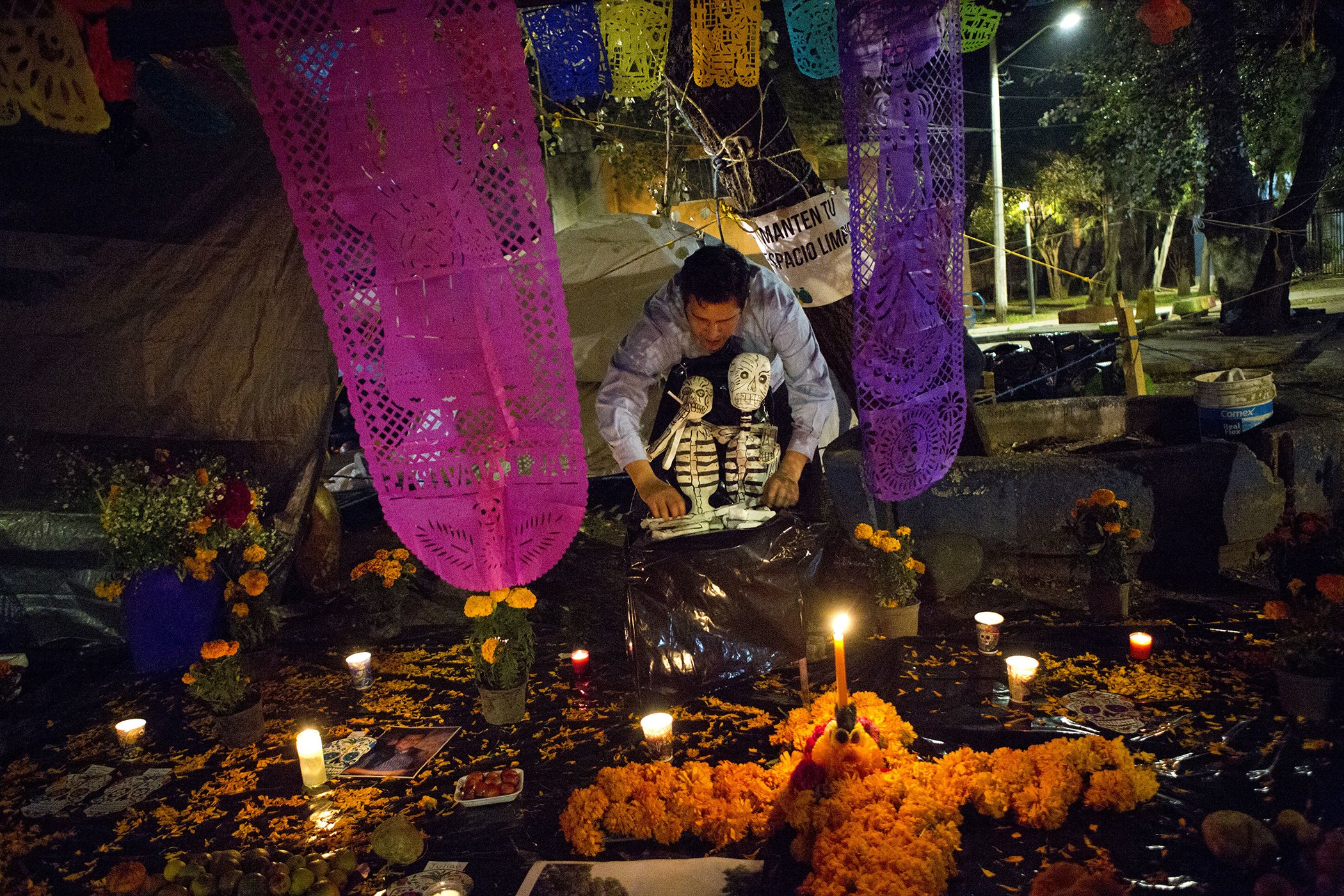 Image: Rebecca Blackwell/AP
1) Day of the Dead: A young man arranges skeletons on a Day of the Dead altar at a tent encampment at Multifamiliar Tlalpan, where nine people died when a building collapsed in the Sept. earthquake, in Mexico City, Tuesday, Oct. 31. People in Mexico are marking this year's holiday by remembering the people killed in the Sept. 19 earthquake.
2) Kenya Election Aftermath: Supporters of National Super Alliance (NASA) presidential candidate Raila Odinga react after the result of re-elections as the incumbent President declared his victory in Kisumu, on Oct. 30. Kenyan incumbent President was declared the victor of the country's deeply divisive elections on Oct. 30, taking 98 percent of the ballots cast in a poll boycotted by his rival, sparking fears of further violence in flashpoint opposition strongholds.
3) The Wave: The unique U-shaped troughs of 'The Wave' rock formation are seen at the Coyotes Buttes North wilderness area near Page, Arizona on Oct. 30. The Wave is a sandstone rock formation in northern Arizona and was formed by a combination of water and wind erosion and due to its fragile nature, access is limited to only 20 hikers per day. 
Image: Gonzalo Arroyo/AP
4) Catalonia Independence: A nationalist activist waves a Spanish flag in front of a giant Catalan flag during a mass rally against Catalonia's declaration of independence, in Barcelona, Spain, Sunday, Oct. 29. Thousands of opponents of independence for Catalonia are holding the rally on one of the city's main avenues after one of the country's most tumultuous days in decades. (AP Photo/Gonzalo Arroyo)
5) Puerto Rico: A man tries to use his mobile phone outside his home, after Hurricane Maria hit the island and damaged the power grid in September, in Dorado, Puerto Rico Oct. 29.
6) New York City Terror Attack: A woman places flowers near the spot where several people were killed and many others injured in New York City when a man drove his trunk into a bike and pedestrian path on Nov. 1. Investigators were looking into the incident as a terrorist attack, the deadliest in New York City since 9/11. 
7) Kenya: A student from the Olympic Primary School, a contested polling station where the opposition battled the police to keep the school shut, takes the Kenya Certificate of Primary Education (KCPE) exam on Oct. 31 in Nairobi, following a return to daily life after turmoil caused by Kenya's presidential re-election vote.
8) Pakistan Air Pollution: Girls play on the grounds of the Badshahi Mosque during a day with heavy air pollution in Lahore, Pakistan on Oct. 30.
9) Syria: Syrian children stand at the scene of a reported government shelling that killed schoolchildren in the rebel-held besieged town of Jisreen, east of the capital Damascus, on Oct. 31. The Syrian regime shelling killed four schoolchildren and a man, the Syrian Observatory for Human Rights said. 
Image: Bernat Armangue/AP
10) Rohingya Refugee Crisis: Rohingya Muslims carry their young children and belongings after crossing the border from Myanmar into Bangladesh, near Palong Khali, Bangladesh, Wednesday, Nov. 1. In a scene that's played out over and over again, at least 2,000 exhausted and starving Rohingya crossed the swollen Naf river on Wednesday and waited along the Bangladesh border for permission to cross, fleeing persecution in Myanmar.
Image: Ben Curtis/AP
11) Kenya Election: Residents of apartment blocks watch and yell from their balconies as opposition protesters start to erect barricades before clashing with police after the election result was announced, in the Mathare slum of Nairobi, Kenya, Oct. 30. Clashes erupted after Kenya's election commission said President Uhuru Kenyatta had won the election that was boycotted by the main opposition group.