Environment
How to Join NBA Player Danilo Gallinari in Fight Against Climate Change
#BigFootLittleFootprint.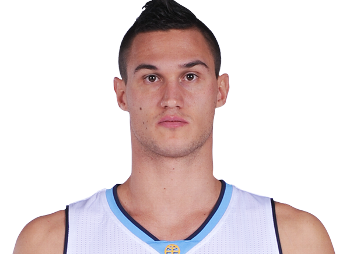 Danilo Gallinari, an Italian basketball player for the Denver Nuggets of the NBA, is a true global citizen. Hailing from Sant'Angelo Lodigiano (South East of Milan, Italy) Danilo has lived and played basketball around the world. He currently resides in Denver, Colorado where his love of nature and the outdoors is a huge part of his life.   
Danilo, standing 6 feet 10 inches tall, has a literal big footprint and he is committed to making sure that his carbon footprint is small - which is why we are kicking off the #BigFootLittleFootprint campaign. As an international athlete and world traveler, he understands that his everyday actions have an impact on the environment, and he wants to do something about it!
In an effort to take direct action to make the world a better place, for both people and the planet, he has teamed up with  Stand For Trees and wants you to know why he cares about forest conservation and preserving Mother Nature for future generations.
What inspired you to get involved with Stand For Trees? 

"I was inspired to get involved with Stand For Trees because I truly appreciate nature and love spending time outdoors. Playing basketball in a nature-centric city like Denver has only increased my passion to protect trees and forests for future generations."
Why do you think it's important for your fans to take climate action? 
   
"I think it is important for my fans to take climate action so we can live in a healthy world. I started riding my bike to and from practice in Denver. Not only is it a form of relaxation and exercise but it reduces carbon emissions. This helped lower my carbon footprint and I encourage my fans and teammates to be responsible for their own. If we all pitch in and do our part, we can reduce climate change."
What is your connection to nature? 

"I have always had a great connection to nature. I try to spend as much time outdoors as possible whether I am hiking, walking around Denver, enjoying my home country of Italy or traveling the world."
Why is forest conservation important to you? 

"Forests are crucial for the equilibrium of the world. Forests are home to wildlife and a major component of many communities. As the world commercializes we need to find a way to protect our forests and appreciate mother nature."
What is your message to global citizens who want to be a part of the solution? 

"Get informed and take action. If everyone does their part we can inspire positive change. Let's come together to protect our forests so we can live and enjoy a healthier world."
TAKE ACTION
Global citizens, here are two ways you can take direct action today:
(1) Follow Danilo's lead and take responsibility for your carbon footprint.
How? Go visit the Stand For Trees platform and offset your personal emissions by supporting a forest conservation project of your choice.
By spending $10 USD you will prevent 1 metric tonne of carbon dioxide from being released into the atmosphere and empower forest communities to keep trees standing.
The average American has a carbon footprint of 20 metric tonnes. Pledge to offset your entire footprint, or space it out and offset throughout the year!  
(2) Share the following image using the hashtag #BigFootLittleFootprint. The more we stand together in the fight for climate justice, the better chance we have of solving this problem in our lifetime.
It's time to take responsibility for the impact we have on our environment. #StandForTrees #BigFootLittleFootprint