Environment
All National Monuments Survive Trump Administration's Review
A win for the environment.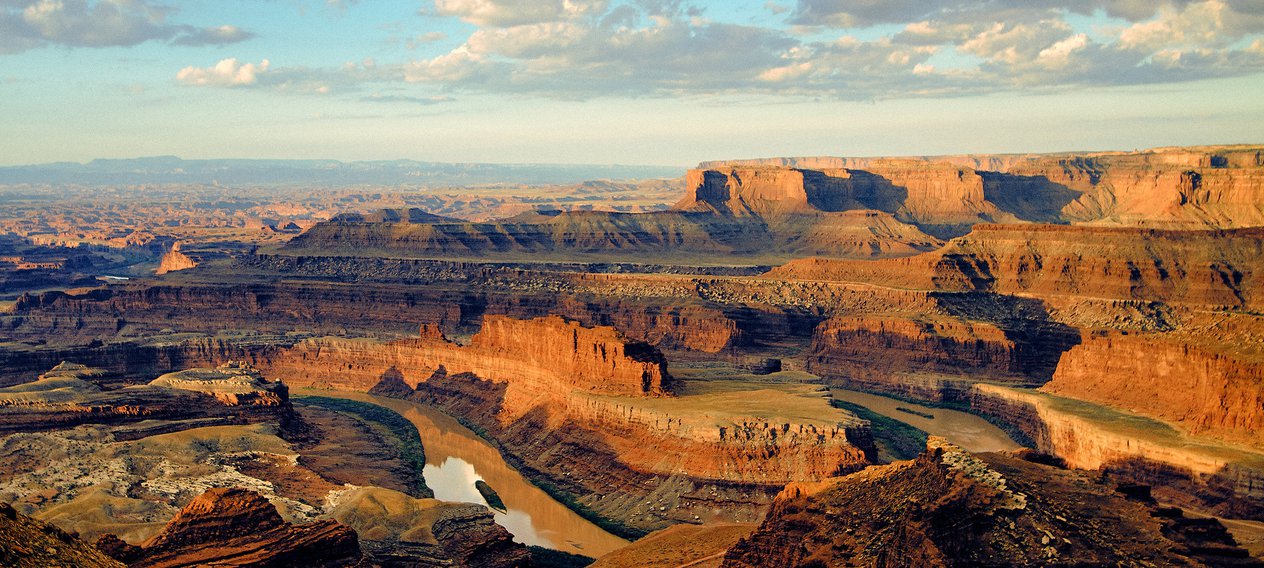 Dead Horse Point State Park
Interior Secretary Ryan Zinke has decided not to revoke the protections of 27 national monuments, he announced on Thursday, after months of review that provoked widespread concern.
"The review found that each monument was unique in terms of the object(s) used for justification, proclamation language, history, management plans, economic impact, and local support," said the Department of the Interior's report.
Some of the monuments' boundaries will change and it's still unknown whether they will be opened up to extractive industries like mining and logging, two developments feared by wildlife advocates who have campaigned for months to preserve the full protections.
Parts of Bear's Ear National monument in Utah, for example, are likely to be removed and dozens of other parks could face similar reductions, which environmental groups are prepared to fight in court.   
But no monument will be flat-out eliminated.
"I've heard this narrative that somehow the land is going to be sold or transferred," Zinke told AP. "That narrative is patently false and shameful. The land was public before and it will be public after."
Read More: This Guy Visited 27 US Monuments in 2 Weeks to Protect Them From Destruction
Zinke's recommendation will now be passed onto President Donald Trump, who will likely accept them, according to AP.
The months-long review was spurred by the Trump administration's belief that the Antiquities Act was misused by former presidents, especially President Obama, to obstruct grazing, logging, natural gas extraction, and other commercial activities.
"This proposed rollback of our treasured public lands and waters is as outrageous as it is illegal," said Rhea Suh, president of the Natural Resources Defense Council. "And it flies in the face of the original intention for our national monuments – to save America's most special places for everyone, not just an entitled few."    
"Our laws grant presidents the power to protect special places for all time," she added. "No president, though, has the right to take public waters and lands away from us for the sake of industrial ravage and ruin."
Zinke held more than 60 meetings with hundreds of advocates and opponents of the monuments, including conservations, industry leaders, and tribal officials. He also visited eight parks during this period.
There are currently 129 national monuments and they range in both scale and meaning. There are sites protecting places of natural significance, sites protecting places valuable to Native American heritage, and historical sites such as forts. National monuments have fewer protections than national parks, which have to be approved by Congress, but they are still strongly protected.
The Trump administration was reviewing more than a third of the national monuments that have "natural significance" — including the Papahānaumokuākea marine reserve off the coasts of Hawaii and the Bear's Ear National Monument in Utah.
Image: Greg McFall/NOAA
It was widely feared that many of the monuments would be stripped of their protections, especially because the review seemed to be a part of a much broader effort to unroll Obama's legacy on environmental issues. For instance, President Trump has withdrawn from the Paris climate agreement and ordered the rewrite of the Clean Power Plan, two of the Obama administration's biggest achievements.  
Read More: 2.7M Americans Just Took Action to Protect This Hawaiian Marine Reserve
Global Citizen campaigns on the Global Goals, which call for robust wildlife protections to ensure healthy environments and sustainable access to resources. You can take action on these issues here.
No president has ever rescinded a national monument, and citizens across the country were determined to prevent that from happening.  
During the months of review, millions of comments poured into the Interior Department and Commerce department from the public, calling for the monuments to remain protected.
Zinke seemed to recognize the enormous public support the monuments have when speaking with the AP:
"There's an expectation we need to look out 100 years from now to keep the public land experience alive in this country," Zinke said. "You can protect the monument by keeping public access to traditional uses."