News
Citizenship
5 Moments From Notting Hill Carnival's Tribute to Grenfell That Prove That Londoners Stand Together
Those affected are not alone.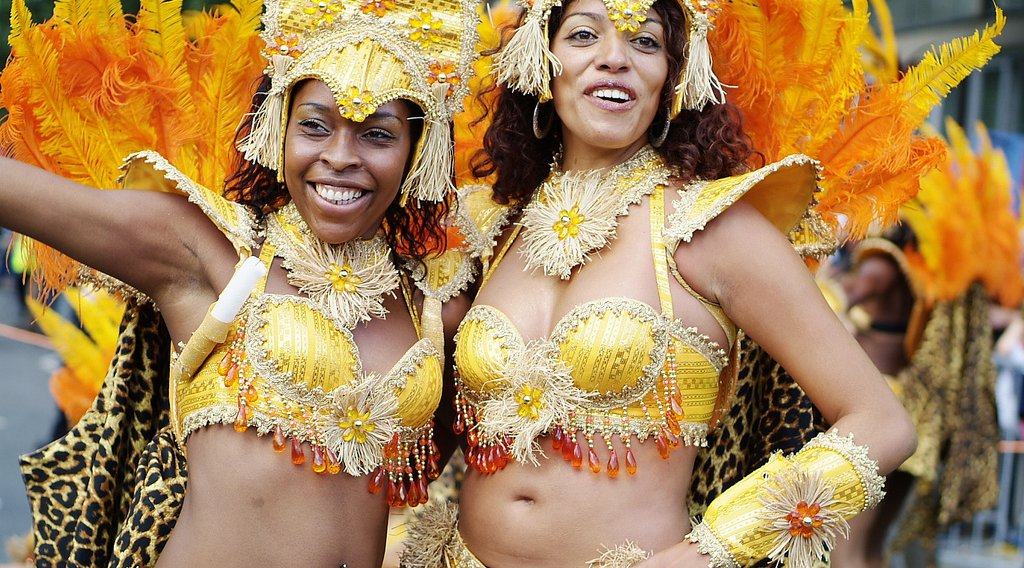 The Notting Hill Carnival's festive atmosphere was tainted this year by grief over the Grenfell Tower tragedy, which was recognised with a minute's silence from carnival-goers. 
Music stopped playing, crowds stopped dancing, and the parade paused for 60 seconds on both days of the carnival, to remember the at least 80 people who died in the fire and honour the suffering of their loved ones. 
It was just one of many steps the organisers and community had taken to show unity with those who were affected by the June 14 fire.
Read more: This Opera Raised £40,000 For Survivors and the Families of Victims of Grenfell Tower Fire
Relatives have said the moment was so special as it showed those affected by the fire that they are not alone.
"A lot of people are finding their voice and saying this is the first time since it happened they've actually found a voice to speak," Clarrie Mendy, a relative of Khadija Saye and Mary Mendy, who died in the fire, told the Independent.
"I think they know they're not alone. They see other people suffering the same plight, they know there's a collective."
Global Citizen is building a movement of people around the world who believe in justice, equality, and supporting those who are living in crisis. You can take action here. 
Here are five moments of tribute from the Notting Hill Carnival that prove Londoners aren't as hard-hearted as everyone may think. 
1. Firefighters
Firefighters joined crowds at #NottingHillCarnival today in a minute's silence to remember those affected by the tragic #GrenfellTower fire. pic.twitter.com/m5XkjJL5M8

— London Fire Brigade (@LondonFire) August 27, 2017
Firefighters from the North Kensington fire station lined up, removed their helmets and bowed their heads. The moment was made all the more poignant as they were standing just half a mile away from the charred remains of the tower. 
After the minute's silence, carnival-goers embraced, congratulated, and thanked the firefighters for their hard work and dedication in the line of duty.
Read more: Acid Attacks Are on the Rise in London: Here's What You Should Do If You Witness One
2. Wearing Green
Hundreds in the crowd had responded to organisers' requests to "wear green for Grenfell," with "Green for Grenfell" signs dotted along the parade route alongside the multi-national flags that symbolise Notting Hill's diverse community.
The colour green was chosen by local primary school children to commemorate the disaster.
3. "Grenfell Generation"
Kensington MP Emma Dent Coad told that crowd: "We will have the most wonderful, musical, colourful, and lovable Carnival ever. Remember you are the Grenfell generation. You are special."
Dent Coad, who was elected MP for Kensington in the June general election, said she would be keeping Grenfell "very high on the agenda" when parliament returns next Monday. 
"I won't rest until every single family is properly housed, and despite my efforts over the last 10 weeks I've got nowhere at all and I find that very, very, very difficult," she told reporters. 
Read more: 8 Massive Moments Hashtag Activism Really, Really Worked
4. Doves
Survivors of the fire released dozens of white doves into the air at the Notting Hill Carnival's official opening ceremony, in remembrance of their loved ones. 
Hamid Ali Jafari, whose 82-year-old father, Ali Yawar Jafari, died in the fire, was among those who participated in the ceremony. 
"It's the pain of remembering my dad, because he was there," he told the Guardian, when asked how it felt to release one of the doves. 
Community leaders and multi-faith leaders urged carnival-goers to "come in the spirit of peace".
Read more: Over 35,000 British Muslims Gather in Hampshire to Condemn Terrorism and Promote Peace
5. "Come Unity"
Embed from Getty Images
Volunteers from the borough pulled together to create paper hearts, banners, posters, and bunting, from recycled materials, to adorn the streets in tribute to those who died, in time for the carnival.
Community volunteers for the carnival wore green t-shirts decorated with a London Underground-inspired heart and the words "Come Unity."
Nicholas Burton, a 19th floor resident of the tower, said the carnival meant "everything" to those who survived. 
"This is what the community is all about. Notting Hill Carnival has been going on since before I was born and it's built up layers and layers and layers of importance as it's gone."