---
Why Global Citizens Should Care
Refugees are often portrayed as victims in the media, but the documentary
Matangi/Maya/M.I.A.
wants to change that. The film sheds light on how difficult it can be to fight for human rights in the public sphere. You can join us in taking action on this issue
here
. 
---
In 2009, M.I.A. tried using her platform to educate the public at the height of Tamil genocide in Sri Lanka, and it wasn't exactly well-received.
The Grammy and Academy Award-nominated singer was quickly labeled "controversial" for speaking out about the issue — a label that has been applied to her ever since — but a new documentary is here to set her story straight.
M.I.A.'s longtime friend Steve Loveridge pored over 900 hours of footage recorded by the artist over the course of 20 years to direct Matangi/Maya/M.I.A., released to select theaters in the US and UK in September.
Take Action: Raise Your Voice for a World That Is Open, Equal and Fair. Call on Leaders to Adopt Global Compacts for Refugees and Migrants, Everywhere. 
In under two hours, Loveridge follows M.I.A's journey from a refugee and immigrant to a highly criticized famed musician. The documentary's name is a tribute to the many monikers she's used throughout different stages of her life, tracking her humble beginnings through to her infamous 2014 Super Bowl performance. 
Born Mathangi Arulpragasam in 1975 in the UK, M.I.A. moved to Sri Lanka when she was 6 months old. Her mother relocated their family back to London in 1986 to escape the Sri Lankan civil war, an armed conflict between the Sri Lankan government and the country's Tamil ethnic minority that began in 1983 and would last until 2009. 
In the documentary, M.I.A. spends a lot of time making sense of what it means to be the daughter of the man who led the Tamil Tigers, a resistance group that spearheaded an uprising against the government to create an independent state. 
The conflict initially started over ethnic tension between the country's Sinhalese, a mostly Buddhist group originally from northern India who made up the majority of Sri Lanka's population, and the Tamils, a mostly Hindi minority that makes up only 12% of the country's population. When the group refused to put down their arms in 2008, tension grew and international aid groups were worried the government and rebels weren't paying attention to civilian safety, according to CNN. Both sides blamed each other for civilian casualties, and neither argument could be validated since press was banned from entering the war zone. 
Loveridge decided to include graphic footage from the conflict in 2009 in the documentary to create context for M.I.A.'s use of violent imagery in her work. The video for "Born Free" was removed from YouTube for depicting genocide with redheaded actors. 
Read More: The Key to Helping Refugees: Send Them to University
Loveridge and M.I.A. first met as students at the University of the Arts London, Central Saint Martins — which, according to the two, wasn't very ethnically diverse when they arrived. The film director said they clicked because they both came from minority backgrounds — he, a gay man from the suburbs, and she, an immigrant. 
While in town doing press in New York in September, Loveridge told Global Citizen he was happy to share the film at a screening for 500 high school kids from immigrant and Tamil backgrounds earlier that month. He created the film hoping to reach young people who were at the same age he and M.I.A. were when they met, who didn't always see themselves represented on screen.
"Seeing someone make it creatively with no money is so important these days," Loveridge said of M.I.A., who marched into the offices of British record label XL Recordings demanding a chance and eventually got signed. 
The film shows how central the refugee and immigrant experiences are to M.I.A.'s work. Many are probably familiar with the artist because of her catchy 2007 hit single, "Paper Planes." The lyrics, "All I wanna do is / And / And take your money," with their gunshot and cash register sound effects, are a tongue-in-cheek take on immigrant stereotypes that suggest immigrants simply want to take a country's money and jobs, M.I.A. explained. 
The artist is seen at her most vulnerable in Matangi/Maya/M.I.A. She describes being bullied in Sri Lanka because she was Tamil, and then spat on by kids in London who thought she was Pakistani. Creating visual art and music allowed M.I.A to process her experience and explore her identity. She cites Madonna and hip-hop as major influences on her musical style. 
Her music career took off when she started making music videos for her friend Justine Frischmann's band Elastica, and documenting their tour. M.I.A. parted ways with Frischmann after feeling like she wasn't using her position of power as a musician to say something important, she explains in the film.
After the falling out, M.I.A. took a trip to Sri Lanka for two months to visit family and see what her life would've been like had she not escaped the country's crisis. Her relatives were hesitant to trust her and concerned about the dangerous consequences of discussing their situation on camera. On screen, M.I.A. struggles to gain their trust as an outsider and navigate where she fits into their narrative when they think she fled the country too young to have experienced the war.  
The film is a window into M.I.A.'s roots. M.I.A. drew inspiration from the Sri Lankan civil war in her early artwork. While making graffiti out of stenciled faces of female Tamil soldiers, she wondered how women her age lived on the ground in Sri Lanka. For example, she asked herself: What did female fighters do when they were menstruating?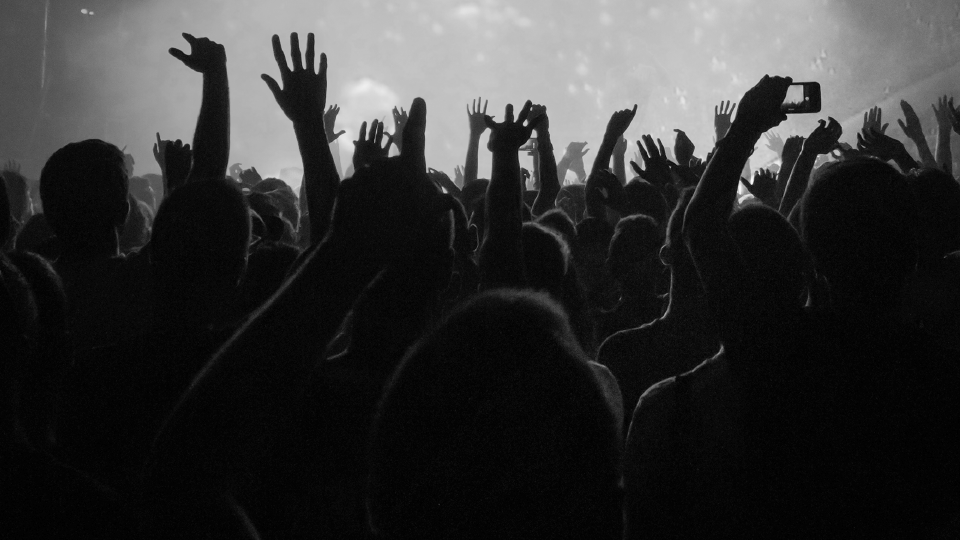 Image: Courtesy of Falco Ink
Before celebrity activism became the norm, the rapper wanted to educate her fans on the atrocities happening in Sri Lanka in 2009, when the armed conflict reached its most violent point. She felt it was her duty as the only mainstream Tamil public figure in the West. 
While the Sri Lankan crisis was central to M.I.A.'s life, many in the media didn't want to hear it when she drew attention to the fact that tens of thousands of Tamil people were being massacred by the Sri Lankan military. She was frequently discredited for referring to the situation as a "genocide" by the press, much of which acted as though a successful pop star couldn't be well-informed enough to speak on the issue. Some went as far as to write her off as a "terrorist" for defending Tamils, who were ultimately defeated in May 2009.
Loveridge said knowing M.I.A. and making the film has been an education for him, and not only on Tamil issues. When critics have dismissed the film by calling it "pure self-promotion," he said he's gotten a feel of what it's like to walk in M.I.A.'s shoes as a woman of color trying to use her voice. 
"One of the strongest things I've learned about spending time with M.I.A. over the years and going to different countries and making music videos, is what it is to treat people as equal, and not victims," Loveridge said, explaining how M.I.A. uses pop culture as a bridge to connect with people around the world while shooting and recording in places like India, Jamaica, and Trinidad.
She's used her videos to highlight places her western audiences might not have been exposed to before and doesn't just support marginalized communities in her creative work. The artist and philanthropist founded the organization Young Action International to support young people living in war-torn African areas and hasn't let bad press stop her from engaging in various kinds of activism.
After the Sri Lankan civil war ended, M.I.A. continued making music about the refugee experience. Her latest major rallying cry was a video for the track "Borders" off the 2016 album AIM, which addresses the global refugee crisis by depicting men floating on rafts in the middle of the sea. 
At a Matangi/Maya/M.I.A. screening in New York on Sept. 27, M.I.A. updated the crowd in a theater full of many people of Tamil descent on the current state of Sri Lanka nearly 10 years after the war.
"Nothing's happened, no one's been convicted," she lamented. 
M.I.A. stressed how important the International Criminal Court is in seeing that those who committed human rights abuses are punished. 
"What people think here and what people vote here does affect smaller countries elsewhere, which was also I think a hard point in what we were trying to say," she said about the film.
While M.I.A. worries the Sri Lankan identity will never be the same post-conflict, her story is a reminder that the community has many stories left to tell, if the world is ready to listen.