Environment
17 Extraordinary Photos of July's Heat Waves, Fires, and More
The intensifying effects of climate change are being felt around the world.
Why Global Citizens Should Care
Each month brings another reminder of climate change's dramatic impact on the global environment. The United Nations' Global Goals call on countries to protect the environment and mitigate climate change. You can take action on this issue
here
. 
---
From Washington to Seoul, people searched for reprieve from July's scorching heatwaves.
But the unrelenting sun wasn't the only sign of climate change during the month. Shifting precipitation patterns have caused some countries to dry out, increasing the likelihood of forest fires. 
Throughout July, devastating fires swept through countrysides and capitals in Sweden, and California. In Athens, Greece, the deadliest forest fire in decades emerged July 23 and killed at least 82 people.
Take Action: Ensure All Communities Can Withstand Climate Disaster
It wasn't all smoke and sweat. Monsoon season caused flooding in parts of India and heavy rains endangered Rohingya refugees in Bangladesh whose encampments are vulnerable to landslides.
Elsewhere, air pollution reached frightening levels in Chile, and artists made sculptures out of plastic waste in Belgium.
Here are the best environmental photos of the month.
---
Image: J. David Ake/AP
1) Heat Wave in the United States: Heat Wave in the United States: The sun peaks around the Washington Monument as geese float down the Potomac River at daybreak, July 1 in Washington, DC, on what is expected to be another hot day in the Nation's Capital. In July, cities across the United States, from the Northeast to the Southwest, experienced record breaking heat waves. 
Image: Ahn Young-joon/AP
2) South Korea Heat: A boy enjoys himself as he cools off in an outdoor water fountain in Seoul, South Korea, July 24. A heat wave warning was issued in Seoul as temperatures soared above 37 degrees Celsius (98.6 degrees Fahrenheit).
3) Monsoon Season in India: Indian villagers paddle a boat in flood-affected Ashigarh village in Morigoan district, in India's northeastern state of Assam, on July 6. Heavy monsoon rains bring floods to parts of northeastern India each year, affecting the lives of millions of people.
Image: Andrew Matthews/PA/AP
4) Warm Weather in England: A European Brown bear cools off in the pool in its enclosure at ZSL Whipsnade Zoo in Dunstable, England July 26. Temperatures are expected to hit around 95 degrees Fahrenheit today as the heatwave continues across Britain. In addition to being one of the hottest on record, this summer the United Kingdom is off to its driest start.  
5) Wildfire in Greece: Firefighters and volunteers try to extinguish flames during a wildfire at the village of Kineta, near Athens, on July 24. Raging wildfires killed at least 74 people in Greece, devouring homes and forests as terrified residents fled to the sea to escape the flames, authorities said.
6) Record Temperatures in Japan: A man wipes perspiration from his head in Tokyo on July 24, as Japan suffers from a heatwave. An "unprecedented" heatwave in Japan has killed at least 65 people in one week, government officials said on July 24, with the weather agency now classifying the record-breaking weather as a "natural disaster."
Image: Rafiq Maqbool/AP
7) India Flooding: A boy floats on a thermocol sheet on a a waterlogged street in Mumbai, India, July 10.
8) Rohingya Refugees and Monsoon Season: Rohingya Refugees and Monsoon Season: Rohingya refugee children shelter from the rain wiht umbrella at Jamtoli refugee camp in Ukhia on July 20. According to the International Organization of Migration, a UN agency, more than 9,000 Rohingya refugees have already been affected by the monsoon rains, but many more are anticipated to be affected before the rainy season ends. Some 30,000 people are still living in parts of the camp considered to be at high risk of flooding and landslides.
9) Chile Air Pollution: A person takes a picture of the smog over Santiago, on July 9. Chilean authorities declared a new environmental preemergency Monday, as high levels of air pollution were recorded.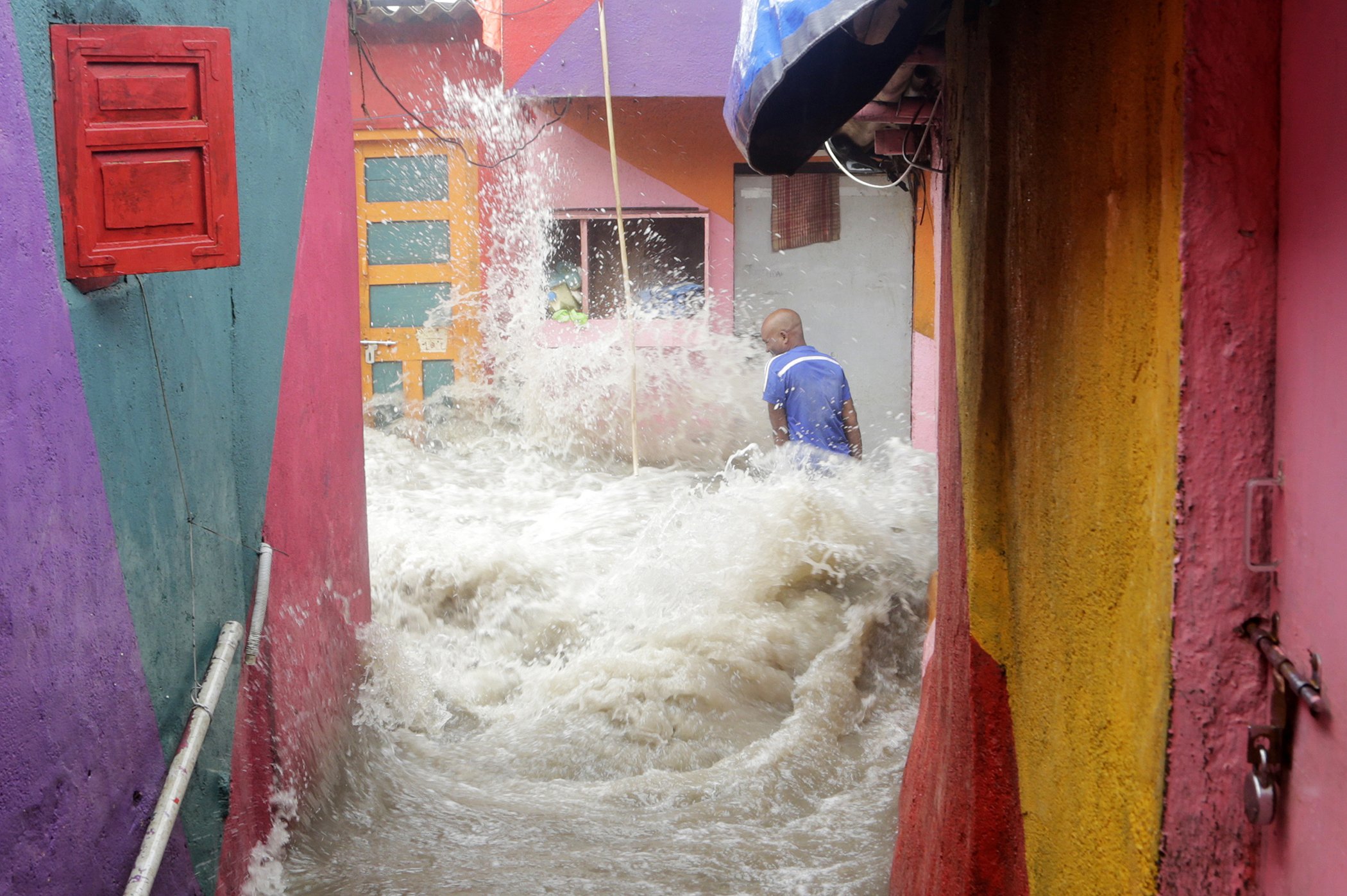 Image: Rajanish Kakade/AP
10) Flooding in India: Waves caused by high tide envelops a man standing outside his house near the Arabian Sea in Mumbai, India, on July 14. The man was washed away by the wave and rescued by locals about 100 meters away from the spot.
11) South Sudan: A woman takes care of her new-born baby at her home after a World Food Programme (WFP) plane dropped sacks of maize and sorghum from air in Jeich village in Ayod County, northern South Sudan on July 3. The small village in the bush surrounded by swamps and the ongoing conflicts is isolated by cutting off the road due to the floodwater during the rainy season. The air food dropping is the only option to deliver the aid for the residents mostly fled from conflict areas.
Image: Noah Berger/AP
12) California Wildfires: The Ferguson Fire burns along a ridgeline in unincorporated Mariposa County, Calif, on July 16. Rising average temperatures have led to forests in California drying out, increasing the risk of fires. There are more than 100 million dead trees in California alone, which creates a tinderbox for fires to spark and grow from. 
13) Forest Fire in Sweden: A picture taken on July 25 shows a burnt forest around Korskrogen near Ljusdal, Sweden. 
14) Agriculture in Germany: In this aerial view a combine harvester discharges its load of triticale, a hybrid grain of wheat and rye, during a harvest of winter grains on a field in Brandenburg state on July 6, near Loewenberg, Germany. Northern and eastern Germany have been hit hard by a long stretch of dry, hot weather that is impacting outputs, with losses around Loewenberg to reach 50%, according to a local farmer. 'Last year it was too wet, this year it's too dry. What can you do,' he said. 
Image: Matt Dunham/AP
15) Dry Weather in the United Kingdom: A view shows parched grass from the lack of rain in Greenwich Park, backdropped by the Royal Museums Greenwich and the skyscrapers of the Canary Wharf business district, during what has been the driest summer for many years in London, July 24. Britain is experiencing a severe heatwave which has prompted its national weather service to issue an alert for people to "stay out of the sun." The Met Office, the United Kingdom's national weather service, announced that it has been the driest start to summer since modern records began 57 years ago.
16) Environmental Art: People ride past a 12-metre installation depicting a whale, made up of five tons of plastic waste pulled out of the Pacific Ocean, displayed in Brugges, on July 14 for the 2018 Bruges Triennial.
17) Flamingos in Turkey: Flamingos are seen on the Lake Tuz after their incubation period in Aksaray, Turkey on July 12.