Citizenship
Tributes pour in for Jo Cox - passionate MP, committed activist and devoted humanitarian
A devastating loss.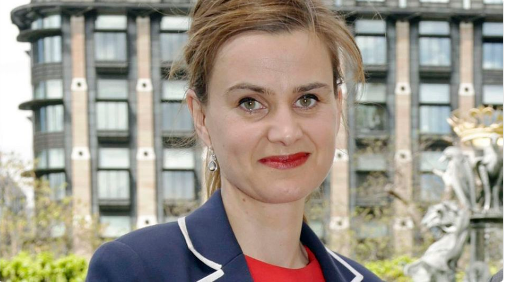 Jo Cox, 41, a British Labour MP has died after being shot by a lone gunman outside her constituency office in Yorkshire. 
A much loved and admired activist, humanitarian and public servant, her loss has sent shockwaves across the country and around the world. 
Widely respected for her work with Oxfam, her vocal campaigns on behalf of Syrian refugees and her efforts to get more women in Parliament, she inspired many across all sections of society with a fierce commitment to justice and equality. A mother of two, Cox's death is a devastating loss to her family and democracy in the UK. 

Tributes have flooded in as friends, family and colleagues pay their respects: 

Brendan Cox, Jo Cox's husband and former Director of Policy and Advocacy at Save the Children: "Jo believed in a better world and fought for it every day"
"Today is the beginning of a new chapter in our lives. More difficult, more painful, less joyful, less full of love. I and Jo's friends and family are going to work every moment of our lives to love and nurture our kids and to fight against the hate that killed Jo.
Jo believed in a better world and she fought for it every day of her life with an energy, and a zest for life that would exhaust most people.
She would have wanted two things above all else to happen now, one that our precious children are bathed in love and two, that we all unite to fight against the hatred that killed her. Hate doesn't have a creed, race or religion, it is poisonous.
Jo would have no regrets about her life, she lived every day of it to the full."
David Cameron "She had a huge heart, she was a very compassionate campaigning MP"
David Cameron pays tribute to Jo Cox MP    https://t.co/Zg8cSkEfIA

— BBC News (World) (@BBCWorld) June 16, 2016
Labour Party Leader, Jeremy Corbyn: "Jo died doing her public duty at the heart of our democracy, listening to and representing the people she was elected to serve. It is a profoundly important cause for us all."
Labour leader @jeremycorbyn says #JoCox died "doing her duty" and says her family can be proud of her https://t.co/jaOkb5nn11

— Sky News (@SkyNews) June 16, 2016

Justine Greening, Secretary of State for International Development 
Jo Cox will be missed so, so much by both Parliament & international development community. Awful news & my thoughts are with her family.

— Justine Greening (@JustineGreening) June 16, 2016
Yvette Cooper, fellow Labour MP and outspoken advocate for refugee children
One of liveliest, bravest & most passionate MPs. Thoughtful, creative, determined. Cannot believe we have lost you @Jo_Cox1

— Yvette Cooper (@YvetteCooperMP) June 16, 2016

Sadiq Khan, London Mayor
Women's Equality Party 
WE are in deep shock at hearing of Jo Cox's brutal murder. Our hearts go out to her family, friends and colleagues. Truly devastating news

— WomensEqualityUK (@WEP_UK) June 16, 2016
Archbishop of Canterbury, Justin Welby 
The death of Jo Cox is terrible, most for her family & friends, but also for what the whole country has lost. We pray for those who mourn.

— Justin Welby ن (@JustinWelby) June 16, 2016
Economist Ann Pettifor
Words hard to find to express horror at what has happened to Jo Cox, a great campaigner, esp for maternal rights. Thoughts with Brendan….

— Ann Pettifor (@AnnPettifor) June 16, 2016
Amy Agnew, Europe Director, Global Citizen 
Absolutely devastated that @Jo_Cox1 has been the victim of an awful hate crime. All the love in the world to @MrBrendanCox &family #lovewins

— Amy Agnew (@amyagnew) June 16, 2016
Stephen Brown, Director of Strategic Partnerships Global Citizen 
Jo Cox was the kind of campaigner we all wish we could be. I was always in awe. Incredible humanitarian, I'm devastated for her family.

— Stephen Brown (@YepStephenBrown) June 16, 2016
Labour MP, Caroline Flint
Lost a good MP & loving mum.Recently Jo Cox told some of us about applying calamine lotion to her child's chicken pox spots.Mums get that.

— Caroline Flint (@CarolineFlintMP) June 16, 2016
Helle Thorning, CEO of Save the Children International 
I am deeply saddened and horrified by the news of Jo Cox's death.My thoughts and condolences go out to Jo's family. https://t.co/pOxBK2Rf9x

— Helle Thorning S (@HelleThorning_S) June 16, 2016

Oxfam GB 
All @oxfamgb are devastated at the loss of our much loved and admired former @Oxfam colleague Jo Cox MP. Deep condolences to Jo's family

— Oxfam (@oxfamgb) June 16, 2016
The volume of tributes that have poured in are a testament to the impact Cox made in her work and in the lives of those around her. A loyal public servant and champion of the rights of the poor and marginalised,  her legacy of courage and justice is inspiration to us all. 
 Campaigning for the EU referendum has been suspended in response to the tragedy.