Health
Millions of children at risk after 'fake' vaccine ring busted
"This is definitely an emergency," says Indonesian member of parliament.
Over the last 13 years, hundreds of thousands — possibly millions — of Indonesian children have received fake vaccines in place of those meant to combat polio and Hepatitis B.
Indonesian authorities have busted a counterfeit drug ring, recently arresting 15 suspects across four provinces and seizing hundreds of fake vaccines. The suspects are believed to have made and distributed a saline and antibiotic solution.
Image: Flickr: NIAID
"Based on the culprits' confessions, the fake vaccines have been distributed across Indonesia since 2003," Agung Setya, head of the special crime department of the national police said. While the effect of the substitute vaccine is yet unknown, the Indonesian government believes that millions of children received the counterfeit vaccines, leaving them vulnerable to diseases.
Indonesia eradicated polio in 1995, but the nation was reinfected in 2005. Though it is not clear that these fake vaccinations are to blame for polio's resurgence in the country, many Indonesian children may not have immunity against Hepatitis B and the poliovirus as previously assumed.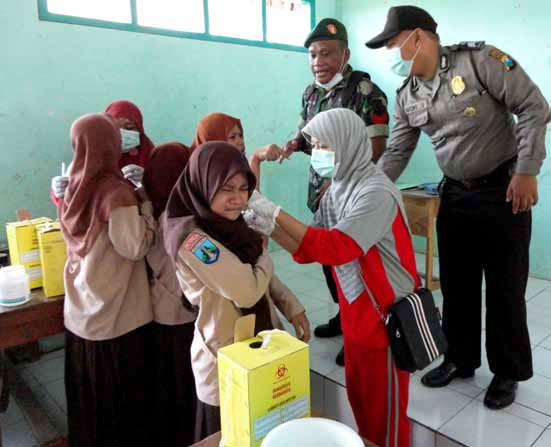 Image: Flickr: CDC Global
This is particularly devastating in light of the fact that the crippling poliovirus is easily preventable through cost-effective vaccines and that Indonesia took comprehensive national action toward eradicating polio in the country. Thankfully, Indonesia was certified polio-free in 2014 along with the 10 other countries that form the Southeast Asia region, but so many unimmunized children means there is potential for wild strains of poliovirus to strike and that global efforts to eradicate polio might be hindered.
The world is very close to being polio-free. Global incidences of polio have decreased 99% since 1988, but if children are ineffectively vaccinated efforts to achieve global eradication may be effected.
Indonesia will revaccinate 'millions' of children after fake vaccines come to light https://t.co/z9FzyZkqnh

— TIME.com (@TIME) June 28, 2016
Dede Yusuf, the chief of a parliament panel on health issues, recognizes the seriousness of the issue and has said "this is definitely an emergency." Indonesia's Health Minister has called for children under the age of 10 to be re-vaccinated. She clarified that while the fake vaccines are not believed to have any negative effects, these children are still defenseless against these diseases and should be protected.