Girls & Women
Women in This Indian Tribe Are Saying No to Forced Tattoos
Education and TV are changing traditional attitudes.
In Western cultures, tattoos are becoming increasingly popular among young people as a means of expressing themselves, or of claiming their bodies as their own.  
But in this tribe, it's the exact opposite.
Here, among the Baiga tribe of Madhya Pradesh state in India, girls are increasingly refusing to submit to the forced tattoos that have been traditional among their ancestors for centuries. 
"Tattoos are the identity of Baiga. My parents told me to get it done," Ujiyaro Bai, 36, told WaterAid. "But things are changing. Girls these days go to school and don't want to get themselves tattooed as it is very painful and it bleeds. They find it embarrassing."
Take action: Help the Global Partnership for Education send girls to school
Traditionally, between the ages of 10 and 12, Baiga girls are taken out to the middle of the forest for their first tattoo — called "Godna". 
The idea is to shelter them in the forest from men's view, as it's considered unlucky for men to see the blood of a woman as they go to work. Then, patterns are drawn onto the girl's skin using bamboo sticks, and the tattoos are etched into her skin using needles and the powder from Niger seeds. 
Badri Bai, 40, (left) with daughter Anita, 15, (right) at home in Tantar Village, Madhya Pradesh.
Image: WaterAid/Ronny Sen
The first tattoo goes on a girl's forehead and, without it, girls aren't considered to be part of the tribe. More tattoos are added as the girl grows up, including a tattoo on her chest after she has given birth. 
Read more: These Tech Girls of India Are Creating Apps That Fight Gender Inequality
It's believed that the tattoos are the only things that are certain to go with them to the grave, so the older women of the tribe see their tattoos as integral to their identity. 
But now, as the influence of education and popular TV shows has grown in the highland villages where the Baiga tribe live in Dindori district, girls no longer want the "Godna" tattoos. 
"I have 'Godna' on most of my body as I never went to school," said Badri Bai, while sitting with her 15-year-old daughter Anita. 
"I got it done on Anita's forehead but she has refused to get it done on the rest of her body. The traditions are getting lost. These girls have started going to school and are choosing not to get their bodies tattooed," she told WaterAid.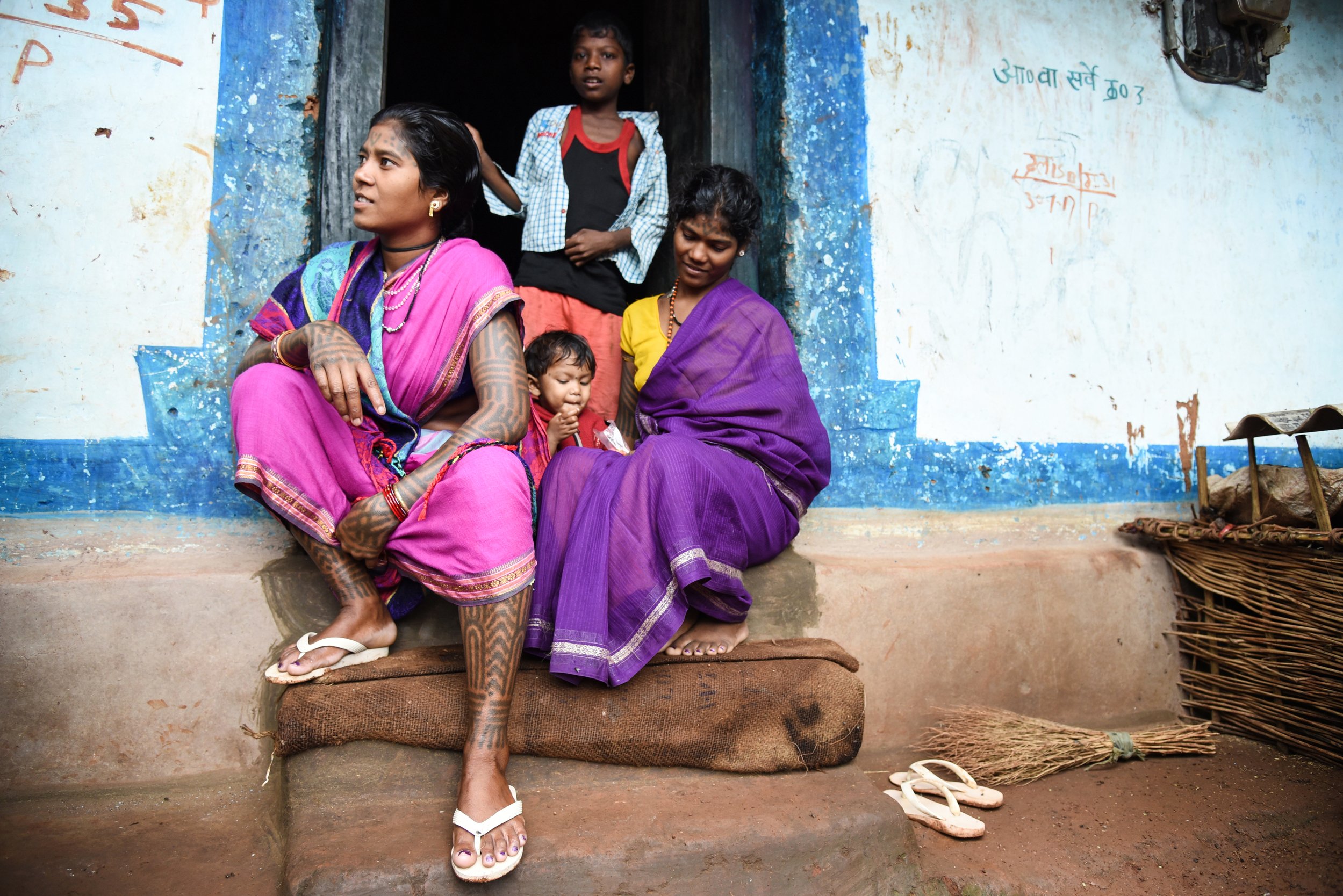 Sumintra, 25, shows off her tattoos known as 'Godna' in Bona Village, Madhya Pradesh.
Image: WaterAid/Ronny Sen
Read more: Midwives Are Saving the Lives of Rohingya Refugee Mothers and Babies in Bangladesh
Anita said: "I will not get it done on the rest of my body as I don't like it. This is also a very painful process and it starts bleeding. To comfort ourselves, we apply cow dung and try and soak the blood using cotton cloth."
Anita added that her classmates are also refusing have the tattoos done.
But there are many in the tribe who believe it is important that the tradition is carried on among the young generations. 
Kunwariya Bai, 40, who had her body tattooed before she got married, is one of these.
"Baiga believe in this, it is all that is left of us after we die," said Kunwariya, adding that her 5-year-old granddaughter Amratiya would have her forehead tattooed when she is older. 
"We know it is painful, but it is important for our identity," she said. "We do want her to study as we want her to become a teacher otherwise she will also have to become a farmer."
Read more: Meet the Woman Who Set Out to Chronicle 'Girl Power' Around the World
Saraswati, 13, (right) with her aunt Samli Bai, 35, (left) gets ready for school in Padhariya Village, Madhya Pradesh.
Image: WaterAid/Ronny Sen
The Baiga tribe was documented in a series of photographs by the charity WaterAid, as part of its exploration into how the arrival of modern amenities creates a cultural shift in tribal communities. 
"For the Baiga tribes, this is the first generation of children going to school," said project photographer Ronny Sen in a statement. "Access to television are local markets are also having an impact. Traditional customs such as the 'Godna' tattoo — so distinctive among the Baiga women — is getting lost as girls decide that they don't want it."
As well as school and television, the community has also been affected by the arrival of infrastructure such as roads and schools, as well as mobile phones. A major road also now connects the tribe's villages to the city of Dindori.
Read more: Indian Men Are Twirling Their Mustaches on Social Media to Protest Discrimination
The "Sarpanch" — meaning head of the village — for Padhariya Village, Dindori, is a 35-year-old man called Prem. 
"Only a few houses in this village have television in the household but it has changed a lot," he said, as part of the project. "Aspirations are coming from TV, especially changes relating to the dressing style. People are forgetting folk songs but everyone, especially the young, remember film songs that they see on TV." 
"Mobile phones exist in every house," he added. "Though the network is not great, it has made our life easier in terms of connecting with other people, otherwise we just used to communicate with people in the village." 
Prem, 35, is the 'Sarpanch', meaning head of the village, for Padhariya Village, Madhya Pradesh.
Image: WaterAid/Ronny Sen
Read more: These Indian Women Are Correcting Wikipedia's Gender Bias One Page at a Time
But while many children in the tribe are now able to start their education, many still don't finish because of the pressures of home and family. 
"There is a lot of work at home," continued Anita's mother, Badri. "Though I want Anita to study and help us financially, there is hardly time left for her to study. Sometimes I also ask her to take leave in case I am occupied with the farming work. Otherwise, who will take care of the younger siblings and feed them?" 
Another woman, Sumintra, added: "Children usually fail at school because there is too much household work to do like fetching water, cleaning utensils, and cleaning the house. When I have kids, I will send them to school because education is important to grow in life." 
Meanwhile, 14-year-old Prabha, who wants to be a teacher when she grows up, gets up at 5am everyday to do her chores in time to get to school.
Prabha, 14, in her class in Sheetal Pani Village, Madhya Pradesh. Prabha wants to be a teacher when she grows up.
Image: WaterAid/Ronny Sen
"I spend one or two hours in a day collecting water," she said. "I try to get it from the hand-pump but it dries up in summer so I often go to the week or the spring. Because of this, there is hardly any time to study."
She added: "My parents want me to study, but there is no one else at home to take care of the work." 
Global Citizen campaigns to ensure all girls around the world have access to education. You can join us by taking action here. 
What's Trending In Girls & Women