Girls & Women
India Is on the Verge of Ending Its 'Instant Divorce' Policy, But Is That Enough to Protect Women?
Men can say "I divorce you" three times to divorce their wives.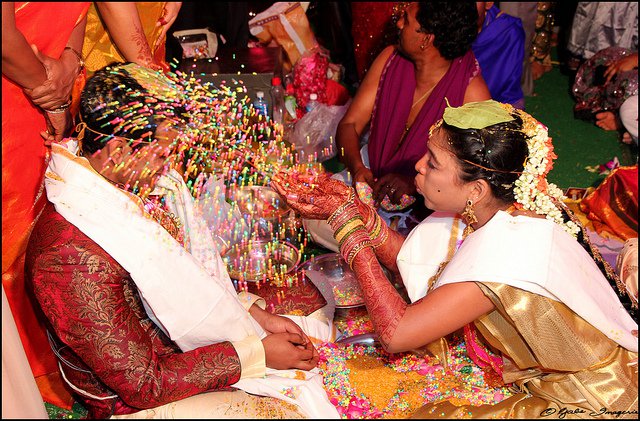 By Roli Srivastava
MUMBAI, May 18 (Thomson Reuters Foundation) - Banning Muslim men in India from saying "I divorce you" three times to leave their wives won't protect women from destitution, and women need education about economic rights, a leading women's rights lawyer said on Thursday as a landmark case ended.
India's top court has spent six days examining the legality of the "triple talaq" practice, raising hopes among women campaigners of a long-awaited end to the 'quickie' divorce that can leave women penniless and homeless.
The instant divorce is banned in most Muslim countries but is allowed under India's constitution that lets most religions, including Muslims – the biggest religious minority – regulate matters like marriage and divorce through civil codes.
Take Action: Tell World Leaders to Amend Their Laws and Stop Sexual Violence
The Supreme Court hearing concluded on Thursday and the bench of five multi-faith judges reserved judgment. It was not clear when the judgment would be handed down.
Lawyer Flavia Agnes, co-founder of the legal center Majlis that works on women's rights, said while the focus was on the practice of triple talaq, the key issue was how women can be helped to ensure they know their economic and legal rights.
"In most cases where Muslim women have moved to court, it is to seek maintenance from a husband who has deserted her. It is then the husband's lawyer sends (a divorce) to escape the responsibility of paying maintenance," Agnes, who attended the hearing for all six days, told the Thomson Reuters Foundation.
"They say that women want to stay in bad marriages when what they want is economic rights as they have been thrown out (of their marital homes). We need to address these issues."
The Islamic instant divorce has come under increasing criticism as unconstitutional by violating the right to equality. Reports have emerged of men divorcing their wives via Skype, WhatsApp and text message, leaving families destitute.
But the All India Muslim Personal Law Board (AIMPLB), a non-governmental body which oversees the application of Muslim personal law, opposes any ban on triple talaq and argues this is a religious matter and not for the courts.
Related Stories May 17, 2017 CHIME FOR CHANGE Indian Teen Who Reported a Child Marriage Now Fears For Her Life May 15, 2017 CHIME FOR CHANGE Indian Woman Gang Raped, Killed With Bricks Is Harsh Deja Vu for Country Struggling With Sexual Violence
Prime Minister Narendra Modi disagrees and last year waded into a controversy by saying he believed it was destroying women's lives, with Muslims making up about 13 percent of the country's 1.2 billion people.
Agnes said ending the quick divorce practice will not prevent a man from deserting his wife, sending her back to her parents, or even continuing to abuse her.
But improving literacy levels among Muslim women and making them aware of the laws in place could protect them as it entitled them to "reasonable and fair settlement for life."
Campaigners have sought a ban on quick divorces although statistics on the prevalence of the practice are unclear with critics suggesting the numbers are low.
"But even if one woman is divorced in this manner, it is a problem," said Noorjehan Niaz of Bharatiya Muslim Mahila Andolan, one of the petitioners in the Supreme Court case.
"It is a problem if there is a law that protects women from being rendered homeless overnight," she said, citing a case of a woman whose husband said he divorced her when she was asleep.
(Reporting by Roli Srivastava @Rolionaroll; Editing by Belinda Goldsmith; Please credit Thomson Reuters Foundation, the charitable arm of Thomson Reuters, that covers humanitarian news, women's rights, trafficking, property rights, climate change and resilience. Visit news.trust.org)
Related Stories May 2, 2017 Indian Brides Get Special Wedding Day Gifts from Politician: Bats to Beat Their Husbands April 5, 2017 CHIME FOR CHANGE Malaysian MP Says Rape Victims Can Avoid 'Bleak Future' By Marrying Their Rapists