Girls & Women
Meet the Kick-Ass Women in Nike's New 'Da Da Ding' Video
Just Do it. Watch it NOW.
From left to right, Joshna Chinappa, Shweta Hakke, Rani Rampal, Gabriella Demetriades, Ishita Malaviya, Jaie Bhadane, Deepika Padukone, Naina Mansukhani, Swetha Subbiah, Jyoti Ann Burrett and Tanvie Hans
Running, jumping, shoving, fighting, and flat-out competing in every way possible: The raw physical power of some of India's best female athletes takes center stage in Nike's latest ad.
"Da Da Ding" features a range of India's top athletes grinding it out and displaying their competitive spirit. The stunning athletic visuals, with more than a few dance moves thrown in, is set to the beats of Gener8ion featuring American Rapper Grizzle. Nike teamed up with Wieden+Kennedy Delhi and French director Francois Rouselet to create the video.
Get to know the athletes who serve as stars in this video, starting off with an  athlete who may be better known for her acting talents.
Deepika Padukone
Image: Nike
Deepika Padukone is one of India's most well-known celebrities and highest-paid actors. The daughter of famous badminton player Prakash Padukone, she competed in national championships as a teenager. While she left her sports career for modeling and, eventually, acting, Padukone still cites sports as a driving force in her life.
"Sports taught me how to handle failure. It has also taught me how to handle success. It has kept me grounded," Padukone said in a Facebook post promoting the Nike video. She specifically credits her foundation as an athlete for helping her overcome a bout of depression.
Rani Rampal
Image: Nike
Rani Rampal is a (field) hockey player on India's national team. At the age of 15, she became the youngest player on the national squad. In the 2010 world championships, she powered India to a championship win with an impressive four goals. Collecting accolades throughout her young career, Rampal is a force to be reckoned with on any field she chooses to compete.
Ishita Malaviya
Image: Nike
Ishita Malaviya is India's first professional surfer. Of course, if she has anything to say about it she will not be the last. Malaviya started The Shaka Surf Club in 2007 shortly after taking up the sport. The Club encourages surfers of all ages and runs a scamp to develop India's ocean riding talent.
Jyoti Ann Burrett
Image: Nike
Jyoti Ann Burrett is a star on the football (soccer, for the US readers) field and in the classroom. A member of India's national football squad, Burrett also holds a masters degree in sports and health science from the University of Exeter.
"Sport has taught me that failure and success are two sides of the same coin," the national team striker said in a Facebook post about the "Da Da Ding" video. "I hope this video inspires all young girls and women out there to do what they love, be passionate and never give up."
"Most importantly, always move ahead with your spirit strong and head held high, because you dared to try." These are inspiring words from a powerful athlete.
Namrata Purohit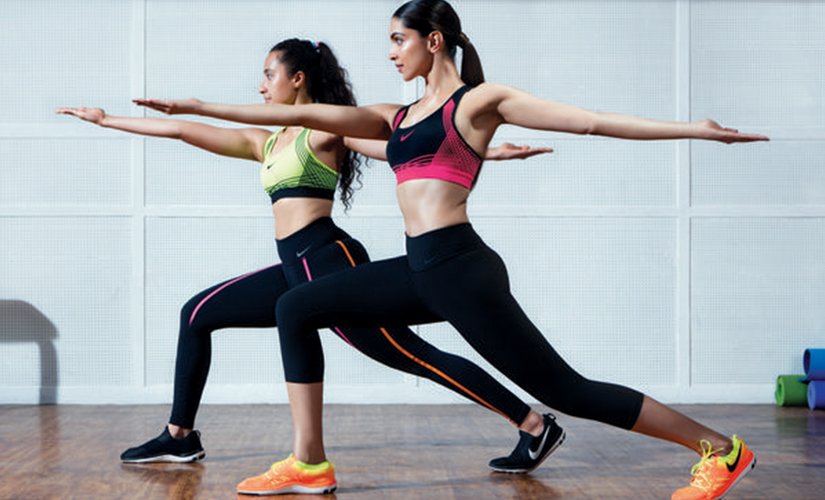 Image: Nike
Namrata Purohit is a Pilates rock star. A national-level squash player at the age of 16, a knee injury sidelined her career. Refusing to give up, Purohit became a master Pilates trainer, taking on clients like Deepika Padukone (pictured above), cricketers Abhishek Nayar and Dhawal Kulkarni, and football players Renedy Signh and Manandeep Singh.
Harmanpreet Kaur
Harmanpreet Kaur is captain of India's national cricket team. The high-scoring star is also set to be the nation's first internationally signed female cricketer this year, joining a team in Sydney, Australia. Her leadership and scoring prowess has helped propel her nation's team to fourth in the world ICC rankings.  
Shubhlakshmi Sharma
Image: Nike
Shubhlakshmi Sharma is another member of India's national women's cricket team. A right-hand batter and right-arm medium bowler, she first made the team as a regular at the age of 18. Since then, she has become a fixture on the national team and in fans hearts.
Joshna Chinappa
Image: Nike
Joshna Chinappa is a squash phenom on the rise. The 29-year-old star was just ranked No. 10 in the world in women's singles squash. Once the youngest women's national champion in India, she also won gold at the 2014 Commonwealth Games in the doubles competition.
---
This just scratches the surface of the packed Nike "Da Da Ding" video. The powerful visuals is a great introduction to the diverse athletes redefining the role of women in India.
---
By taking action on Global Citizen, you will have a chance to win tickets to this year's Global Citizen Festival in New York City on Sept. 24, 2016. Learn more about the Global Citizen Festival here.